Found October 01, 2012 on 60 Max Power O:
Don't look now, but all of a sudden, the Detroit Lions are in big trouble early in 2012. After dropping two tough contests on the road, the Lions came home looking to generate some positive momentum against an NFC North opponent heading into their bye week. Instead of having a successful hunt and getting things back on the right track, Detroit laid the biggest possible egg against the Minnesota Vikings. There was little intensity, no passion and plenty of ugly performances across the board in a frustrating defeat.
The key word from Sunday' hunt? Humbled. 
Special Teams Needs An Overhaul. For the second straight week, the Lions allowed both a punt return and kickoff return for a touchdown. That's a feat not often accomplished in the NFL, and it's now also a part of the resume of Danny Crossman. Yes, tackling was an issue, as the Lions appeared disinterested to stop the ball carrier, but something has to be said for scheme, correct? It's time for Jim Schwartz to address this problem before any more disasters occur. If Schwartz wanted to make a statement, he'd dismiss Crossman and let an underling take the reigns. Two straight weeks of pathetic special teams play has cost the Lions, and that doesn't reflect well on the coaching staff. 
This Offense Looks Vastly Overrated. Matthew Stafford was running for his life. The running game was completely non-existent. the passing game, usually a surefire way for the Lions to stay in games, was stalled. There were far too many dropped passes and miscues, lending to the notion that focus was the major issue through today's game. When the Lions can't throw in addition to run, obviously, there's going to be major problems. If the receivers cannot catch and the line cannot protect Stafford, the Lions will be heading for a losing record. Their high octane offense bailed them out at times last year, and this year, it hasn't happened. They haven't even performed on a consistent basis, which is alarming three games in.
Joe Staley Might Have Been Right. He may have been right about the defensive line being overrated, that is. The Lions haven't gotten much pressure at all on the quarterback in recent weeks, and this week was no different. Only two total sacks and seven quarterback hits against Christian Ponder isn't good enough in a game that Detroit had to have. For a banged up secondary to survive, the defensive line has to excel. It's not happening consistently enough for the Lions, which is causing many of their major problems on defense.
Tackling 101 Should Be Held Monday Morning. All day today, the Lions had trouble with tackling. It was a problem up front on the defensive line against Adrian Peterson. It was a problem when receivers reached the second level, and it was also a problem in special teams. Watching a team struggle with fundamentals which was once considered a playoff favorite is puzzling. Something has to be said and then done about this problem, or the defense will continue to struggle terribly.
Lions? Today's effort was terrible from Detroit's perspective. There was only one touchdown, and the defense didn't play spectacular while special teams was abysmal. Though DeAndre Levy played a good, hard hitting game at linebacker, nobody else is going to be singled out this week, especially after three straight losses.
Lambs? Few players played well, but there was one obvious choice for biggest lamb. Bill Bentley was called for two separate pass interference penalties, both of which were identical. That's a rookie mistake, but Minnesota didn't hesitate picking on him when they needed to. Otherwise, the offensive line as a whole was terrible, as was the receiving core with plenty of drops and inconsistent play.
What About The Five Things? Coming into this game, we said it was important to watch Jeff Backus against Jared Allen. Allen had a sack, and Backus struggled along with his line mates, helping aid in the offensive issues. Christian Ponder didn't throw a touchdown, but he didn't make big mistakes like he did last season in Detroit and managed the game well. The Lions' defense didn't play terribly, but didn't force any game changing turnovers, which helped stall the comeback. The running game didn't produce anything positive, and injuries did play a tiny role, especially with the addition of Ricardo Silva at safety.
Stalking The Next Prey: The Lions head into their bye week a disappointing 1-3. The Philadelphia Eagles are next on the schedule October 14 at 1 p.m. on Fox.
Be sure to check out other great articles at Sports Media 101.
Original Story:
http://www.60maxpowero.com/patriots/c...
THE BACKYARD
BEST OF MAXIM
RELATED ARTICLES
Long have the Minnesota Vikings needed state funding for a new place to call home, now they have the architect and concept images of what future NFL stadiums could represent.According to TwinCities.com, Dallas-based HKS Inc., which designed the new Dallas Cowboys stadium as well as Lucas Oil in Indianapolis, was hired to build the $975 million facility for the Vikings in downtown...
EDEN PRAIRIE, Minn. Percy Harvin is off to the best start of his four-year NFL career with 30 catches, fourth in the league entering Monday night. His importance to the Minnesota Vikings has never been higher and he offered a bit of insight Monday to what caused his displeasure during minicamp this summer when he expressed his unhappiness with the team, reportedly had asked for...
The Minnesota Vikings got lucky this week.A pair of returns made up for their lack of offense, and they escaped Ford Field with a tough win thanks to their defense, matching a surprising trend:So far this year, the Vikings have looked more like a playoff contender than a team that is rebuilding.It's still too early to hand them the division crown, but at this point, I would have...
EDEN PRAIRIE, Minn. The Minnesota Vikings understood the low expectations from outside the organization. During training camp, linebacker Chad Greenway asked the obvious: Why would the pundits predict good things for Minnesota, a team coming off a franchise-tying 13 losses, with a star running back trying to return from major knee surgery, an unproven second-year quarterback and...
Leslie Frazier had a wide smile as he hugged receiver Jerome Simpson on the field after the Minnesota Vikings' 20-13 win at Detroit on Sunday. Frazier had good reason to be happy. He took over as Minnesota's coach 11 games into the 2010 season, replacing the fired Brad Childress on an interim basis and then earning the permanent job with three late-season wins. One thing...
EDEN PRAIRIE, Minn. As the Minnesota Vikings season nosedived last year, a lot of the blame was placed on a historically bad secondary, which allowed a 107.6 quarterback rating, the second highest mark in NFL history. Injuries and an overall lack of competency were common themes as Minnesota led the league with 34 passing touchdowns allowed, while tying a league-low with eight...
EDEN PRAIRIE, Minn. Minnesota Vikings punter Chris Kluwe has found some opposition from another NFL player in his continuing support of gay marriage rights. Former Vikings center Matt Birk, Kluwe's teammate for four years in Minnesota, took an opposing stance Sunday in an opinion piece in the Minnneapolis Star Tribune, in response to Kluwe's pro-gay marriage viewpoint that...
The Minnesota Vikings snapped their 11-game NFC North losing streak Sunday by going on the road and beating the Detroit Lions 20-13, in the process staying on top in the division and building on the momentum created from last week's win against San Francisco. Percy Harvin's 105-yard touchdown return on the opening kickoff started a second-straight impressive win for Minnesota...
Percy Harvin returned the opening kickoff 105 yards for a touchdown and Marcus Sherels scored on a punt return early in the third, helping the Minnesota Vikings beat the Detroit Lions 20-13 Sunday. NFC North-leading Minnesota (3-1) matched the number of wins it had last season. The Vikings also snapped an 11-game losing streak within the division. The Lions (1-3) have lost three...
Jared Allen only has two sacks and Brian Robison hasn't gotten on the board yet. Still, the Vikings are pressuring the quarterback and others are getting sacks. How is it all coming together? The players and Leslie Frazier discuss.
Tom Schreier knows he's going to regret writing this...
Sitting here a month ago, it looked as though this game against the Minnesota Vikings would be an easy win and Detroit would be heading into the bye week on a positive note. However after falling to the winless Tennessee Titans last Sunday while Minnesota pulled the upset at home against the San Francisco 49ers, the perspective on this game has changed dramatically. Entering today's...
Vikings News

Delivered to your inbox

You'll also receive Yardbarker's daily Top 10, featuring the best sports stories from around the web. Customize your newsletter to get articles on your favorite sports and teams. And the best part? It's free!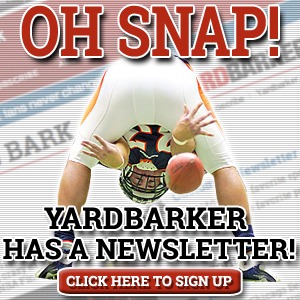 Latest Rumors
Best of Yardbarker

Today's Best Stuff

For Bloggers

Join the Yardbarker Network for more promotion, traffic, and money.

Company Info

Help

What is Yardbarker?

Yardbarker is the largest network of sports blogs and pro athlete blogs on the web. This site is the hub of the Yardbarker Network, where our editors and algorithms curate the best sports content from our network and beyond.