Found March 01, 2013 on Purple Jesus Diaries:
So we've already seen what the official new Norseman logo for the Minnesota Vikings will look like this year. We spent COUNTLESS hours looking at fan designs and other suggested brand updates and ideas, only to end up with a new logo that was, well, just slightly different. But that's a good thing. Because holy crap, look at how awful it could have turned out. A Redditor found a link to a design websites side-project, where they occasionally take brands and re-design them into something modern and different. They recently took this craft and applied it to the Vikings logo, fonts, uniforms, and even field, to see what they could come up with. And while I admire anyone with the talent to actually put design on paper, this is one that serves as an example of pretty much what NOT to do to the Vikings logo. Frankly, when I heard the team was coming up with a new Norseman design, this was the type of diarrhea I was fearing they would settle on in my nightmares, and so I'm obviously glad that they didn't. Here's what this design group, Soul Cake, was claiming they tried to do with this new design: Soulcake is known to supply a large juicy syringe of "Brand Botox" to the forehead of tiring, overworked brands. Often we'll expose ourselves to a 3 day challenge to reinvent a brand. This time it was partner and designer, Dane Storrusten, with the Minnesota Vikings NFL football team. Two reasons; he's a HUGE Vikings fans, and what better mascot to work with than an angry, savage warrior lusting for destruction? We set out to give the character a much more aggressive energy that references the historic Norse Viking roots and evolve away from the rather cartoonish Thor/comic book persona. Goodbye purple, it's been real. "Brand Botox"? Well, there's your problem right there. Also, the Thor reference. You guys are already starting off in the negative, but let's see where you go with this. We break this design down and weep at what we see, yet cheer that we didn't end up with it. Norseman Logo What is even going on. This is the type of garbage that screams ARENA FOOTBALL LEAGUE, Y'ALL!! It's cheesy, cheap, generic, and disgusting. It looks like the type of general team logo you'd find in the old Madden NFL 2004 when you were trying to design your own team; logo, colors, and all. The hair coming out the back looks like flame, which makes no sense, and I can't shake the feeling that the helmet he's wearing is somehow for special needs protection, not warfare protection. And how bland is that yellow? I'm pretty sure if you looked up the Pantone name of it, it would be "Snow Pee", which I guess would make sense for a football team in the North. Either way, awful. Helmet Thankfully, the helmet design is largely unoffensive. It looks basically like the current helmet, but I like the idea (kind of) of a white helmet variant. The horn takes up a larger portion of the helmet, which could also work, but any more and it becomes too much, and looks like one of those "modern" baseball caps the wankster kids wear where half the team's logo is stretched off the canvas. It's stupid. They do also offer another design with a "Snow Pee" colored helmet which is interesting, except only interesting in that "the rest of this is awful" kind of way. Uniform/Colors There's your uniform. It literally looks like nothing. Maybe a practice jersey for a high school? I'm not even sure. By now though, you're probably also asking yourself, "Hey, where'd that purple color go that is our team's primary color identifier?" These guys did away with it and replaced it with ... BLACK!! Ooooohhh!! A color no other team has tried to shoe-horn into their design scheme before! How original! Or maybe it's a dark slate or something. It doesn't matter. The point is that "Snow Pee", black/slate, white, and grey are about as boring as you could get, and that's what they got. Boring and ugly. So? Would you like to see the Vikings look like this in a new branding re-design or are you happy as is? [follow]
Original Story:
http://www.purplejesusdiaries.com/201...
THE BACKYARD
BEST OF MAXIM
RELATED ARTICLES
Boy, you know it's award season when Christian Ponder shows up on a red carpet with a suit on! Well, actually this was from a couple of weeks ago, but the point still stands. Christian Ponder and his wife Samantha Ponder hit an ESPN red carpet event recently where they talked about married life, love, football, and POWER COUPLES! The video (seen below) is attached to an article...
EDEN PRAIRIE, Minn. The Minnesota Vikings enjoyed the advantage of picking early in the 2012 NFL draft by selecting what they hope is a longtime starter at left tackle in Matt Kalil and using their early second-round pick as leverage to move back in the first round and grab safety Harrison Smith. Kalil and Smith started every game and played key roles in their rookie season. Minnesota...
Christian Ponder, QB, Minnesota Vikings Player Profile Height/Weight: 6-2/229 Birthdate: 2/25/1988 School: Florida State FANTASY FOOTBALL ANALYSIS There are very few guarantees in life beyond taxes and death, yet when it comes to Christian Ponder there is a guarantee, and that is the Minnesota Vikings offense does not go thru him no matter what position he plays. Let's be realistic...
EDEN PRAIRIE, Minn. Minnesota Vikings running back Adrian Peterson says he'll follow up his 2012 MVP award by not only breaking the single-season NFL rushing mark but shattering it with 2,500 yards. So what does Tennessee Titans running back Chris Johnson plan to do? Apparently run for more than Peterson, whatever number he puts up. Appearing on ESPN's "NFL Live,...
EDEN PRAIRIE, Minn. Minnesota Vikings punter Chris Kluwe offered his outspoken support of Baltimore Ravens linebacker Brendon Ayanbadejo as they became two of the more prominent athletes to speak up for same-sex marriage rights. Now the players are joining forces and helping push the cause to the U.S. Supreme Court. Kluwe's and Ayanbadejo's names were part of an amicus curiae...
Fans may be concerned about the Vikings losing Phil Loadholt, but the numbers don't add up for them to use the franchise tag on him.
Vikings punter Chris Kluwe and Ravens linebacker Brendon Ayanbadejo have combined their collective forces once again in support of gay marriage, and this time they're moving way up the political ladder. Back in September of 2011, Maryland state delegate Emmett C. Burns penned a letter to Ravens owner Steve Bisciotti, basically asking him to quiet his players  — namely Ayanbadejo...
Tennessee running back proposed this week that he would A) out rush league MVP Adrian Peterson this season and B) take a run at the all time rushing record held by Eric Dickerson.   Maybe, it's possible but the numbers need bearing out before it can be given any credibility whatsoever. The all time record, held [...]
Vikings News

Delivered to your inbox

You'll also receive Yardbarker's daily Top 10, featuring the best sports stories from around the web. Customize your newsletter to get articles on your favorite sports and teams. And the best part? It's free!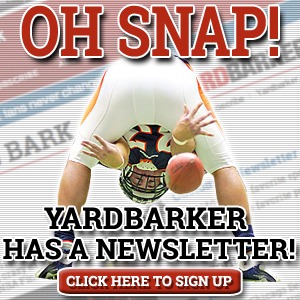 Latest Rumors
Best of Yardbarker

Today's Best Stuff

For Bloggers

Join the Yardbarker Network for more promotion, traffic, and money.

Company Info

Help

What is Yardbarker?

Yardbarker is the largest network of sports blogs and pro athlete blogs on the web. This site is the hub of the Yardbarker Network, where our editors and algorithms curate the best sports content from our network and beyond.