Found February 03, 2013 on NESN.com:
Via NESN: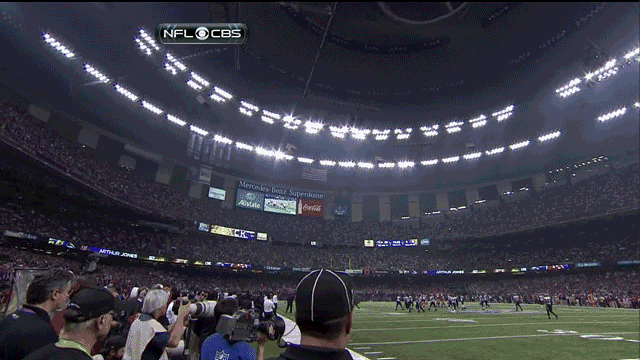 Minutes after Jacoby Jones' 108-yard kickoff return put Baltimore up 28-6 to begin the second half of the Super Bowl, the lights went out on the 49ers.
No, really.
The Mercedes-Benz Superdome lost power with 13:28 remaining in the third quarter, knocking out most of the stadium lights as well as the audio feed from CBS commentators Jim Nantz and Phil Simms.
A portion of lights came back on momentarily after the outage — which CBS analyst Jim Brown said was caused by a power surge — but a majority remained dark until the arena's power system could fully reboot, a process that was expected to take nearly half an hour.
Players stretched their muscles and tried to remain loose on the field and, despite claims on the Twittersphere, Bane has not been witnessed at the Superdome.
(image via Deadspin).
Read More:
http://nesn.com/2013/02/superdome-los...
THE BACKYARD
RELATED ARTICLES
For those of us who are not huge Phil Simms fans, the power outage at the Super Bowl served as a small blessing. For the players, the power outage could be a serious problem. Tightening muscles, pulled hamstrings, you name it. The San Francisco 49ers have to hope that this stops the bleeding and keeps the Ravens off balance.
A power outage at the Louisiana Superdome delayed the Super Bowl for over half an hour in one of the most surreal scenes in sports.  Power was out in the CBS booth with Jim Nantz and Phil Simms and the network had to lean on sideline reporters Steve Tasker and Solomon Wilcots for updates.  On the radio side, Dial Global tweeted this picture of play by play man Kevin Harlan having...
Super Bowl XLVII was far from the broadcast equivalent for Phil Simms of going 22/25 in Super Bowl XXI.  CBS's top NFL analyst was caught contradicting himself repeatedly throughout the game and missed out on late game strategy.  While not quite reaching Chris Berman levels, the Twitterati was left unimpressed.  One of those newfound announcing critics was the NBA's best...
Good, bad, and ugly posts tend to naturally force writers to give the negative more coverage than the positive. Had NBC broadcast Super Bowl XLVII, that might have made things tough on me. But with CBS in charge and a 34-minute power outage in the mix, it was easy to find enough problems to fill the "bad" and "ugly" columns. This was not a smooth broadcast, but...
NFL News

Delivered to your inbox

You'll also receive Yardbarker's daily Top 10, featuring the best sports stories from around the web. Customize your newsletter to get articles on your favorite sports and teams. And the best part? It's free!
RUMORS & GOSSIP
WWE.COM is reporting that Roman Reigns will be undergoing emergency surgery today, just over 24 hours before the Night of Champions (2014) pay-per-view. Not much is known at this time. He was rushed a Nashville, Tennessee hospital for surgery on an incarcerated hernia. He had been in the area to promote WWE's Night of Champions event, but now, it looks like he might not even make...
Florida State quarterback Jameis Winston has now been suspended for their game against the Clemson Tigers on Saturday. As you already know, Winston was originally suspended for the first half after he made inappropriate comments on campus earlier this week. According to an email by Interim Florida State President Garnett S. Stokes late Friday night, the school has now suspended Winston...
ESPN's Outside the Lines dropped a major bomb on the Baltimore Ravens regarding their handling of the Ray Rice situation, saying that the team engaged in a massive cover-up to lessen their star running back and franchise icon's punishment. According to ESPN's story, the Ravens knew exactly what was on the elevator video hours after […]
Former Phoenix Suns sharpshooter Rex Chapman was arrested in Scottsdale on Friday after a months-long shoplifting spree at a local Apple Store that netted him approximately $14,000 in stolen goods. Chapman's not-so-inconspicuous trick involved checking out merchandise via an iPhone self-checkout app, but not actually going through with the transaction. After leaving, Chapman would...
It's hardly surprising that Kevin Durant is a pretty passionate fan of D.C. sports. He hails from nearby Rockville, Md., and often professes his love for the pro sports teams he grew up watching. Durant was in attendance last Sunday for the Washington Redskins' 41-10 drubbing of the awful Jacksonville Jaguars. Clad in a RG3 […] The post Dan Snyder sends Kevin Durant game ball...
Roger Goodell read a prepared statement during his press conference on Friday and then answered questions using lines given to him by PR people/crisis management firms. The result was a boring, insincere press conference where many of the exact same lines and phrases were repeated. However, there was one point where Goodell got thrown off […]
Florida State star quarterback Jameis Winston was the butt of the joke on many of the best College GameDay signs during the opening weekend of the 2014 college football season for shoplifting crab legs. Despite solid on-field play through the Seminoles' first two games, Winston is facing an increasing amount of criticism for his off-the-field issues after getting suspended for...
Miami Dolphins pass rusher Dion Jordan saw his suspension for violating the league's substance abuse policy lifted today when the NFL and NFLPA finalized a new drug policy. Shortly after Jordon's suspension was lifted, he was suspended another four games for a second violation of the NFL's substance abuse policy. Jordan had this to say about his latest violation in a statement...
TweetAccording to a report from ESPN, the Minnesota Timberwolves have made a max contract offer to Phoenix Suns restricted free agent Eric Bledsoe. Minnesota is hoping to work a sign-and-trade deal with Phoenix for the explosive guard. Bledsoe and the Suns have been at a standstill, with Bledsoe seeking a 4-year deal worth over $60 million. The Suns offered injury-prone Bledsoe a...
Florida State quarterback Jameis Winston just can't seem to stay out of the headlines for negative reasons. Between the rape allegations, the crab leg theft, the numerous BB guns incidents and now the obscene outburst on campus, fans feel like it's just a matter of time before the Heisman Trophy winner does something else embarrassing. One fan, who is probably not a supporter...
Latest Rumors
Best of Yardbarker

Today's Best Stuff

For Bloggers

Join the Yardbarker Network for more promotion, traffic, and money.

Company Info

Help

What is Yardbarker?

Yardbarker is the largest network of sports blogs and pro athlete blogs on the web. This site is the hub of the Yardbarker Network, where our editors and algorithms curate the best sports content from our network and beyond.