Found February 03, 2013 on NESN.com:
Via NESN: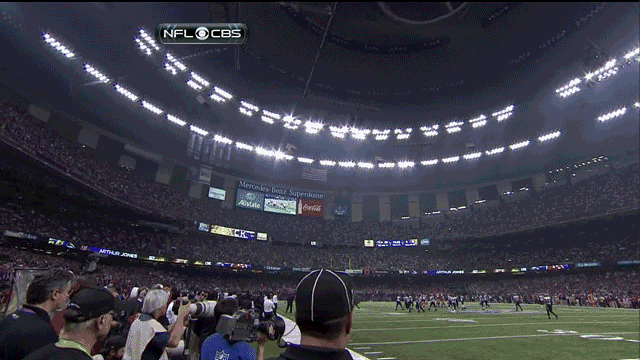 Minutes after Jacoby Jones' 108-yard kickoff return put Baltimore up 28-6 to begin the second half of the Super Bowl, the lights went out on the 49ers.
No, really.
The Mercedes-Benz Superdome lost power with 13:28 remaining in the third quarter, knocking out most of the stadium lights as well as the audio feed from CBS commentators Jim Nantz and Phil Simms.
A portion of lights came back on momentarily after the outage — which CBS analyst Jim Brown said was caused by a power surge — but a majority remained dark until the arena's power system could fully reboot, a process that was expected to take nearly half an hour.
Players stretched their muscles and tried to remain loose on the field and, despite claims on the Twittersphere, Bane has not been witnessed at the Superdome.
(image via Deadspin).
Read More:
http://nesn.com/2013/02/superdome-los...
THE BACKYARD
RELATED ARTICLES
For those of us who are not huge Phil Simms fans, the power outage at the Super Bowl served as a small blessing. For the players, the power outage could be a serious problem. Tightening muscles, pulled hamstrings, you name it. The San Francisco 49ers have to hope that this stops the bleeding and keeps the Ravens off balance.
A power outage at the Louisiana Superdome delayed the Super Bowl for over half an hour in one of the most surreal scenes in sports.  Power was out in the CBS booth with Jim Nantz and Phil Simms and the network had to lean on sideline reporters Steve Tasker and Solomon Wilcots for updates.  On the radio side, Dial Global tweeted this picture of play by play man Kevin Harlan having...
Super Bowl XLVII was far from the broadcast equivalent for Phil Simms of going 22/25 in Super Bowl XXI.  CBS's top NFL analyst was caught contradicting himself repeatedly throughout the game and missed out on late game strategy.  While not quite reaching Chris Berman levels, the Twitterati was left unimpressed.  One of those newfound announcing critics was the NBA's best...
Good, bad, and ugly posts tend to naturally force writers to give the negative more coverage than the positive. Had NBC broadcast Super Bowl XLVII, that might have made things tough on me. But with CBS in charge and a 34-minute power outage in the mix, it was easy to find enough problems to fill the "bad" and "ugly" columns. This was not a smooth broadcast, but...
NFL News

Delivered to your inbox

You'll also receive Yardbarker's daily Top 10, featuring the best sports stories from around the web. Customize your newsletter to get articles on your favorite sports and teams. And the best part? It's free!
RUMORS & GOSSIP
Pittsburgh Steelers wide receiver Antonio Brown is not happy with ex-teammate Emmanuel Sanders for his comments made about Ben Roethlisberger. Sanders, who spent four seasons with the Steelers before signing with the Broncos in March, compared his new quarterback with his old quarterback and enumerated the ways Peyton Manning is a better leader than Big […]
It looks like another WWE superstar could land in a mega-hit that has nerd alert written all over it.  Yes, Sheamus may be playing the role of Darth Vader in the upcoming Star Wars Episode 7 which is currently slated to hit theaters on December 18, 2015. Wow. Today's edition of the Irish Daily Mirror has an article theorizing that the Celtic Warrior could be playing the Lord Sith...
Jameis Winston was detained by police at gunpoint in a 2012 incident for carrying a firearm on campus.
(Credit: phillysportslive.com) There are questions surrounding the Philadelphia Eagles in regards to how they plan to replace wide receiver DeSean Jackson, who was released then subsequently signed by division rival Washington Redskins. Head coach Chip Kelly pulled no punches when answering those questions: "I think most people played us in single high (safety) coverage and they...
In Carolina, Steve Smith told Aqib Talib to "ice up, son." In Baltimore, he's telling Joe Flacco, "iced coffee, son." Buried at the bottom of Peter King's latest MMQB column is an interesting nugget about how Smith and Flacco are developing chemistry in training camp. Take it away, Peter ... They wager $25 Starbucks cards when they disagree on on...
SAN FRANCISCO — In one of their craziest scouting experiences, the Minnesota Twins have reached a deal with a 24-year-old pitching prospect who has thrown 100 mile per hour fastballs but has never been drafted. Brandon Poulson was pitching earlier this month for the Healdsburg Prune Packers in a collegiate summer league. His manager was Joey Gomes, the brother of big leaguer Jonny...
There are plenty of question marks for the Dallas Cowboys entering the 2014 season, but Jerry Jones doesn't want Tony Romo's health to be one of them. Jones told Charean Williams of the Fort Worth Star-Telegram that his $100 million quarterback, Tony Romo is 100% healthy. "He is 100 percent. He's 100 percent," Jones said during practice […]
Patrick Peterson announced on Tuesday night that he has signed a five-year, $70 million contract extension with the Arizona Cardinals. This next piece of information may shock you — Richard Sherman did not congratulate him. Peterson's deal, which he says includes $48 million guaranteed, is one year longer than the four-year, $56 million extension Sherman […]
BRIDGEPORT, Conn. — A lawyer says a Connecticut minor league baseball player hit by former major leaguer Jose Offerman in a 2007 baseball bat attack has won nearly $1 million in a lawsuit. A jury Tuesday awarded $940,000 to Bridgeport Bluefish catcher Johnathan Nathans, who wanted $4.8 million. Nathans' lawyer Josh Koskoff says he's still affected by a head injury he suffered...
Kevin Durant and LeBron James appear to be pretty good friends. That was no more evident than when James' Heat beat Durant's Thunder in the Finals, and they were working out together that following summer. Strange. With LeBron going back […]
Latest Rumors
The Backyard

Today's Best Stuff

For Bloggers

Join the Yardbarker Network for more promotion, traffic, and money.

Company Info

Help

What is Yardbarker?

Yardbarker is the largest network of sports blogs and pro athlete blogs on the web. This site is the hub of the Yardbarker Network, where our editors and algorithms curate the best sports content from our network and beyond.