Found February 03, 2013 on NESN.com:
Via NESN: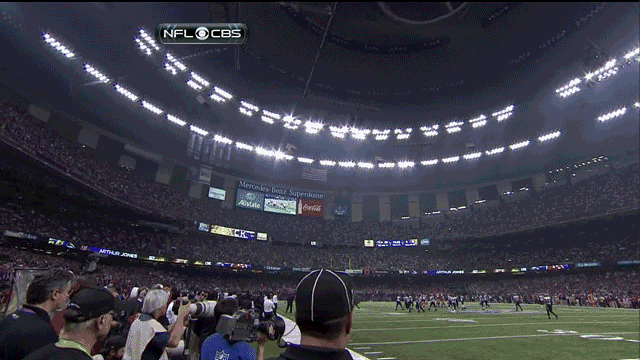 Minutes after Jacoby Jones' 108-yard kickoff return put Baltimore up 28-6 to begin the second half of the Super Bowl, the lights went out on the 49ers.
No, really.
The Mercedes-Benz Superdome lost power with 13:28 remaining in the third quarter, knocking out most of the stadium lights as well as the audio feed from CBS commentators Jim Nantz and Phil Simms.
A portion of lights came back on momentarily after the outage — which CBS analyst Jim Brown said was caused by a power surge — but a majority remained dark until the arena's power system could fully reboot, a process that was expected to take nearly half an hour.
Players stretched their muscles and tried to remain loose on the field and, despite claims on the Twittersphere, Bane has not been witnessed at the Superdome.
(image via Deadspin).
Read More:
http://nesn.com/2013/02/superdome-los...
THE BACKYARD
RELATED ARTICLES
For those of us who are not huge Phil Simms fans, the power outage at the Super Bowl served as a small blessing. For the players, the power outage could be a serious problem. Tightening muscles, pulled hamstrings, you name it. The San Francisco 49ers have to hope that this stops the bleeding and keeps the Ravens off balance.
A power outage at the Louisiana Superdome delayed the Super Bowl for over half an hour in one of the most surreal scenes in sports.  Power was out in the CBS booth with Jim Nantz and Phil Simms and the network had to lean on sideline reporters Steve Tasker and Solomon Wilcots for updates.  On the radio side, Dial Global tweeted this picture of play by play man Kevin Harlan having...
Super Bowl XLVII was far from the broadcast equivalent for Phil Simms of going 22/25 in Super Bowl XXI.  CBS's top NFL analyst was caught contradicting himself repeatedly throughout the game and missed out on late game strategy.  While not quite reaching Chris Berman levels, the Twitterati was left unimpressed.  One of those newfound announcing critics was the NBA's best...
Good, bad, and ugly posts tend to naturally force writers to give the negative more coverage than the positive. Had NBC broadcast Super Bowl XLVII, that might have made things tough on me. But with CBS in charge and a 34-minute power outage in the mix, it was easy to find enough problems to fill the "bad" and "ugly" columns. This was not a smooth broadcast, but...
NFL News

Delivered to your inbox

You'll also receive Yardbarker's daily Top 10, featuring the best sports stories from around the web. Customize your newsletter to get articles on your favorite sports and teams. And the best part? It's free!
RUMORS & GOSSIP
Emmanuel Sanders has plenty of respect for his former quarterback Ben Roethlisberger, but it hasn't taken him long to figure out that Peyton Manning is an even better leader. Sanders caught 11 touchdowns in four seasons with the Pittsburgh Steelers and left to sign with the Denver Broncos in March. During an interview Friday with […]
Scott Rovak-USA TODAY Sports As the MLB trade deadline approaches, the buzz around Rockies superstar shortstop Troy Tulowitzki is growing day by day. Tuluwitzki attended a Yankees game a few days ago, apparently he didn't visit the Yankees stadium as a fan. Jon Heyman of CBSSports.com reported: Friends of Tulowitzki say that while he hasn't necessarily presented a list of pre...
Over the weekend tragedy struck when three kids were killed in a hit and run. Ten-year-old Thomas Reed, his 15-year-old sister Keiearra Williams and their 7-year-old brother Terrence Moore were all killed when a carjacked SUV plowed into the church-run fruit stand where they were volunteering. The kids' mother was critically injured. Via NBC Washington: The children had all been...
In May of this year, Suns PJ Tucker was arrested for what is described by the Scottsdale Police as "super extreme DUI." Tucker's blood alcohol content registered at .201 on a preliminary breath test in the field on May 10, according to Scottsdale police. A driver is considered legally drunk for a DUI charge in Arizona at .08 blood-alcohol content. A blood test administered...
Probate court judge Michael Levanas of the California Superior Court ruled on Monday that Donald Sterling could not block the sale of the Los Angeles Clippers. Unsurprisingly, Levanas found Rochelle Sterling, Donald Sterling's wife, to be the more credible witness of the two and he also ruled that sale of the team could begin immediately. Steve Ballmer, former Microsoft executive...
Via IMPACT WRESTLING The death knell that's seemingly been sounding for years is finally real for TNA Impact wrestling. As reported by TMZ, Spike TV contacted Impact TNA President Dixie Carter late last week to inform her of their decision. From my own personal sources, Spike TV executives have been reviewing the product for at least the last few months as the renewal date for...
The robbers thought they had a good plan. Wait until one of the employees from the gas station came back from the bank and jump him before he knew what hit him. One small problem though, they didn't take into account another employee happening to be a mix martial arts fighter. Best part of the video is after the big man of the robbers' crew is beaten down, his boy thinks about...
More than most sports, baseball is about "earning your spot." Players have to work their way through four or five levels of the minors before getting their chance in the big leagues, and some guys wait close to 10 years before they get their shot. So it's at least understandable when players get upset over a specific player getting the benefit of the doubt, or getting a promotion...
Atlanta Braves SS Andrelton Simmons has quickly rocketed to the top of defensive shortstops in only his second full season in the majors. And it's not that he specializes in dives or plays to the hole, he does it all. Check out this amazing play from Monday's afternoon tilt as he uses his bare hand to snag a tricky one-hop off the bat of San Diego Padres speedster Will Venable...
Since Lebron James decided to wear the #23 this coming season I know there's only one thing on your mind: Is Michael Jordan cool with that. You passed on attending your best friend's wedding, opted against cashing in a free blimp ride voucher, and refused to respond to the concerned texts, calls and emails from your family because you couldn't possibly continue life before...
Latest Rumors
The Backyard

Today's Best Stuff

For Bloggers

Join the Yardbarker Network for more promotion, traffic, and money.

Company Info

Help

What is Yardbarker?

Yardbarker is the largest network of sports blogs and pro athlete blogs on the web. This site is the hub of the Yardbarker Network, where our editors and algorithms curate the best sports content from our network and beyond.