Found August 08, 2012 on isportsweb.com:
It's really amazing how quickly things can change during a 6-day vacation. While I was away the Colts traded a cornerback (Kevin Thomas) and brought over two fringe linebackers in return. Two waived players (G Ben Ijalana and DT Eric Foster) return to the team on the IR list since they both cleared waivers – no real shock there. And now the team released its first depth chart of the pre-season. Being that we are still in training camp an approximately four weeks from "real" football being played, there should not be too much stock taken into this first listing of players, though there are still a few surprises. I'll list the depth chart as it stands now (per Colts.com), then I'll get into the things I think I think, to steal a phrase from the great Peter King.
OFFENSE:
POS First Second Third Other QB Andrew Luck Drew Stanton Chandler Harnish WR Reggie Wayne LaVon Brazill Griff Whalen Jeremy Ross
Quan Cosby LT Anthony Castonzo George Foster Ty Nsekhe LG Jeff Linkenbach Joe Reitz Jason Foster C Samson Satele A.Q. Shipley Zane Taylor RG Mike McGlynn Seth Olsen Hayworth Hicks RT Winston Justice Mike Tepper Steven Baker Justin Anderson TE Coby Fleener Kyle Miller Andre Smith WR1 Austin Collie Donnie Avery T.Y. Hilton Jabin Sambrano
Kris Adams
Jarred Fayson WR2 Dwayne Allen Dominique Jones RB Donald Brown Mewelde Moore Vick Ballard Delone Carter
Darren Evans
Deji Karim
DEFENSE:
POS First Second Third Other DE Cory Redding Ricardo Mathews James Aiono NT Antonio Johnson Brandon McKinney Chigbo Anunoby Josh Chapman DT Fili Moala Drake Nevis Jason Shirley SLB Robert Mathis Jerry Hughes Tim Fugger Moise Fokou RILB Kavell Conner Mario Harvey Scott Lutrus Greg Lloyd LILB Pat Angerer Jerrell Freeman Larry Lumpkin OLB Dwight Freeney Justin Hickman Mario Addison Jerry Brown LCB Cassius Vaughn Justin King Brandon King Cameron Chism
Buddy Jackson SS Tom Zbikowski Jermale Hines David Caldwell Latarrius Thomas FS Antoine Bethea Joe Lefeged Mike Newton Matt Merletti RCB Jerraud Powers Korey Lindsey Terrence Johnson D.J. Johnson
Antonio Fenelus
Chris Rucker
SPECIAL TEAMS:
POS First Second Third Other P Pat McAfee Brian Stahovich PK Adam Vinatieri Pat McAfee H Pat McAfee LS Justin Snow Matt Overton KR LaVon Brazill T.Y. Hilton Joe Lefeged Cassius Vaughn
Deji Karim
Mewelde Moore
Tom Zbikowski PR LaVon Brazill T.Y. Hilton Griff Whalen Tom Zbikowski
Now my initial reactions:
1. Dwayne Allen
It's no shock that Allen is listed as starter, to be sure. But what kind of surprised me is that he is listed as a 3rd wide receiver versus a 2nd tight end. Now, this very well could just be a technicality of how the depth chart is laid out, but I am fairly certain you can list two starting tight ends. The reason this jumped out at me is that with Bruce Arians at the offensive helm, it is widely expected that the Colts will be running a lot of two tight-end sets versus 3 wide receiver sets. We'll have to really keep an eye on where they line him up in the first pre-season game Sunday versus the Rams.
2. Delone Carter Listed Behind Both Mewelde Moore and Vick Ballard at RB
This almost has to be disheartening to Carter, who suffered various fumbling issues last year. Based on the depth chart, the coaching staff feels he's not done enough improving to warrant a better spot. Having Mewelde Moore behind Donald Brown is no real surprise – Moore had success in Pittsburgh and gives a veteran presence behind Brown, who the jury is also still out on. But Ballard is a rookie (drafted in the 5th round) and has no NFL game experience, where as Carter does. While that normally might not make a difference if the rookie was an Edgerrin James, 5th round backs usually aren't put ahead of experienced players before the first pre-season game.
3. Cassius Vaughn a Starter?
Really, no matter who is on the other side of CB Jerraud Powers this year, they will likely struggle. Barring a trade for a better player later in the year, the LCB position will be a revolving door of mediocrity. That being said, it is a little surprising to see Cassius Vaughn listed as the early starter over some of the other guys on the team. Vaughn, for his career, has played 28 games, but logged only 28 tackles, only 4 passes defensed, and 1 INT. I get the feeling that this is more of a way for the Colts to feel like they are getting a bit of a return on their investment (Vaughn was traded to the Colts by the Broncos earlier in the off-season). I have a feeling someone else will step up to the starting spot come the regular season.
4. Who is Korey Lindsey?
The better question should be "Why is he listed as Jerraud Power's primary back-up?" Korey Lindsey has never played in a regular season NFL game. Last I could find was that he was on the Arizona Cardinals practice squad in 2011. He's so obscure in fact that as of this writing the little "bio box" on his Wikipedia page shows he's a Colts player, but the rest of the article still shows him as a Cardinal. So obviously when I saw him listed in the second unit, I did a double take and said "Wait…. what?" Normally, a back-up cornerback would not give me such a reaction, but he's ahead of guys like Terrence Johnson and Chris Rucker who, while not great players, at least have played in a few games. Rucker I thought would be the next likely starter after they shipped off Kevin Thomas to the Eagles. I guess these guys are showing even less than I originally thought.
5. Josh Chapman Buried on the Depth Chart
Astute Colts fans will have already noticed that the 5th round defensive tackle from Alabama is listed in the "other" category of the depth chart. He's listed behind such stalwarts as Brandon McKinney and Chigbo Anunoby (huh?). But Colts fans need not fear with this one. Chapman is still rehabbing his ACL injury and is still listed on the physically unable to perform (PUP) list. Depending on how the rehab goes, I would still expect Chapman to at least play a few downs later on in the season.
I am hoping to make it to Anderson in the next few days to catch a glimpse at the team myself, so if my schedule allows it, I will let you know via Twitter, and will post my thoughts on what I see. Until then, I continue focusing on my Colts/NFL previews, as well as my inaugural Power Rankings, all which will be posted the week prior to the first game of the regular season.
Follow me on Twitter @expertfan1
Original Story:
http://feedproxy.google.com/~r/isport...
THE BACKYARD
BEST OF MAXIM
RELATED ARTICLES
After a day off, the Colts had another practice on Thursday, although once again the rain changed things. Again practicing in pads, the Colts moved their practice from Anderson University to the Colts' facilities in Indianapolis, due to the possibility of rain.  According to George Bremer of the Herald Bulletin, the condition of the fields at Anderson caused some concern to...
If you've been following the beat writers on Twitter during the Colts' training camp, or keeping up with news other ways, you'll know that Dwayne Allen has been receiving a lot of attention.  Thankfully, that attention has been all positive.  Coaches and teammates have expressed great surprise in just how good of a receiver he is, and his blocking (which was expected...
It seems like Moise Fockou and Greg Lloyd have already formed a tight bond.  Perhaps it was last season in Philadelphia, especially the final five weeks, where both were on the 53-man roster, but both were also inactive for all of the final four games.  Perhaps it was this summer, both knowing that their shot at contributing was minuscule.  Perhaps is was simply a product of...
While the Colts were keeping one eye on their former signal-caller's Denver debut, the primary focus remains on Sunday's preseason opener that officially ushers in a new era. Peyton Manning suited up for the Broncos Thursday night, while first overall pick Andrew Luck will see his first game action for the Colts on Sunday against St. Louis. Wide receiver Austin Collie,...
In case you're unaware, the Colts released their first unofficial depth chart for the 2012 season, the one that will be in place for the first preseason game against the St. Louis Rams on Sunday, August 12th.  The depth chart IS unofficial, and is not yet completed on the team's website. The team did however, release pictures of the base depth charts on Instagram, and tweeted...
Andrew Luck isn't sure how much he'll play in Sunday's preseason opener, and he's not lobbying for more time. The No. 1 overall draft pick was asked Tuesday about his expectations for his first NFL game. Indy's new franchise quarterback says he'll let new coach Chuck Pagano and offensive coordinator Bruce Arians make the call because he trusts their judgment...
The Indianapolis Colts are learning things on the fly. Thursday's chapter included moving practice again. Rain forced coach Chuck Pagano to move the morning walkthrough indoors, the fourth time they've worked inside the gym at Anderson University since training camp opened two weeks ago. This afternoon, Pagano and his players plan to make the 30-minute trip back to the...
Bruce Arians knows quarterbacks. He was Peyton Manning's first quarterback coach in Indianapolis, groomed Tim Couch in Cleveland before Couch was injured and turned a raw Ben Roethlisberger into a two time Super Bowl winner. Now Arians has a new challenge in grooming another first round quarterback in Andrew Luck. With the Colts made over roster, the task before Arians will be...
Syracuse, NY -- Let's follow Indianapolis Colts defensive end Dwight Freeney through a full workout with trainer Will Hicks. Or at the very least FF through it and you'll probably still be... Full story at Bob's Blitz ~ http://www.bobsblitz.com
With the 2012 NFL regular season just over the horizon, thousands of virtual General Managers are scrambling and strategizing for their upcoming fantasy league drafts.  Last season the success of Cam Newton had many fantasy fanatics regretting their decision to not draft him.  Where there are certain to be more surprises from the QB position in 2012, here are [...]
It is hard to call a team overrated that went 2-14 last year. This same team which won the "Suck for Luck" sweepstakes has experienced a significant overhaul. It has a new GM, Ryan Grigson, a new offensive coordinator, Bruce Arians, and a new coach, Chuck Pagano. Of the 90 players who reported to Colts training camp, 60 are in their first camp. Twenty-six players are...
Sure he's got his issues… but that alone doesn't mean he can't be your WR1. We've been diligently working here at Fantasy Knuckleheads to give you all of the tools you need to prepare for draft day, execute on draft day, and manage your team in-season.  In my travels, I've been hearing industry experts lately talking about how they might like a certain player but wouldn't...
Colts News

Delivered to your inbox

You'll also receive Yardbarker's daily Top 10, featuring the best sports stories from around the web. Customize your newsletter to get articles on your favorite sports and teams. And the best part? It's free!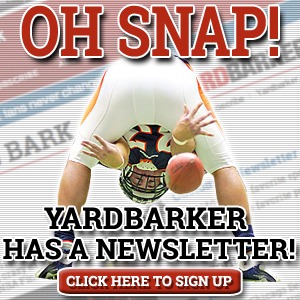 Latest Rumors
Best of Yardbarker

Today's Best Stuff

For Bloggers

Join the Yardbarker Network for more promotion, traffic, and money.

Company Info

Help

What is Yardbarker?

Yardbarker is the largest network of sports blogs and pro athlete blogs on the web. This site is the hub of the Yardbarker Network, where our editors and algorithms curate the best sports content from our network and beyond.