Found April 17, 2013 on Turn On The Jets:
There is no reason not to be optimistic about how New York Jets GM John Idzik has started his career here. However, the next couple of weeks are going to present him with numerous critical decisions that will shape both the 2013 roster and the team's future beyond the upcoming season. Let's take a position by position look and make a few predictions on what could be on the way. Quarterback - If the Jets select a quarterback, don't expect it to be in the first round. Idzik won't want to tie himself to a shaky prospect like Geno Smith with a such a high selection with his first ever draft pick as a GM. It is more likely the Jets will look to the middle rounds to add another quarterback to their depth chart. Keep an eye on EJ Manuel in the 2nd round and Zac Dysert in the 3rd or 4th round. Idzik also needs to decide what to do with that TEBOW fella. Considering Tebow is an asset (even an extremely low valued one) and Idzik has shown he is patient, look for the Jets to wait until a few weeks after the draft before releasing Tebow, if they can't find a trade partner by that point. They are likely waiting to see how the draft shakes out for them and other potentially quarterback needy teams. Running Back - All eyes will be on a potential trade for Chris Ivory leading up to the Draft. If the Jets can get Ivory for a 4th or 5th round pick, it would be very good value for a player who can immediately start for them. If the Jets don't pull the trigger, they could focus on mid-round prospects like Christine Michael or Le'Veon Bell. Regardless, it doesn't appear they are satisfied with a Mike Goodson/Bilal Powell platoon. The trade for Ivory almost makes too much sense for it not to occur. Wide Receiver - The Jets need to add another player or two here. Depending on if they acquire an extra pick or two, it will be interesting to see how early they address their need in the Draft. A veteran could be added at some point post-draft but it would be surprising if the Jets didn't leave next weekend with at least one new wide receiver. Tight End - A "must" position to be addressed in the Draft, potentially very early. Keep an eye on Zach Ertz or Travis Kelce. The Jets badly need to improve their depth here, meaning a draft pick and a bargain bin veteran could be added before the summer. Offensive Line - Guard wouldn't be a sexy first round pick but there remains a decent chance the Jets could consider Chance Warmack or Jonathan Cooper with the 9th overall pick. Either player could start from day one and could help give the Jets one of the better run blocking offensive lines in football. If a Guard isn't taken Thursday night, it will be addressed at some point during the Draft. Brandon Moore and Stephen Peterman both remain free agents and could always be added post-draft if the team is uncomfortable with their depth. Defensive Line - There has been some chatter about the Jets and North Carolina DT Sylvester Williams in the NFL Draft, which could make you think the team isn't exceptionally high on third year player Kenrick Ellis. It would be surprising if the Jets didn't add another piece to their defensive line rotation via the Draft or free agency at some point, but it doesn't seem likely they'd spend a pick before the third round in this area. Linebacker - If there was one player you could say was the safest guess for the Jets to take at 9 right now, it would be Barkevious Mingo. It is wide open but Mingo seems the most logical choice because of his skill-set and the Jets draft position. This team isn't done adding outside linebackers despite bringing Calvin Pace back and it wouldn't be shocking if they drafted two over the course of draft weekend. Secondary - REVIS. REVIS. REVIS. The biggest decision Idzik faces is how to handle Darrelle Revis in the coming days. Does he pull the trigger before the Draft or will he remain patient into the summer? It legitimately seems like there is a 50/50 chance a deal is done in the next week at this point, if it goes through it could change the team's entire approach to Draft weekend. The team is also likely to draft a safety in the first three rounds. Keep an eye on Matt Elam and DJ Swearinger in particular.
Original Story:
http://turnonthejets.com/2013/04/new-...
THE BACKYARD
BEST OF MAXIM
RELATED ARTICLES
What is a fair price for acquiring Darrelle Revis from the Jets? Is a first round pick as well as others? Is it this year's picks? Next year's?  This has been largely discussed for over a month now and some still worry about his ACL injury. I too have talked with many about this while also admitting that even with the injury the Bucs — or the Jets — should still pull the...
It remains to be seen whether the Jets decide to deal Darrelle Revis, but the odds are still in favor of it happening. ESPN's Adam Schefter said on NFL Live Wednesday that the star cornerback is "60-40" to get traded to the Buccaneers. This bit of news came on the heels of a Tampa Bay Times report which said the Bucs believe New York's asking price is "currently...
According to Rick Stroud of the Tampa Bay Times, the Buccaneers believe the Jets' asking price for Darrelle Revis is currently too high.The Bucs front office and coach Greg Schiano are in agreement that the Jets' price is currently too high for Revis, especially due to the lack of suitors and the fact he is coming off surgery to repair a torn ACL. While Revis was cleared to begin...
TAMPA, Fla. Greg Schiano stepped to a podium early Monday afternoon, speaking with the comfort of a man with his rookie Tampa Bay Buccaneers coaching year behind him, aware that theres a large prize that could be gained for his second. Monday marked the start of the Bucs' offseason workouts, a time of reunion and new energy, but one issue continues to swirl around One Buc Place...
Say this about the NFL schedule-makers: They've got a sense of humor. Citing a source, USA Today reports the Jets will open up the 2013 season hosting the Buccaneers at MetLife Stadium. The NFL will release the full schedule tonight at 8 p.m., but there's too much intrigue for this not to be on the Week 1 slate. As previously reported, both teams continue to hammer away...
According to RIch Cimini of ESPNNewYork.com, the latest MRI on Darrelle Revis' surgically repaired knee shows that he's ahead of schedule with his rehab. MRI on Revis' surgically-repaired knee show he's ahead of schedule, per source. Cleared by Dr. Warren to run without restriction. #Jets — Rich Cimini (@RichCimini) April 15, 2013 It's great that Revis' knee is doing...
John Idzik acknowledged that he and Darrelle Revis recently had ''a nice talk.'' Other than that, the new New York Jets general manager divulged very little, particularly about the swirling trade rumors involving the star cornerback. ''We won't discuss any supposed talks or true talks or club-to-club talks or player-to-club talks,'' Idzik said...
Darrelle Revis was back with his New York Jets teammates -- as rumors continue to swirl that he could be headed elsewhere soon. The star cornerback reported Monday for the first day of the team's voluntary offseason conditioning program, a few hours after having an MRI exam with Dr. Russell Warren, the Giants' team orthopedist, at a hospital in Manhattan. The MRI exam results...
Gerald McCoy took to the podium today for the first time this offseason at One Buc Place. He also was not surprised when the first question he faced was about Darrelle Revis. "You would ask me that," McCoy responded. But when it seemed as if he was going to avoid the question, he gave us his thoughts when asked if he was following the trade rumors. I'm not following it. I'm...
The buzz of the free agency period has faded and while many football fans are looking ahead to the NFL Draft, we were blessed with a small appetizer tonight: the release of the 2013 NFL Schedule. I've found it to be a most welcome treat that also provides relief from the ever-repetitive Darrelle Revis trade speculation. Yes, I know that it's tough to gauge strength-of-schedule...
photo via NY Jets   I love this time of year.  The MLB season is just heating up, and the NBA and NHL playoffs are literally right around the corner.  Yet on an NBA less night, I recognized myself going through a bout of withdrawal.  Thankfully, the NFL did all of us a solid and made a slow sports night feel like Christmas with the release of the 2013 schedule. I've had a...
NFL News

Delivered to your inbox

You'll also receive Yardbarker's daily Top 10, featuring the best sports stories from around the web. Customize your newsletter to get articles on your favorite sports and teams. And the best part? It's free!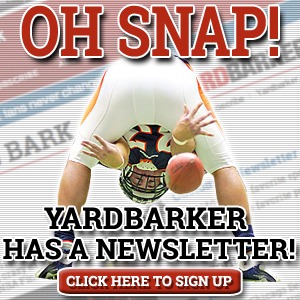 Latest Rumors
The Backyard

Today's Best Stuff

For Bloggers

Join the Yardbarker Network for more promotion, traffic, and money.

Company Info

Help

What is Yardbarker?

Yardbarker is the largest network of sports blogs and pro athlete blogs on the web. This site is the hub of the Yardbarker Network, where our editors and algorithms curate the best sports content from our network and beyond.