Found May 11, 2012 on Turn On The Jets:
PLAYERS:
Quinton Coples
,
Mike Mayock
,
Stephen Hill
,
Demario Davis
,
Josh Bush
,
Terrance Ganaway
,
Antonio Allen
,
Jordan White
,
Rex Ryan
,
Jesse Palmer
,
Robert T. Griffin
TEAMS:
New York Jets
,
Virginia Tech Hokies
Today we come to the end of our complete breakdown of every New York Jets draft pick, by looking at first rounder Quinton Coples. In case you haven't been paying attention, here are the links to all the previous articles. Another huge shout out to Chris Gross, TOJ's own Mike Mayock, who didn't leave the film room the past two weeks. 
Stephen Hill
Demario Davis
Josh Bush
Terrance Ganaway
Robert T. Griffin
Antonio Allen
Jordan White
When the New York Jets selected Quinton Coples with the 16th overall selection in this year's NFL draft, the organization immediately found itself under heavy criticism. Many expected the Jets to trade up for DE/OLB Melvin Ingram, but when he fell to New York at 16, it was seemingly too good to be true. When the Jets opted to pass on the highly touted player out of South Carolina, the reaction was not very warm among the green and white faithful. What made the decision to pass on Ingram even worse was the scrutiny that Coples found himself under in the weeks leading up to the draft. Once regarded as the best pass rushing prospect in this year's class, red flags regarding his character and effort level began to surface on draft boards throughout the entire nation. However, it is an unfortunate occurrence when individuals let others decide their opinion. With several draft experts in the media declaring Coples a talented, but lazy player, unworthy of the spot he was drafted in, people adopted this opinion as their own. But on what basis were these declarations made? On what grounds do analysts have the proper footing to deem Coples a lazy, unmotivated player? For the final edition of our draft analysis here at Turn On The Jets, my primary goal in evaluating Coples was to generate a completely objective opinion. I shelved everything I had heard about him, and simply watched him as if he were any other player. Some concerns about Coples may not be totally unwarranted, however to declare this young man as a waste of a selection and label him as a guy with a bad work ethic is completely unfair. The first characteristic that stands out on Quinton Coples when evaluating his game film is, undoubtedly, his explosiveness. Coples gets off the ball perhaps faster than any defensive player in this year's draft class. He also plays with excellent leverage, as he demonstrates the ability to get underneath offensive lineman, which is even more impressive when considering his 6'6" stature. The majority of the time, he is very aggressive in his approach to an opponent by showing an attack first mentality. Rarely does he allow the offensive lineman to initiate the contact with him. He is adamant about striking fast, and controlling the blocker. Along with explosion, Coples, most notably, has exceptional pass rush skills. He reads his keys extremely well, and displays tremendous ability to "run the circle." For a defensive lineman, the ability to run the circle refers to how well the player can dip their shoulder to gain leverage on the opposing lineman, while maintaining enough speed and coordination to stay in their pass rush lane and get to the quarterback. Coples does this just as good, if not better, than anyone I have evaluated in this year's class, including Ingram and Courtney Upshaw of Alabama. Coples is also very versatile. During his reign at UNC, he lined up at defensive end, tackle, and even some outside linebacker. His physical tools give him the ability to move all over the field, something Rex Ryan will surely take advantage of. He is very powerful, but at the same time, is extremely agile and smooth in his movements. During his junior season, Coples played primarily defensive tackle, and registered 10 sacks. His ability to play both inside and outside on the defensive line should make his value immeasurable to a creative coach like Ryan.Although Coples effort and work ethic came into question following his senior season at North Carolina, there is not enough substantial evidence to label him anything remotely close to "lazy." Countless times, Coples showed valiant effort in his play either by continuing to work up field on a pass rush with double moves, spin techniques, or an extra push, or on run plays where he repeatedly screamed down the line of scrimmage chasing runs away from his side of the field. The knocks on Coples being inconsistent are generally the only ones that I found to be true. There are times during games when he does not consistently play at a high level. However, there are several factors that are rarely considered as to why this happens. The first, and probably most obvious, is that regardless of the player, it is just about impossible to maintain an elite level of production on every single play. Secondly, with the immense amount of success Coples had during his junior year, coupled with the threat his physical abilities make him to opposing offenses, teams clearly game planned around him last season. There were numerous plays in which Coples faced double, and even triple, teams last year. It is very likely that #90 was circled on every offensive game plan among North Carolina's opponents in 2011. A player like Coples needs to be accounted for at all times, because if he is not, it can cost coordinators and coaches their jobs. Another very important factor that may have played into Coples inconsistency was the amount of turmoil that the North Carolina football program faced during his time as a Tar Heel. Besides the heavy amount of negative publicity and suspensions the team was dealt within the past two years, Coples also had the unfortunate burden of playing for four different position coaches in each of his four years with the program. It is very difficult for a player to get comfortable and gain consistency when there is no stability whatsoever. The fact that he still was able to perform at a level high enough for him to be considered one of the best, if not the best, defensive lineman in the draft should speak volumes to his character, rather than tarnish it. Granted, the argument can be made that as a division I scholarship athlete, there should be no excuses like these, but it is often forgotten that these players are simply kids. Instability within a program can be detrimental to a young man. With all of that being said, I still did not find enough substantial evidence to consider Coples a "lazy" player. He is ferocious off the ball, chases plays down, and has great tenacity. He even showed enough of a motor in the Virginia Tech game last year to have ESPN analyst, Jesse Palmer refer to him as a "high effort player." To me, it is a mystery as to where the claims on Coples' motor came from. Inconsistent, perhaps, but the bottom line is that he shows passion in his play and gets after it far more often than not. Coples' largest challenge as a Jet is going to be earning the love and respect of the fans. Although it is completely out of his hands, the choice by New York to pass on the highly regarded Ingram for Coples will be criticized until he lets his play speak for him. He needs to come out of the gate in a dash and keep his foot on the pedal without a second of hesitation. He will most likely be compared to Ingram, at least for this season, in terms of production and quality of play. Coples needs to show why Rex Ryan and the Jets have so much faith in him, and everyone in New York will soon forget about all of the other defensive players taken following the 16th pick. Coples true character should show early in the season. One would expect a player as highly criticized as he has been to come out with a chip on his shoulder, looking to prove all of his doubters wrong. Expect Coples to display high energy, tenacity, and motor from the moment he takes the field this season. If he does anything else, then, and only then, will it be time to raise the red flags. As far as his role with the Jets, Rex Ryan has already declared that he will see the majority of defensive snaps this season. While this is not necessarily a statement I am too fond of, for a player should have to earn that type of recognition, it is certainly something that needs to be done. Coples is far too big, strong, athletic, and versatile to be wasting time on the sidelines. He needs to play immediately and prove his worth as the 16th overall selection. Rex will certainly utilize his abilities to the highest degree. Expect to see Coples in a vast amount of packages, primarily at defensive end, while sliding all over on passing situations. Ryan feels he can get double-digit sack production out of Coples, and based on the UNC product's abilities, there is no reason to think otherwise. Consistency of play is going likely going to be the most important factor in his success.
Original Story:
http://turnonthejets.com/2012/05/new-...
THE BACKYARD
BEST OF MAXIM
RELATED ARTICLES
It's official: Tim Tebow's allegiance now lies with New York. The new Jets quarterback told the media on Thursday that he changed his dog's name from Bronco to Bronx after being traded. Tebow got the pooch — a Rhodesian Ridgeback — in October 2010. He seemed to be sucking up to the local crowd by naming his pup Bronco back then. He chose "Bronx" as the new name for...
One night after walking the red carpet with A-listers at the Metropolitan Museum of Art Costume Institute Gala, Tim Tebow was spotted downing red meat with his O-line at a Manhattan steak house along with New York Jets owner Woody Johnson and Mark Sanchez. Although Sanchez— the Jets starting quarterback— and Tebow, who will be competing with him for playing time this season...
Tim Tebow says he has worked exclusively at quarterback as Mark Sanchez's backup during the early portion of the New York Jets' offseason program, and is ''just trying to learn the offense.'' Coach Rex Ryan and offensive coordinator Tony Sparano have said Tebow, acquired from Denver in March, could have extensive playing time for the Jets in various roles...
Welcome back, my friends, to the show that never ends. May is typically a quiet month in NFL circles, but for the Jets, the attention surrounding Tim Tebow made life at their Florham Park facility feel like they were prepping for a playoff game. On Thursday the locker room was open to the media for the first time during the team's voluntary offseason workouts, and more than...
If Tim Tebow truly is heading into Jets training camp with the goal of becoming the starting quarterback, Mark Sanchez does not see it happening. The Jets owners and coaches have made it clear that Sanchez is their starter, but they also say they intend to use Tebow in a number of different packages and that he will in some way impact the offense. Sanchez agrees that Tebow will be...
The New York Jets have decided against doing the famed HBO sports series Hard Knocks for the second consecutive season (they did it in 2010 with no series during the lockout). The look inside training camp and the preseason that helped gain Rex Ryan and the Jets even more notoriety will have to seek out another team for its' 2012 season. It was reported that Jets' owner Woody...
Unfortunately for those of us who love great television, the New York Jets have reportedly turned down a chance to reprise their role at the center of HBO's training camp documentary show "Hard Knocks." I'll give you a moment to weep silently to yourselves. Having the Jets on "Hard Knocks" this summer would have been a gift from God. The last time Rex Ryan's team was...
Tebowmania is taking over New York, and not even canines are safe. In an attempt to fully embrace his new team, Tim Tebow is changing his dog's name to "Bronx." Tebow got the Rodesian Ridgeback in 2010, during his rookie season and named  him  "Bronco" after the franchise.  After acquiring Peyton Manning in the off season, the Denver Broncos traded Tebow for a four...
GWR plays the role of Nostradamus forecasting the impact of Jets rookie wide receiver Stephen Hill. Will Hill live up to the hype that lured New York into trading up to select him with its second-round draft choice?
Tim Tebow will change his dog's name from Bronco to Bronx. #nyj — Manish Mehta(@TheJetsStream) May 10, 2012 Apparently Tim Tebow could not deal with the psychological trauma of having his identity being ripped away by his master, so he took it out on his dog in similar fashion. Poor puppy.
During today's New York Jets media session, cornerback Darrelle Revis really let loose and stated that he doesn't like both Patriots head coach Bill Belchick and quarterback Tom Brady. Revis was asked to elaborate more on why he called Belichick a "jerk" during a word association game he played on ESPN. "I gave my honest opinion," Revis said. "You guys know me very...
The 2011 New York Jets lacked many assets to make them a playoff team, as displayed by their .500 record. Among their several missing pieces was a big, playmaking, wide receiver that could stretch the field and open up the offense. Plaxico Burress fit the "big" bill, but having been over a full year removed from football, he lacked the speed to create any separation from defensive...
Jets News

Delivered to your inbox

You'll also receive Yardbarker's daily Top 10, featuring the best sports stories from around the web. Customize your newsletter to get articles on your favorite sports and teams. And the best part? It's free!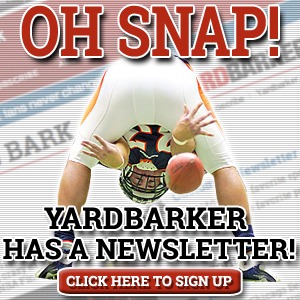 Latest Rumors
Best of Yardbarker

Today's Best Stuff

For Bloggers

Join the Yardbarker Network for more promotion, traffic, and money.

Company Info

Help

What is Yardbarker?

Yardbarker is the largest network of sports blogs and pro athlete blogs on the web. This site is the hub of the Yardbarker Network, where our editors and algorithms curate the best sports content from our network and beyond.