Found May 09, 2012 on Turn On The Jets:
When watching game film of New York Jets' 3rd round pick DeMario Davis, one word comes to mind: Boom! The Linebacker from Arkansas State may very well be one of the hardest hitters in this entire draft class. Among that, Davis possesses a very balanced skill set that gives him the potential to be an absolute steal as a third round selection. The young man that has recently drawn comparisons to Ray Lewis from the Jets coaching staff, in terms of his demeanor, attitude, and leadership ability. He proved that he can excel in all aspects of the game during his career at Arkansas State.
Other than being a very tough, hard-hitting player, Davis also possesses the read and reaction skills needed in a good linebacker. One of the best traits in his game is that there is no hesitation in his reaction time whatsoever. When a hole opens on a run play, or a pass rush lane on a blitz, Davis is very fast to hit the seam, which gives him an immediate advantage in making plays. He is able to fly to the ball from anywhere on the field, aided partly by his impressive speed, but primarily from his instinct and vast knowledge of the game.
Davis also has elite speed and athleticism as a linebacker. He is extremely fast and explosive out of his breaks, and can transition between his movements very smoothly. He has shown the ability to rush the passer from both the interior and off the edge, which is going to make him a very versatile weapon for Rex Ryan and the Jets' defensive coaching staff. He has a good arsenal of pass rush moves to couple with his tremendous speed, which should make him a valuable asset to a defense that had so much difficulty getting to the quarterback last year.
What Davis needs to work on the most, to truly be able to succeed at the next level, is his ability to shed blockers. He is usually fantastic at taking on the lead blocker in the hole, always using the correct shoulder and superior aggressiveness to blow up the fullback or wrapping guard as they come through, however he struggles to defend straight on blocks from offensive linemen. Davis too often allows linemen to get into him, making it virtually impossible for him to regroup in time to make a play. He needs to improve his hand action to be able to strike a quick move and get off the block immediately, rather than wasting time getting tangled up with the blocker. Effective handwork will also assist Davis in avoiding cut blocks, something that became frequent against him as last season progressed. When a linebacker plays with as much intensity and tenacity as Davis does, some offensive players tend to shy away from contact after a while throughout the course of a game. This may not necessarily happen at the next level, but in the event that it does, improved handwork will allow Davis to avoid this more often than not.
Davis's coverage skills are not great, but decent. What works best for him in pass coverage is his physicality and speed. He is very aggressive against receivers coming over the middle, or backs out of the backfield. His technique in coverage is far from perfect, however he was able to mask that in college due to his outstanding speed. This is something that he will need to improve upon at the next level, where the majority of offensive backs and receivers are going to be faster than he is. These are simple coaching points that will be made once he gets into camp.
What is most impressive about DeMario Davis's game film is his motor. He is constantly moving all over the field, sideline to sideline, regardless of the situation. He is very tough, and hits just as hard, if not harder than any defensive player that was taken this year. Davis was also a very good special teams contributor, as there were countless plays last season in which he blew up blockers and ball carriers alike during his time on the kickoff team. This will likely be a large part of his role with the Jets this season, so his experience here is extremely important.
Davis brings an intimidating presence to the field. While watching him on film, you can just feel the attitude he plays with. He is passionate, a natural leader, and seems to want it more than anyone else on the field at all times. He has been very productive during his time as a starter at Arkansas State. Since 2009, he has compiled 201 tackles, 7 sacks, 5 forced fumbles, and 4 interceptions. Also, as previously stated, Davis is extremely fast. He ran a 4.61 40-yard dash at the combine, but was reportedly in the low 4.5 range at his pro day. Either way, his extreme tenacity, speed, leadership ability, and versatility make him a perfect fit for the Jets.
Davis is a Rex Ryan type player, and he should have a tremendous future in New York. As for this year, expect to see him in some sub packages, most likely on third downs as either a blitzer or in coverage. He should have a heavy role on special teams, something he will undoubtedly succeed at, while learning the defensive system behind David Harris and Bart Scott. Eventually, he will be the successor to Scott, and should form a very potent duo on the inside with Harris in the future.
Editor's Note – Davis is a bit raw in some areas but I think he is a player Jets fans are going to fall in love with in the coming years. His motor and speed reminds me of what we saw from Aaron Maybin last year, except Davis has the tools to be a complete linebacker. Look for him to contribute in sub packages and be pushing Bart Scott heavily for playing time all season, until ultimately taking over for him next year.
Original Story:
http://turnonthejets.com/2012/05/new-...
THE BACKYARD
BEST OF MAXIM
RELATED ARTICLES
It's official: Tim Tebow's allegiance now lies with New York. The new Jets quarterback told the media on Thursday that he changed his dog's name from Bronco to Bronx after being traded. Tebow got the pooch — a Rhodesian Ridgeback — in October 2010. He seemed to be sucking up to the local crowd by naming his pup Bronco back then. He chose "Bronx" as the new name for...
While staff writer Chris Gross has been spending his time in the film room breaking down the New York Jets draft picks, I have spent the bulk of the my time in the film room going back through Mark Sanchez's first three years as a NFL quarterback. There is no reason to sugarcoat the reality, this is a make or break year for Sanchez. There isn't a backup quarterback in the NFL...
GOING DARK
Jets CB Antonio Cromartie has closed his Twitter account. Is it temporary, permanent, or something else?
One night after walking the red carpet with A-listers at the Metropolitan Museum of Art Costume Institute Gala, Tim Tebow was spotted downing red meat with his O-line at a Manhattan steak house along with New York Jets owner Woody Johnson and Mark Sanchez. Although Sanchez— the Jets starting quarterback— and Tebow, who will be competing with him for playing time this season...
Welcome back, my friends, to the show that never ends. May is typically a quiet month in NFL circles, but for the Jets, the attention surrounding Tim Tebow made life at their Florham Park facility feel like they were prepping for a playoff game. On Thursday the locker room was open to the media for the first time during the team's voluntary offseason workouts, and more than...
If Tim Tebow truly is heading into Jets training camp with the goal of becoming the starting quarterback, Mark Sanchez does not see it happening. The Jets owners and coaches have made it clear that Sanchez is their starter, but they also say they intend to use Tebow in a number of different packages and that he will in some way impact the offense. Sanchez agrees that Tebow will be...
GWR plays the role of Nostradamus forecasting the impact of Jets rookie wide receiver Stephen Hill. Will Hill live up to the hype that lured New York into trading up to select him with its second-round draft choice?
Tebowmania is taking over New York, and not even canines are safe. In an attempt to fully embrace his new team, Tim Tebow is changing his dog's name to "Bronx." Tebow got the Rodesian Ridgeback in 2010, during his rookie season and named  him  "Bronco" after the franchise.  After acquiring Peyton Manning in the off season, the Denver Broncos traded Tebow for a four...
Tim Tebow will change his dog's name from Bronco to Bronx. #nyj — Manish Mehta(@TheJetsStream) May 10, 2012 Apparently Tim Tebow could not deal with the psychological trauma of having his identity being ripped away by his master, so he took it out on his dog in similar fashion. Poor puppy.
KANSAS CITY, Mo. (AP) -- The Kansas City Chiefs have signed former Jets defensive end Ropati Pitoitua. The team announced the move Tuesday. Pitoitua was a free agent after playing in 22 games over the past two seasons with the Jets. The former Washington State defensive end joined New York as an undrafted free agent in 2008, spending his first season in the league on the team&...
During today's New York Jets media session, cornerback Darrelle Revis really let loose and stated that he doesn't like both Patriots head coach Bill Belchick and quarterback Tom Brady. Revis was asked to elaborate more on why he called Belichick a "jerk" during a word association game he played on ESPN. "I gave my honest opinion," Revis said. "You guys know me very...
The 2011 New York Jets lacked many assets to make them a playoff team, as displayed by their .500 record. Among their several missing pieces was a big, playmaking, wide receiver that could stretch the field and open up the offense. Plaxico Burress fit the "big" bill, but having been over a full year removed from football, he lacked the speed to create any separation from defensive...
Jets News

Delivered to your inbox

You'll also receive Yardbarker's daily Top 10, featuring the best sports stories from around the web. Customize your newsletter to get articles on your favorite sports and teams. And the best part? It's free!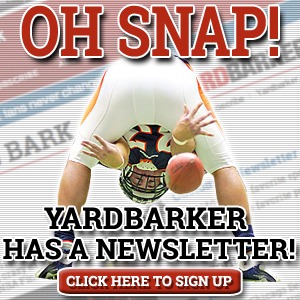 Latest Rumors
Best of Yardbarker

Today's Best Stuff

For Bloggers

Join the Yardbarker Network for more promotion, traffic, and money.

Company Info

Help

What is Yardbarker?

Yardbarker is the largest network of sports blogs and pro athlete blogs on the web. This site is the hub of the Yardbarker Network, where our editors and algorithms curate the best sports content from our network and beyond.