Found November 26, 2012 on Turn On The Jets:
PLAYERS:
Mark Sanchez
,
Rex Ryan
,
Santonio Holmes
,
Shonn Greene
,
Stephen Hill
,
Chaz Schilens
,
Jeremy Kerley
,
Dustin Keller
,
Tim Tebow
,
Greg McElroy
TEAMS:
New York Jets
,
Georgia Tech Yellow Jackets
Anyone who has witnessed the Jets play over their first eleven games can attest to the fact that Mark Sanchez lacks a quality supporting cast and knows that Rex Ryan has tried in vain to talk up, and coach up an undermanned team. If the Jets tank at any point during the final stretch of five winnable games though, Ryan must acknowledge that part of the problem this season has been at quarterback by sitting Mark Sanchez. For an entire series. A game. a stretch of games. Otherwise the head coach will become tied to the season long failures of the signal caller, by not even admitting that the problem behind center needs fixing too. GM Mike Tannebaum will have alot of answering to do in the weeks to come for leaving the Jets with a mediocre and unproven receiving corps aside from Santonio Holmes, and a feature back in Shonn Greene. A power plodder who lacks the attributes needed to break off big runs and accrue big time yardage on a weekly basis. Veteran back and receivers were available prior to training camp but passed over in favor of players like Stephen Hill. A rookie whose penchant for the dropsies should have surprised nobody in the Jets front office, considering that he had just career 46 catches at Georgia Tech. Sanchez has had a hard time finding anyone to throw to since Santonio Holmes went out during the blowout loss at home to the 49ers in week 4. Hill can't hang onto the ball, Chaz Schilens is, well, Chaz Schilens, and while Jeremy Kerley has developed some and Dustin Keller is back after a long hamstring injury, it's been slim pickins for the fourth year QB, who has exuded the body language at times, that his subpar corps doesn't always run the right route. Ryan nonetheless observed what he had on the offensive side of the ball in the preseason and still noted that this team was one with "the most talent since I've been here." Ryan willingly brought archaic run play coordinator Tony Sparano in to fix the ground game, and Tim Tebow in to be a fill in the cracks playmaker. Neither have panned out. Which brings us to Sanchez. The third main character offense besides Sparano and Tebow that Ryan is tied to in this 4-7 season. One that could nosedive at the drop of a hat. If Sanchez struggles down the stretch, during any winnable game that could be saved by changing the energy at QB1, Ryan should pull the trigger. Making a call to the bullpen for Tim "The Terrible Broken Ribbed" Tebow, or even the heady but unproven Greg McElroy. Take your pick. Win or lose, a switch during this hypothetical scenario would at least note that the head coach has duly noted the play of the starter is unacceptable, because all we have heard from Ryan this year has been that Sanchez gives the Jets "the best chance to win." As he sidesteps the heavy questions about Sanchez's key role during losses. Should it go down the way it has too often in 2012 from Sanchez, with the red zone intereceptions, and sloppy pocket presence, then Rex should cover his you know what and remind both the fans and the owner, that he still sees the road clearly from his driver's seat. Not doing so would only tie him even more to the failures that keep happening in the pocket.
Original Story:
http://turnonthejets.com/2012/11/new-...
THE BACKYARD
BEST OF MAXIM
RELATED ARTICLES
There are plenty of negative things to say about Mark Sanchez as a quarterback, but you can't discount his optimism. Just five days after getting shellacked by the New England Patriots, the New York Jets' quarterback is still confident about his team's playoff chances, despite a 4-7 record. Perhaps when things have hit rock bottom there's nowhere to go but up, but...
Gary Myers of the New York daily News believes that the Jets will maintain QB Mark Sanchez despite another disappointing season. With Sanchez set to make $8.25 million next year, Myers writes that the solution to the Jets quarterback problem is to give Sanchez real competition for his job. It has become quite clear that the Jets do not view Tim Tebow as an adequate replacement...
GLUTEUS HUMOROUS
Jets guard Brandon Moore said that he is bothered by being associated with the now notorious "butt fumble" play where Mark Sanchez fumbled after running into his backside.
A cap tip to longtime Friend of the Facts William Berry for the video: N.Y. Jets lowlights, played to the tune of the old British slapstick comedy, the Benny Hill Show.
Each passing day brings more embarassment to the Jets organization. As if every radio show and newspaper belittling the team wasn't enough, this video surfaced online today of the Jets players making their way to the locker room at halftime of the Thanksgiving game. Remember that game? The one where Mark Sanchez ran into his o-lineman's ass and the Jets got stomped by the Patriots...
After hearing the news that Fireman Ed stepped down from his unofficial position of leading Jets' fans the famous J-E-T-S Jets! Jets! Jets! chant at home games, head coach Rex Ryan said he was disappointed to hear the news. Rex on end of Fireman Ed: "I was disappointed bc I love that guy's passion…I like Fireman Ed & if he could play LB I'd play him" #jets — Mike...
The Jets got dominated by the Patriots 49-19 on Thanksgiving night. And along with losing their seventh game in eleven tries, they also managed to lose their unofficial mascot, "Fireman Ed". For the second week in a row, Ed Anzalone left a Jets game a halftime because of confrontations with fellow fans. According to Anzalone, fellow Jets fans have been pretty hostile with him...
Rex Ryan is "disappointed" about the retirement of Fireman Ed.   Ed Anzalone, the New York Jets most famous fan, handed in his resignation Sunday night after announcing he would not  be appearing at future games wearing his trademark white fireman's helmet — though he would remain a fan. "I was disappointed because I love that guy's passion and energy...
Since 1975, Ed Anzalone has attended New York Jets games at the Meadowlands, leading chants and making countless appearances on Jumbotrons and television screens. But, it looks like the world has seen the last of Fireman Ed on their television screens. Anzalone announced in his guest column for Metro New York that he will continue to attend Jets games, but not in his famous getup...
If a Thanksgiving blowout loss at home and basically getting eliminated from the playoffs wasn't enough, this news is certainly absolute rock bottom for the New York Jets. Ed Anzalone, famously known as "Fireman Ed" has for years lead the famous "J-E-T-S JETS JETS JETS!" chants at all home games in the Meadowlands for the Jets. However, he has lead his last...
Regardless of what you may think of Rex Ryan as head coach of the New York Jets, the guy has a pretty impressive coaching resume. Ryan went from a graduate assistant at Eastern Kentucky in the late 1980s to one of the best defensive coaches in the game leading the mid-2000 Baltimore Ravens' defense. A few years later, he's the lead guy for New York's green team. But Ryan...
Rex Ryan anticipates Tim Tebow will be ''ready to go'' in the New York Jets' next game against the Arizona Cardinals in spite of the backup quarterback's two broken ribs.
Jets News

Delivered to your inbox

You'll also receive Yardbarker's daily Top 10, featuring the best sports stories from around the web. Customize your newsletter to get articles on your favorite sports and teams. And the best part? It's free!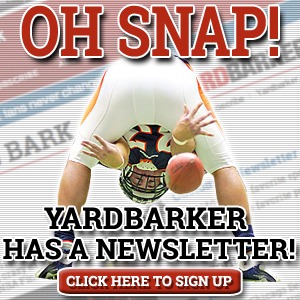 Latest Rumors
Best of Yardbarker

Today's Best Stuff

For Bloggers

Join the Yardbarker Network for more promotion, traffic, and money.

Company Info

Help

What is Yardbarker?

Yardbarker is the largest network of sports blogs and pro athlete blogs on the web. This site is the hub of the Yardbarker Network, where our editors and algorithms curate the best sports content from our network and beyond.