Found July 15, 2013 on Turn On The Jets:
PLAYERS:
Santonio Holmes
,
Jeremy Kerley
,
Stephen Hill
,
Kellen Clemens
,
Ben Obomanu
,
Chaz Schilens
,
Jordan White
,
Zach Rogers
,
Ryan Spadola
,
Marcus Davis
,
Thomas Mayo
,
K.J. Stroud
TEAMS:
New York Jets
The New York Jets may have a wide receiver problem. You can make an argument they have the weakest group in the NFL. This isn't an ideal situation when you have a shaky veteran and a rookie battling for the starting quarterback job. Let's run through the receivers currently on the depth chart and give a realistic assessment of what the team currently has. Santonio Holmes - The vetearan of the group and the team's most talented overall receiver. Unfortunately, Holmes is still recovering from serious Lisfranc surgery and hasn't even been able to run yet. It remains possible he could start the season on the PUP list, further watering down an already weak positional group. Best Case - He is ready to play in week 1 and gives the Jets a solid 65-75 reception, 750-900 yard season. Worst Case - PUP List. Misses the first six games of the season and is never able to get his feet under him as an impact player on offense. Jeremy Kerley - The only sure thing right now in the Jets receiving group. Kerley led the team in receptions and receiving yards last season and showed that he can be more than just a slot receiver. It is likely the Jets will lean on him heavily again this year, particularly early in the season while Holmes works his way back and Stephen Hill continues to develop. Best Case - Puts up similar numbers to last season (56 receptions, 827 yards) but increases his touchdown total (only 2 last year) and remains a reliable, go-to option each week in the passing game. Worst Case - Regresses after a breakout 2nd year by having inconsistencies catching the football and being unable to handle more defensive attention on him. Stephen Hill - A great unknown. Hill has immense physical potential but struggled as a rookie to catch the football and run routes. He is also dealing with lingering knee issues. The Jets badly need him to play to the level of a 2nd round talent and become a deep threat on offense. Best Case - Stretches the defense with his speed, providing desperately needed big plays to the offense while also becoming a more reliable underneath receiver. By the middle of the season, is a competent 40-50 rep per game guy. Worst Case - Continues to struggle with drops and staying healthy. Appears to be on his way to joining Vlad Ducasse and Kellen Clemens as recent Jets 2nd round busts. Clyde Gates - Currently the de facto #4 guy, which is horrifying. Gates is a borderline NFL player who has great straight ahead speed and not much else. Best Case - Improves his route running and ability to catch, becoming a serviceable role player and deep threat. Worst Case - More of this. Ben Obomanu - A veteran who had some decent moments in Seattle but is probably best served as a role player and special teamer. The Jets stretched a similar player, Chaz Schilens, too thin last year and may be forced to do the same with Obomanu. Best Case - An improved version of 2012 Chaz Schilens on the Jets. Worst Case - A worse version of 2012 Chaz Schilens on the Jets. Jordan White - We were high on White's potential last year and still think he deserved more of a chance down the stretch. In college, he demonstrated good route running ability and a knowledge of how to find a soft spot in zone defenses, both needed traits in the Jets new offense. However, without a strong training camp White could find himself unemployed. Best Case - Becomes a weapon as a slot receiver and is able to step up if there are injuries in front of him. Worst Case - Doesn't make the team. Zach Rogers - An intriguing undrafted free agent, who stood out during OTAs and mini-camp. The Jets are an ideal place for a UDFA at receiver and Rogers played and produced at the highest levels of college football. Keep an eye on him. Best Case - Becomes an impact player as a rookie, slowly working himself into more and more playing time as the season progresses. Worst Case - Doesn't make the team. Ryan Spadola – Another intriguing undrafted free agent who made an early impression. Spadola played at a smaller school (#LehighUp…I see you Patriot League) but has a nice skill-set that could be translatable to the NFL. It will be fun to watch him, Rogers and Marcus Davis compete for a roster spot. Best Case - Makes the team and carves out a role for himself on offense by year's end. Worst Case - Doesn't make team. Marcus Davis - A UDFA with a nice combination of size and speed. Davis is built like a true split end, so if Stephen Hill struggles in camp or can't stay healthy, the Jets may give extra consideration to keeping him around. Best Case - Becomes a deep threat on offense, helping pick up the slack from the players in front of him on the depth chart. Worst Case - Doesn't make team. The Jets also have Vidal Hazleton, Joseph Collins, Thomas Mayo, KJ Stroud and Ryan Titus on the roster but I could see them quickly being knocked off in favor of a veteran who becomes available during camp.
Original Story:
http://turnonthejets.com/2013/07/new-...
THE BACKYARD
BEST OF MAXIM
RELATED ARTICLES
ON THE MARK
The Jets reportedly are "toying with the idea" of using rookie Geno Smith as a "change-of-pace quarterback" if he doesn't earn the starting job.
Oh, Jets. The minute New York drafted Geno Smith in the second round of the NFL draft, a new quarterback controversy was born. The job is the rookie's to win, according to ESPN.com, but even if he can't grab the starting role from Mark Sanchez, Smith could still get some playing time. "The coaches are toying with the idea of turning Smith into what [Tim] Tebow was supposed...
PEACEFUL WORLD
Geno Smith caught flak for missing Mark Sanchez's "Jets West" camp, but he says things are cool between the two of them.
At least someone has a bright outlook for the 2013 New York Jets. Receiver Stephen Hill may be just talking to convince himself that he's on a good team, or maybe he's on to something? Hill was posed the question on the NFL Network Monday, if he believes the Jets will find themselves playing beyond week 16. "Oh yes, definitely," Hill said. "We will be in...
The New York Jets are at it again, at least they might be according to ESPN New York. Rich Cimini, in his camp preview of the New York Jets, mentioned that the Jets may be thinking about using Geno Smith in the way Tebow was originally meant to be used by the team. "The coaches are toying with the idea of turning Smith into what Tebow was supposed to be last season -- a...
In recent years, the New York Jets have been mostly noted as a trainwreck, with poor decisions being made in the front office, on the sidelines and on the field. Well, maybe those shenanigans are just a tone for the organization set from the top down. Noted unauthorized biographer Jerry Oppenheimer is set to drop his newest work, and it's essentially a takedown of the Johnson ...
Today, the OJT crew sans Achilles (military doesn't give out too much down time lol), will provide our Top-3 and Bottom-3 New York Jets players currently on the roster. To keep it relevant, we've stuck to players that have potential to start or at least [could] see a reasonable chunk of playing time. Enjoy, and make sure to let us know what you think—who was right/wrong—in...
Jets rookie quarterback Geno Smith could still get on the field even if Mark Sanchez beats him out for the starting role, according to Rich Cimini.Fantasy Spin:The thought is they could put in a read-option offensive set for Smith, but fantasy owners only need remember the Tim Tebow offensive game plan to know that it won't work. Fantasy owners need Smith to win the job outright...
Geno Smith may have passed on Mark Sanchez's Jets West camp, but in his eyes, he and Sanchez are cool. While speaking to OCNN, Smith said 'he and Sanchez have no hard feelings." "Me and Mark are cool. There's no hard feelings or anything," Smith said. "He's up there getting some work with the guys, I'm down here getting work, some guys are going to be down here...
The New York Jets do some pretty strange things. Keeping Mark Sanchez as their starting quarterback for this length of time is one of them, but the latest news out of Jets camp is even more puzzling than that. Rich Cimini of ESPNNewYork.com reported on Monday morning that Rex Ryan and company are "toying with" [...]
According to ESPNNY.com, the Jets view Chris Ivory as a poor man's Marshawn Lynch.Fantasy Spin:Ivory caused 12 missed tackles on just 40 rushing attempts, which nearly equaled former New York running back Shonn Greene's total of 15 on 276 attempts, according to Pro Football Focus. Ivory will have to stay healthy, but if he does he's going to get a ton of touches this season.
Jets News

Delivered to your inbox

You'll also receive Yardbarker's daily Top 10, featuring the best sports stories from around the web. Customize your newsletter to get articles on your favorite sports and teams. And the best part? It's free!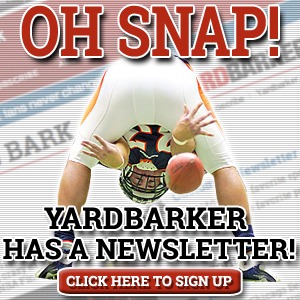 Latest Rumors
Best of Yardbarker

Today's Best Stuff

For Bloggers

Join the Yardbarker Network for more promotion, traffic, and money.

Company Info

Help

What is Yardbarker?

Yardbarker is the largest network of sports blogs and pro athlete blogs on the web. This site is the hub of the Yardbarker Network, where our editors and algorithms curate the best sports content from our network and beyond.