Found May 07, 2012 on NorthWest Sports Beat:
Welcome home Bruce When the Seattle Seahawks selected Bruce Irvin with the 15th overall pick in the 2012 NFL draft I was critical of the pick. Ever since then he has been doing everything in his power to change my mind and others like me. I did not hate the pick like some of the others so maybe I am more easily swayed but from everything I have heard from or about him since being drafted I am now a huge fan. The West Virginia Coaching Staff rave about the guy, all the West Virginia fans I have talked to about him absolutely love him and say that the Seahawks got an amazing young man despite his colorful past.
Bruce says all the right things: I want to prove everyone wrong, I want to get to work…… You Know, stuff like that. Today he put his money where him mouth is.
Lets be honest here, who thought on May 7th we would be talking about the young man signing his contract? Before the season? Most likely Before the first pre-season game? Probably Before training camp? 50/50 Before the rookie mini camp? Who does that? Bruce Irvin that's who. On twitter he released this statement:
I'm just ready to work the money is cool. If you tookthe money away I still wouldplay this game for free!#WVU #12thman — Bruce Irvin (@BIrvin_WVU11) May 7, 2012
That statement says a lot about him. Honesty The first sentence shows that he is ready to put his hard hat on and bring his lunch pale to work but yet he's willing to admit that he is excited to see his 4-year $9.34 million dollar fully guaranteed contract including the $5 million dollar signing bonus. Today we are very happy to welcome Bruce Irvin home to Seattle. Love of the game. "I would still play for free" everyone say's that, usually in the midst of a contract dispute but in the end most try to bleed every last penny they can get in the process. Bruce Irvin took a deal that gave him financial stability for the rest of his life (if he spends and invests it wisely) but didn't feel the need to squabble about the deal to make sure he could get every penny. Love for the fans Not only did he add the 12th man to his tweet he remembered the fan base that he is leaving behind. I get the impression that he would play for West Virginia for his entire career if that was an option. That makes me believe that once he plays in Seattle and feels the power of the 12th man and the love from our fan base he will want to spend his career as a Seahawk. But… Call me cynical but as much as I love the fact that he signed today there is a little piece of me that is concerned that he signed today. Is there some lingering injury? Is there a medical problem that all of the physicals have missed? Is there something else that hasn't come to the surface that could put his situation in jeopardy?
I doubt that is the case and I believe that he signed because he really is a solid young man but the saying "If it is too good to be true, it probably is." keeps popping up in my head.
Time will tell. Today I am very happy to welcome Bruce Irvin home to Seattle. Other Seahawks Draft Choices Signing Eight draft choices have agreed to contract terms today we just found out in a press announcement from the Seahawks.
So did seven of the other nine players who were selected by the Seahawks in the April 26-28 NFL Draft: Utah State linebacker Bobby Wagner (second round); Wisconsin quarterback Russell Wilson (third round); Idaho linebacker Korey Toomer (fifth round); Northwestern State (La.) cornerback Jeremy Lane and Kentucky safety Winston Guy (sixth round); and North Carolina State guard J.R Sweezy and Louisville defensive end Greg Scruggs (seventh round). That leaves only the two players selected in the fourth round – Utah State running back Robert Turbin and Florida defensive tackle Jaye Howard – who have yet to agree as the team prepares for this weekend's rookie minicamp.
For a list of all the Seahawks recent UDFA Free Agent signings by "Q" head to our Seahawks forums. CLICK HERE CHECK OUT THE SEAHAWKS BLOG IN OUR CLUBHOUSE AT NWSB! © Brett Bivens for North West Sports Beat, 2012. | Permalink | No comment | Follow NWSB on Twitter or join US on Facebook for real-time updates OR... | Share This on Twitter | Share NWSportsBeat.com on Facebook Post tags: 12th man, 2012 NFL draft, Bruce Irvin, First Round Picks, NFL News, Seahawks Blog, seahawks news online, Seahawks roster, Seahawks signings, Seahawks transactions, Seattle Seahawks
Original Story:
http://www.nwsportsbeat.com/seahawks/...
THE BACKYARD
BEST OF MAXIM
RELATED ARTICLES
Per a report from Pro Football Talk, and later confirmed by Seattle Times Danny O'Neil the Seattle Seahawks have locked up 2012 1st round draft pick and the 15th overall selection Bruce Irvin from West Virginia. Andrew Brandt reports Irvin gets $9.34M fully guaranteed over 4 yrs, w/over $5M signing bonus Irvin is the first first-rounder to sign his contract. The Seahawks moved...
Despite heavy criticism from draft pundits, Damon Hatheway thinks the Seahawks found their man in the first round.
According to Mike Florio of ProFootballTalk.com, the Seattle Seahawks have agreed to terms with first round pick Bruce Irvin. Irvin has the ability to be one of the best pass rushers in the NFL and he also has to ability to be a huge bust.  A lot of that will depend on whether or not he's willing to put the work in on the field and also stay out of trouble off of it.
Call him the biggest reach in the draft, or call him one of the most astute picks made by the Seahawks, either way Bruce Irvin was the 15thpick in the first round of the 2012 draft and will be given every opportunity to prove worthy of the pick. So what were John Schneider and Pete Carroll thinking when they decided the linebacker from West Virginia was their man?  When you look...
Earlier today it was reported that the Seattle Seahawks signed first round pick Bruce Irvin.  Now we also have confirmation from the Seahawks themselves that they've signed rookie quarterback Russell Wilson as well as six other draft picks.  So in total they signed eight draft picks today. The other players the Seahawks signed were 2nd round pick Bobby Wagner, 5th round pick...
What a weekend it must of been at the Seahawks headquarters, and of course for Paul Allen's wallet. News being reported today by John Boyle is Seahawks announce that, in addition to Irvin, they've agreed to terms with seven other draft picks. All but Robert Turbin and Jaye Howard. Basically in addition to DE Bruce Irvin the Seahawks announced that they have agreed to...
The Seahawks have hit pretty decently on their unrestricted free agents in the John Schneider and Pete Carroll era.  Last season, players like QB Josh Portis, S Jeron Johnson, WR Ricardo Lockette, CB Ron Parker, and of course WR Doug Baldwin all played on the 53-man roster at one point or another during the year.  So who has the best chance of making an impact this season?  ...
                                                             Steve Cox Memorial Field (Photo Credit: Seattle Prep)It has finally arrived, the Metro Baseball Tournament! This is only the first step towards conquering the state title. So far this season the Metro League has been dominated by one team, Seattle Prep. Can anyone take them down? Prep is the...
It's the time of the NFL offseason where we focus on contract negotiations. Up until the new Collective Bargaining Agreement that was initiated last season, this was the time of year that Bengals fans dreaded. More often than not, many talented Bengals draftees were at the mercy of strict negotiations by the Brown family. Luckily, with the new CBA, a rookie wage scale is in place...
Seahawks News

Delivered to your inbox

You'll also receive Yardbarker's daily Top 10, featuring the best sports stories from around the web. Customize your newsletter to get articles on your favorite sports and teams. And the best part? It's free!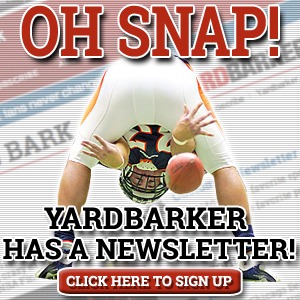 Latest Rumors
Best of Yardbarker

Today's Best Stuff

For Bloggers

Join the Yardbarker Network for more promotion, traffic, and money.

Company Info

Help

What is Yardbarker?

Yardbarker is the largest network of sports blogs and pro athlete blogs on the web. This site is the hub of the Yardbarker Network, where our editors and algorithms curate the best sports content from our network and beyond.