Found September 26, 2012 on New England Sports React:
What is going on with the NFL's top-tier teams? In a league dominated by pass-heavy offenses, the teams with arguably the three best quarterbacks currently have a combined record of 2-7. That's right: combined, Aaron Rogers, Tom Brady, and Drew Brees have just two wins. Now I know it's early, and panicking shouldn't realistically be considered, but that record is a far cry from the elite status bestowed onto these teams after their consistency competing at a high level. The Patriots and Packers are 1-2, below .500 and looking to be more vulnerable as the season progresses, mainly due to their defenses. The Saints likewise have struggled due to their defense, but their offense hasn't been as potent as well. The same offensive struggles have befallen Green Bay, with New England recently coming around against a proven Baltimore defense after a poor outing against Arizona. Does this mean that fans of these teams should give up on their seasons with imminent failure coming to teams with such gaping holes? No. There is too much time left in the season, too much time to figure out the issues and work out the nooks and crannies. Now at 0-3, Saints fans have the right to be a little worried. Their team has underperformed this season, and haven't shown many signs of improvement on a game-to-game basis. Still, I feel as if they can salvage their season and make it into the playoffs as a wild card team with 10-plus wins. I also believe that the Packers and Patriots will turn their seasons around and make it to the playoffs, likely as division winners. Victories won't just come their way, however. They have to earn the wins they get, not simply show up like they all appeared to do for at least one game this season (Pats/Cardinals, Saints/Redskins, Packers/Seahawks). As they have all found out (along with some other top teams), there are some changes going on in the league, with younger teams starting to make some noise and upset the upper-echelon units. If they're to stay a step ahead of this youth movement, the focus of all three of these teams must be sharper. That includes both players and coaches, since team focus starts at the top.
-Ryan Hartley
Original Story:
http://nesportsreact.com/nfl-elite-st...
THE BACKYARD
BEST OF MAXIM
RELATED ARTICLES
POST NO BILLS
RT if you agree!!! #BillsMafia #PatriotsWeek #Buffalo #290Billboard twitter.com/NorthtownAuto/…— Northtown Automotive (@NorthtownAuto) September 27, 2012 Back at the Super Bowl, Tom Brady dissed Buffalo hotels. He said they're not "the nicest places in the world". Oops.Northtown Automotive, the official automotive dealer of the Buffalo Bills, took those words to...
Tom Brady pulled an RG3. Brady showed up to Wednesday's media session wearing a gray sweatshirt. No big deal, right? Well, upon closer examination, it looks like the Patriots quarterback decided to follow in the footsteps of Robert Griffin III and cover up the sweatshirt's Nike swoosh logo. The logo, which is supposed to appear on the sleeve of the sweatshirt, appears to...
Tom Brady isn't used to losing, and he isn't very fond of it either. After enduring a heartbreaking loss to the Baltimore Ravens on Sunday night, the Patriots dropped to 1-2 on the season. And Brady believes that's exactly where they deserve to be. "We're 1-2, we're not in a good position right now," Brady said. "We're in the exact position...
Tom Brady really isn't one to stir up controversy like his teammate Brandon Spikes, so it's not surprise he didn't have much to offer on this topic. Though, really, most of the terrible calls were on the Patriots defense, not the offense. If anything, the Patriots offense benefited from some bad officiating.Brady puts the blame on the players for the 1-2 start, and rightfully...
QB Tom Brady After a few weeks of mediocre performances, I think this is the week that Brady really breaks out. The Bills defense is vulnerable to the pass, giving up 6 TDs through the air in games against the Jets, Chiefs and Browns so far this year. Expect Brady to pull out one of his "you're going to win your fantasy game no matter what" games out of the hat...
Mike Tanier has a nice piece on Drew Brees, Dan Marino, and Johnny Unitas: We should, of course, cherish the memories of Unitas and other legends. But we cannot do so at the expense of the present. Drew Brees is an all-time great at his prime. We must appreciate him while we have him. Every time we lapse into nostalgia, it's a backhanded insult to a legacy that is still growing.
College Football Nebraska made a music video and it's… You be the judge – Throw The Flag Critical SEC East Showdown In Athens – Southern Gameday 6 teams that could threaten the SEC's string of championships – SDS We Must Be Nearing October… The Gruden Talk Has Begun – Mr SEC Another QB leaves Penn St with Jones' departure – SI Other Sports Big Brother Power...
The New Orleans Saints and Green Bay Packers have been two of the NFC's best for the past 3 years and have had some of the most explosive offenses in history, largely due to the play of their all-pro QBs, Drew Brees and Aaron Rodgers. This year, the pass-happy offenses that lit up the league [...] [[ This is a content summary only. Visit my website for full links, other content, and more! ]]
New Orleans Saints (0-3) at Green Bay Packers (1-2) The Saints and Packers are a combined 1-5 three weeks in the season. Raise your hand if you saw that coming. I strangely see no hands. This is a huge, must win game for both teams, and given that we should expect huge performances from both quarterbacks. You know it's really not sitting well with both of these quarterbacks that...
Last week: 3 (-2) Record: 1-2 The Patriots are under .500 for the first time since week 1 of 2003, but they'll be fine. Over the past couple of years, they've started a little sluggish and then hit their stride. This week, they go to Buffalo to face an old punching bag and hope to avoid their first 3 game losing streak since 2002. They're still the most consistent team in the...
There was a lot going on in the 2012 season premiere of South Park. The focus of the episode was concussions and the NFL's pussification ("As a concerned parent, Randy radically changes the way... Full story at Bob's Blitz ~ http://www.bobsblitz.com
NFL News

Delivered to your inbox

You'll also receive Yardbarker's daily Top 10, featuring the best sports stories from around the web. Customize your newsletter to get articles on your favorite sports and teams. And the best part? It's free!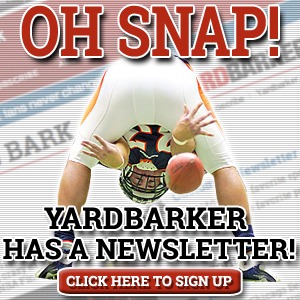 Latest Rumors
Best of Yardbarker

Today's Best Stuff

For Bloggers

Join the Yardbarker Network for more promotion, traffic, and money.

Company Info

Help

What is Yardbarker?

Yardbarker is the largest network of sports blogs and pro athlete blogs on the web. This site is the hub of the Yardbarker Network, where our editors and algorithms curate the best sports content from our network and beyond.