Found September 29, 2012 on 60 Max Power O:
Posted by fantasyfurnace on September 28, 2012
Posted in:
NFL
. Tagged:
NFL
,
Sports
,
Football
,
Reggie Bush
,
Fantasy Football
,
Cam Newton
,
Frank Gore
,
Alex Smith
,
Matt Ryan
,
Darrelle Revis
,
C.J. Spiller
,
RGIII
.
4 comments
Last week was one of the most strangest that I can ever recall. The disastrous calls (and non-calls) by the replacement refs hurt some teams and naturally had an impact on our picks. But what was even more telling was that seven games in week #3 were decided in the final minute of the 4th quarter or overtime!
And so we'll try to right the ship that finished an abysmal 1-4 last week, bringing what was a fairly decent 7-3 record to a more pedestrian 8-7. Here then are our five best bests for week #4:
 
*Home teams in CAPS:
49ers over the JETS- Looking to bounce back after their stunning defeat at the hands of the Minnesota Vikings last week, the 49ers have two things in their favor. For starters they have the 7th best rushing offense in the NFL and they're going up against a Jets defense that yielded 169 yards to the Bills' C.J. Spiller and 185 yards to Dolphins RB Reggie Bush & co. And then there's the 'Revis Factor'. Joe McKnight is no Darrelle Revis and I think Alex Smith has an easy time of it through the air & with Gore on the ground.
FALCONS over Panthers- The Panthers are better than their 36-7 blowout by the Giants suggests. They dropped 35 points on the Saints in their win the week prior and held the Bucs to 16 points in their week 1 loss. Their problem has been turnovers and, besides Cam Newton, the absence of any consistent running game. The Falcons have been clicking on all cylinders, in particular QB Matt Ryan is off to an MVP-like start. They are +10 in turnovers which probably is not sustainable but their fairly easy schedule could see them run the table before thier week 7 bye.
Cardinals over the Dolphins- Miami's been routed by 20 vs the Texans, beat the Raiders, which they always seem to do at Sun Life Stadium, and lost an ugly game that they should have won (2 missed field goals) to the Jets. Reggie Bush is having a career year but a rookie QB is not what you want going up against an over-achieving staunch defense IN Arizona. I do think that this could be a closer game than you might think. If the Cards can't ruffle Tannehill all that much & Reggie plays at 100% it could make things interesting. Remember the Cardinals won their first two games by a total of 6 points and  Skelton/Kolb has been doing it with mirrors so far this season.
PACKERS over the Saints- We picked the Packers in last Monday Night's "Shame Game" and I'm guessing they are eager as we are to get back to their winning ways. These aren't last year's version of the offensive juggernauts that averaged close to 40 points a game. That number has dropped significantly to 23 but should change against the anemic defense of New Orleans. The Saints, following this game, will probably just play out the season and then come back with authority (and Sean Payton) next year.
Redskins over the BUCCANEERS- Even with the 'Skins injuries there just isn't enough offensive power on the Bucs to overtake Washington. Josh Freeman has picked up where he left off last season, regressing so bad that in two of the three games this year he failed to reach even 140 passing yards. His only bright spot was in game 2 going up against a Giants secondary that had their fourth unit on the field. RGIII is leading the league in rushing yards among quarterbacks and the 'Skins have put up an average of 33 points a game this season. The Falcons come into D.C. in week 5 and so at 1-2 the Redskins need this one.
Be sure to check out other great articles at DailyShootout.com.
Original Story:
http://www.60maxpowero.com/patriots/c...
THE BACKYARD
BEST OF MAXIM
RELATED ARTICLES
Jim Harbaugh and the San Francisco 49ers unleashed a new offensive wrinkle on Sunday. After losing their first game of the season in Week 3 to the Minnesota Vikings, it appears that Harbaugh and offensive coordinator Greg Roman have decided that it's time to inject some life into their Alex Smith paced attack. In a surprise move the 49ers out-Tebowed the New York Jets in the...
MONKEY ON YOUR BACK
Delanie Walker has spent 6+ seasons with the 49ers playing a variety of positions: WR, TE & fullback. The guy is an NFL survivor. A 6th round pick out of Central Missouri, this guy should be out of the league by now. Walker shouldn't have been able to hang around this long. Then again, when you're a "Mother******* beast" (his words) you stick around in the NFL. At...
San Francisco 49ers linebacker Patrick Willis is one of the hardest hitters in the National Football League and you could say that when he sees a ball carrier that he keeps going and going.... Check out Patrick starring in this viral video for the battery company Duracell:
Black Sports Online Thanks to our friends at Black Sports Online we got a hold of this picture of 49ers tight end Delanie Walker and his gorilla tattoo. I just can't imagine how long it took to get that done.  I'm cringing just looking at it (I'm scared of needles). Tweet
If you listen closely, the collective sigh of relief from the 49ers faithful fans screams like the winds off the Golden Gate Bridge. Meanwhile, on the other side of America, that sound you hear is the New York City media pounding the Jets like an over-the-hill heavyweight (much like the Niners did today).Completing their two-game road trip one down and one up, the San Francisco 49ers...
49ERS vs. JETS (Sun Sept 30 1 PM ET) The 49ers are coming off a loss to the Vikings and now they face a Jets' team that is 2-1, but lost defensive leader CB Darrellle Revis in their last game. The Jets did win their last game, but it went to OT and was against the weak Dolphins. Frank Gore and the rushing offense of San Fran struggled against the Vikes, but this Sunday they face...
Alex Smith knows his team will likely need an improved performance from its offense this week, and the 49ers will try to deliver that against an opponent missing a major part of its defense.
Which way does the thumb turn for the 49ers after their 34-0 victory Sunday over the New York Jets, including a bounce-back of defensive dominance, a regular wrinkle of Colin Kaepernick, a convoy for Carlos Rogers, David Akers hooking to the right, Dashon Goldson playing a mean center field, Frank Gore's power plunge, emerging new weapon Mario Manningham and much more? Check inside.
EAST RUTHERFORD, N.J. -- Colin Kaepernick, Frank Gore and Kendall Hunter each ran for touchdowns to highlight a 245-yard rushing effort by the San Francisco 49ers, who forced four New York Jets turnovers in a 34-0 rout of the Jets on Sunday at MetLife Stadium. The 49ers (3-1) capped a two-game road trip with their second shutout under Jim Harbaugh. The Jets fell to 2-2 in front...
Before Monday night's "Inaccurate Reception" debacle, the biggest story of Week 3 was San Francisco's shocking loss to the Minnesota Vikings.The 49ers were shut down on offense, and Christian Ponder and company had their way with what is supposed to be one of the best defenses in the NFL.The Jets are coming off a 3-point victory, in overtime, over division rival Miami...
EAST RUTHERFORD, N.J. -- After the San Francisco 49ers' thorough 34-0 win over the New York Jets on Sunday, coach Jim Harbaugh said he walked into the visitor's locker room at MetLife Stadium and heard a bunch of players declaring, "That's more like it." The words were a lot different down the hall after the Jets watched the 49ers dominate them with the style...
Do you think Rex Ryan gets a little green with envy when preparing for Jim Harbaugh's San Francisco 49ers?Since his introduction as Jets head coach prior to the 2010 season, Ryan has envisioned his team in a certain way: defensively labeled as a hard-nosed, smash-mouth unit that creates turnovers and beats up the quarterback -- and if they put a few players on their ass, no one...
49ers News

Delivered to your inbox

You'll also receive Yardbarker's daily Top 10, featuring the best sports stories from around the web. Customize your newsletter to get articles on your favorite sports and teams. And the best part? It's free!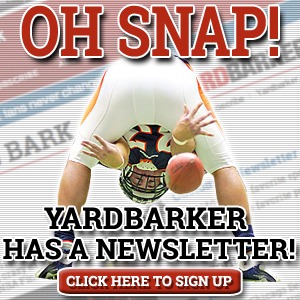 Latest Rumors
Best of Yardbarker

Today's Best Stuff

For Bloggers

Join the Yardbarker Network for more promotion, traffic, and money.

Company Info

Help

What is Yardbarker?

Yardbarker is the largest network of sports blogs and pro athlete blogs on the web. This site is the hub of the Yardbarker Network, where our editors and algorithms curate the best sports content from our network and beyond.