In recent years corporate America has been on the dark side of bad press when it comes to layoffs, plants are closing and there is a loss of workforce, it seems like nationwide. One ongoing and unspoken joke is the term Black Friday. I don't mean the day after Thanksgiving shopping extravaganza that goes by the same name. Instead it is the 4:45 on a Friday call into the boss's office. Bring your key card and the walk of shame to the door led by the wiry rent a cop not old enough to grow a weak version of a Tom Selleck mustache.  All of your pride wrung out of you as you begin the walk, eyes down not daring to look at any of your former co-workers. It's nothing personal, it's just business. The NFL is the same. The difference is even when the economy is good the NFL walk of shame still happens. The new season of Hard Knocks has started and the Miami Dolphins are the chosen darlings of the off season. Last week marked the cut week where the rosters go from 90 to 53 in the span of days. Monday August 27th by 4:00 PM they had to cut from 90 to 75. Then on Friday the 31st they had to go from 75 to 53 players. Basically from Monday to Friday the weekend is ruined for 37 players. On the flip side, as difficult as it is for the players, I can imagine that it is not that easy for the coaches and GMs to have to make these decisions. Let alone have to be the guy that shatters dreams in a face to face conversation. Relationships are built over camp and team leadership sees how hard these guys are working trying to get better to make the roster. I am believer in human nature and human nature does not take kindly to having to let someone go. But, then again, it's just business. Friday night I was watching Boise State at Michigan State and totally excited that football season was finally here. My phone buzzed and I got a text message from my wife that read "Hester was just let go by the Chargers." My heart sunk. Here it was just before 9 PM Friday night on the 31st and the NFL claimed another casualty. But this one hurt personally. I lived in Shreveport, LA from 2005 through 2011 deep in the heart of SEC country. Being a guy from the Midwest it was a little different to get used to. The food, the weather and just the down home feel of the people were a change for my family. Jacob Hester was born and raised in Shreveport. He played his high school football at Evangel Christian Academy where my children attended school. At Evangel Hester was named Louisiana 5A Offensive MVP as a running back. You wouldn't even know that his freshman and sophomore years were spent playing nose tackle.  He rushed for 868 yards and 22 touchdowns his senior year while leading the team to a State Championship. This was done from a spread them out, throw first, type of offense. Local legend has it that Nick Saban actually came to Evangel to watch a practice. He was there recruiting and scouting a couple of other players. At some point in the practice his attention was taken by Hester and asked who he was. He was recruited and offered that day by LSU. Hester was noted as saying that LSU's recruiting ranking went down the day that he committed due to not being a very high ranked prospect out of high school (2 star). At LSU, as a freshman, he was put on the field and made an immediately impact. He started 1 game and played in parts of the other 11 games. It was his junior year in 2006 where Hester broke out. He saw action at both fullback and halfback. He recorded 35 receptions for 269 yards and carried the 'skin for 440 yards. He also made 7 tackles on special teams. The working class mentality that Hester branded for himself bode well going into his senior season. He was selected to be a team captain. He started at tailback for the Tigers and totaled 1103 yards and 12 touchdowns and caught 14 balls that year. In his final collegiate game Hester rushed 21 times for 86 yards and a touchdown in the National Championship game against Ohio State. His senior year was sprinkled with different awards and culminated in a hard hitting war with Florida where folklore saw Hester convert two 4th down conversions, and a 3rd and short for the go ahead touchdown all in the same drive! After his National Championship I had the honor of getting a chance to meet him. He was, and still is, a rock star in Louisiana. A co-workers son had played with him in high school and since he was back in town they came to the office to visit. I had my son there to get a picture with him. He is a lot bigger close up than what he looks on television. He came into my office and asked my son if he wanted to get a picture. The next phrase stung me and still sits with me all these years later. "Here move over here in front of all the Ohio State stuff", Hester said as he put his arm around my son. Yea, it was a dig on my Ohio State loyalty since LSU beat us. On draft day I found myself glued to the television. Waiting to see where Hester was going to get drafted. There was a lot rumor and buzz in what round and who has been looking at him and asking for workouts. He was drafted in the third round, number 69 overall, by the San Diego Chargers. I was fired up. I like the Chargers and at least it wasn't the Cowboys or the Patriots or another team on my long list of "Don't Likes".   San Diego traded up to get the do-it-all back and made a draft day deal with the New England Patriots and the mad scientist Belichick. The Patriots received a 5th round pick in 2008 and a 2nd round pick in 2009 in exchange. Hester was a good role player while in San Diego. He only has 1 NFL touchdown and 314 total yards in his 5 year Charger career. But he has been a consistent player, blocker and special teams force. So when he was let go on Friday night it literally just broke my heart. My son will still wear his number 22 powder blue Chargers jersey with pride. He tweeted that night:  I'd like to thank everyone involved in the Chargers organization. The last 5 years have been special to me and my family. God bless. So here we are days away from the kickoff of a new NFL season. A plethora of free agents are out there looking for a new home. I only care about one. News on the street is that he will be a good fit with the New England Patriots. They have a depleted backfield and Hester seems like he would be a prototypical fit for the mastermind. Talk about coming full circle. He could end up back on the team that traded his pick away five years ago. Call me crazy but it makes you wonder if Belichick didn't have a plan for something to happen. Sorry Chargers, nothing personal, it's just business. Follow @TheESPSports
Original Story:
http://theeastsideperspective.com/201...
MORE FROM YARDBARKER
NFL News

Delivered to your inbox

You'll also receive Yardbarker's daily Top 10, featuring the best sports stories from around the web. Customize your newsletter to get articles on your favorite sports and teams. And the best part? It's free!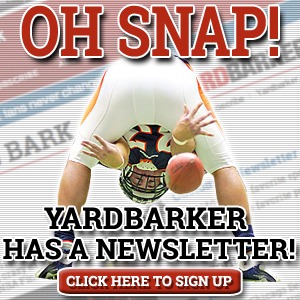 Latest Rumors
Best of Yardbarker

Today's Best Stuff

For Bloggers

Join the Yardbarker Network for more promotion, traffic, and money.

Company Info

Help

What is Yardbarker?

Yardbarker is the largest network of sports blogs and pro athlete blogs on the web. This site is the hub of the Yardbarker Network, where our editors and algorithms curate the best sports content from our network and beyond.