Found January 08, 2013 on The Sports Rocker:
Unlike most Jets fans, I wasn't aghast when the Jets didn't fire head coach Rex Ryan. I said all along that this trainwreck wasn't his fault. The Jets started making the right moves when they fired general manager Mike Tannenbaum. Now offensive coordinator Tony Sparano has gotten the axe. It shouldn't surprise anyone.Sparano, a friend of Ryans, was hired as OC when he was fired by the Dolphins after years of mediocre results. The only thing he was really known for in Miami was that ridiculous "wildcat" offense. With the Jets, it never caught on, mostly because he didn't have the players to run it effectively. I wrote this at the end of September regarding Mark Sanchez and the struggling Jet's offense. It only took Rex Ryan over three months to make a change he should have done then.And then there is the ridiculousness of the Jets passing game. For a few plays on their opening drive (among others) Tebow was lined up at wide receiver. Did he catch a pass? No. Was one thrown to him? Well, at least one in the third quarter, since it hit him in the helmet. You can thank former Dolphins head coach, Tony "Wild Cat" Sparano for the imbecilic formations. If you're the defensive coordinator, and you see Tebow lined up in the slot, you simply put a linebacker on him. But with the wacky formations and play calling, can Sanchez actually get into a passing rhythm? Hardly. His third pass attempt was intercepted. He didn't complete a pass to an actual wide receiver until 8:10 left in the 2nd quarter when he finally hooked up with Santonio Holmes for a 12-yard gain. That was also his longest completion of the game to that point.If you want to put your maligned quarterback in the best position possible to succeed, you don't hire an offensive coordinator whose claim to fame is developing an offense where the running back can take a direct snap and throw the ball. Sparano had only one winning season in his four seasons as head coach in Miami. And I dare say Sparano is an offensive genius since the Dolphins finished in the lower half in points-per-game during his tenure.Also, starting quarterback Mark Sanchez took huge steps back and regressed this season. Sanchez was eventually replaced by Greg McElroy. For the Jets, and more importantly for Rex Ryan, the next offensive coordinator hire better be a good one.
Original Story:
http://www.thesportsrockers.com/2013/...
THE BACKYARD
BEST OF MAXIM
RELATED ARTICLES
Even when the Jets aren't playing, the team manages to remain a main topic of conversation in New York by keeping its name in the city's papers, even if the news of the day has absolutely nothing to do with actual football. Just last week, a photo published by the New York Daily News of head coach Rex Ryan sunning himself while on a vacation on Prairie Island in the Bahamas...
After being photographed shirtless on a beach resort last week, Rex Ryan finally addressed the New York media and answered questions about a peculiar tattoo spotted on his right arm, one that depicts his wife wearing nothing but a Mark Sanchez jersey in a pose that looks strangely similar to "Tebowing." What Rex said, according to Business Insider: It's real. He's had it...
When the New York Jets fired quarterbacks coach Matt Cavanaugh on Monday, the seeds were planted for the removal of offensive coordinator Tony Sparano. If Cavanaugh was responsible for Mark Sanchez's personnel development, Sparano was the man who assembled the blueprint for the entire unit's disaster. Please Click Here To Read This Story The post Tony Sparano is fired by the...
Rex Ryan continues to leave an indelible mark on the New York Jets. But the head coach also took time at the team's news conference on Tuesday to address his much-discussed tattoo of his wife wearing a Sanchez jersey, something photographers documented while he was in the Bahamas. The coach said he has had it on his right arm for nearly three years, and was able to joke about...
Rex Ryan covered up his tacky tattoo of his wife clad only in a Mark Sanchez jersey with an even less subtle "I heart me" T-shirt. Yesterday, the New York Jets head coach was spotted at the same Bahamas resort wearing the faded black tee shielding the public from the infamous ink on his right arm. At least this fashion miscue can be removed without a laser. It's...
The New York Jets are continuing to clean house. Today, the rebuilding management fired their offensive coordinator, Tony Sparano. The move was not surprising considering the Jets terrible season.  Since Sparano  was hired, many wondered if he was right for the job. With a background as an offensive line coach and no experience with quarterbacks, this was yet another move by the...
Jets head coach Rex Ryan returned from his celebrated vacation to face the New York media and answer questions about his future and that of the team. Ryan was asked about quarterback Mark Sanchez and his guaranteed $8.5 million dollar salary.  Ryan gave Sanchez no vote of confidence, and according to the New York Daily News, let it be known that Sanchez's salary will not dictate...
Jerry Jones promised changes were coming to the Dallas Cowboys, and they're starting to trickle in. The Cowboys fired defensive coordinator Rob Ryan on Tuesday, according to ESPN.com. Dallas went 8-8 during the 2012 season. The Cowboys' defense was ranked 19th in total yards, 19th against the pass and 22nd against the run. Ryan is the twin brother of New York Jets head coach...
Not sure if this is out there but I just heard the Cowboys have fired Rob Ryan. Brian Costello (@BrianCoz) January 9, 2013That's how it all started.  Within minutes it had spread like wildfire.  I didn't want to believe it- this man, who held together a respectable defense in the final weeks of the season using walk-on players, had just been fired.This hadn't been...
Jets News

Delivered to your inbox

You'll also receive Yardbarker's daily Top 10, featuring the best sports stories from around the web. Customize your newsletter to get articles on your favorite sports and teams. And the best part? It's free!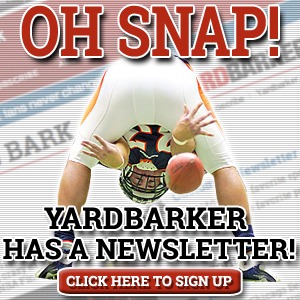 Latest Rumors
Best of Yardbarker

Today's Best Stuff

For Bloggers

Join the Yardbarker Network for more promotion, traffic, and money.

Company Info

Help

What is Yardbarker?

Yardbarker is the largest network of sports blogs and pro athlete blogs on the web. This site is the hub of the Yardbarker Network, where our editors and algorithms curate the best sports content from our network and beyond.