If you look up the definition of the word "underachiever" in the dictionary you will see the San Diego Chargers Football Team with sheepish grins on their faces while shrugging their shoulders.  The Chargers can almost be counted on to struggle off the hop, in the middle or at the end of each season.  Injuries play a big part, but the biggest problem is that you can't make chicken soup out of chicken…well you know the rest.  San Diego has not made any drastic changes to their Offense to make them a perennial contender.  This year, they grabbed Eddie Royal and Robert Meacham to help Malcom Floyd and Vincent Brown.  They need to make a splash and need to go after a premier Wide Receiver to take some of the strain off Philip Rivers.  On the Offensive side of the ball they let one part of their committee backfield, Mike Tolbert walk to the Carolina Panthers and Vincent Jackson headed off to Tampa Bay.  One of the strengths of the entire franchise is the Offensive Line when they are all healthy which as of this writing, is not the case.  When the season starts the lineup should be at LT Jared Gaither, LG Tyronne Green, C Nick Hardwick, RG Louis Vasquez and RT Jeromey Clary. Left Tackle Jared Gaither was taken in the 5th round of the 2007 Supplemental Draft by the Baltimore Ravens.  Gaither is one of the tallest players in the NFL at 6'9.  He has served stints in Baltimore, Kansas City and San Diego.  In parts of the last two seasons Gaither hasn't given up a sack.  He was cut by K.C after an ill timed penalty but San Diego took a flier on him and it worked well enough to garner a new deal.   Left Guard Tyronne Green was selected in the 4th round of the 2009 NFL Draft by the Chargers.  He is a tad light for a Guard but makes up for that being mean and a vicious mauler.  He was the starter for the final 8 games in 2011 and allowed no sacks and only incurred 1 penalty.  He is highly regarded by management and is expected to be the LG for years to come.   Center Nick Hardwick was drafted in the 3rd round of the 2004 NFL Draft by the Chargers.  Durable and efficient, Hardwick calls the plays on the line for the Bolts.  QB Philip Rivers and he came in to the league in the same year and over the last few years have developed a great rapport.  Hardwick only had 2 penalties and gave up only 2 sacks in the last two years combined.   Right Guard Louis Vasquez was a 3rd round Draft pick of the Chargers in 2009.  Known as a violent blocker, he has a good mix of strength and speed out of his stance.  He needs to stay healthy to be effective.  He had only 1 penalty credited to him in the last two years, but will have veteran Rex Hadnot trying to push him out to pasture.   Right Tackle Jeromey Clary was a 6th round Draft Choice of San Diego's in 2006.  He is extremely durable and is a great size for the position.  His main knock is that he gets pushed into the backfield by speedier rushers and has been victimized for 15 sacks and 14 penalties in the previous 2 seasons.  Free Agent acquisition Mario Henderson is licking his chops to take over the starting job, so Clary's hold may be tenuous at best.   Now to analyze the numbers…..   The Chargers ranked 8th in the NFL in Total Run Blocking allowing Ryan Matthews and Mike Tolbert to run for 4.44 yards per carry which was superior to the NFL average of 4.31.  They were stopped at/or behind the line of scrimmage on only 16% of their attempts which was much better than the NFL average of 19%.  They achieved 1st downs on 3rd/4th down runs 69% of their attempts which was 5th best in the league and much better than the average of 62%.  The Chargers ran the ball 400 times in 2011.  The RB's had their least success running off the Right Tackle position as they only gained 3.26 yards per carry.  They had much more success running off the Left Tackle position as they galloped for an average of 4.99 yards per carry which was 5th best in the NFL.  From a Fantasy perspective, Ryan Matthews is the only back to target and if you have done your homework you will know that Matthews has an extensive injury history going back through College.  He broke his collarbone on the first carry of the preseason and that may impact his value until a few games into the season.  I would caution against drafting him too early, but his upside is astronomical if healthy.  Try to land him in the 4th round or so and if he can beat the injury bug, he may be a "Superstar".  The backups are Ronnie Brown who is definitely on the decline, and Jackie Battle who isn't going to win you your Fantasy league.   San Diego ranked 9th in Pass Protection in 2011 allowing Philip Rivers to be sacked on only 5.6% of his dropbacks which was better than the NFL average of 6.7%.  Rivers is a savvy vet who makes his decisions quickly and if he is afforded the time is an elite talent.  Rivers should not be overlooked because last year was his most perplexing due to the number of interceptions but he still through for 4700+ yards.  He is a Top 10 QB.  The only issue is that San Diego only has marginal receiving talent.  The star of the receiving corps is Tight End Antonio Gates who has had weight issues and dealt with a painful Plantars Fasciitis condition.  He looks as if he is back to the Gates of old so far in the preseason and should be a solid TE1.  The Wide Receiving crew took a hit when young Vincent Brown broke his foot, so Eddie Royal, Robert Meacham and Malcom Floyd will be called upon to elevate their games.  Royal never lived up to the hype in Denver and is going to be a middle of the road talent in San Diego.  Meacham was a player with all the intangibles but could never seize the opportunity to become a stud in New Orleans.  Floyd is the player with the most to prove in San Diego this year.  He only had 43 catches last year and needs to take a more proactive role in the Offense.  He could be a WR3/Flex.   Thanks to www.footballoutsiders.com for the statistics   Next team is the San Francisco 49ers  
Original Story:
http://feedproxy.google.com/~r/TheSpo...
PLAYERS:
Eddie Royal
,
Vincent Brown
,
Philip Rivers
,
Mike Tolbert
,
Vincent Jackson
,
Jared Gaither
,
Tyronne Green
,
Nick Hardwick
,
Louis Vasquez
,
Jeromey Clary
,
Rex Hadnot
,
Mario Henderson
,
Ronnie Brown
,
Jackie Battle
,
Antonio Gates
TEAMS:
San Diego Chargers
,
Carolina Panthers
,
Tampa Bay Buccaneers
,
Baltimore Ravens
MORE FROM YARDBARKER
NFL News

Delivered to your inbox

You'll also receive Yardbarker's daily Top 10, featuring the best sports stories from around the web. Customize your newsletter to get articles on your favorite sports and teams. And the best part? It's free!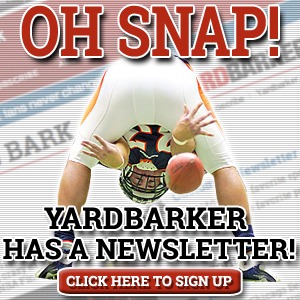 Latest Rumors
Best of Yardbarker

Today's Best Stuff

For Bloggers

Join the Yardbarker Network for more promotion, traffic, and money.

Company Info

Help

What is Yardbarker?

Yardbarker is the largest network of sports blogs and pro athlete blogs on the web. This site is the hub of the Yardbarker Network, where our editors and algorithms curate the best sports content from our network and beyond.