Posted January 13, 2013 on AP on Fox
PLAYERS:
Greg Jennings
,
Donald Driver
,
Charles Woodson
,
Brett Favre
,
Cullen Jenkins
,
Aaron Rodgers
,
James Jones
,
Randall Cobb
,
A.J. Hawk
,
Jermichael Finley
,
Clay Matthews
,
B.J. Raji
,
Casey Hayward
,
M.D. Jennings
,
Colin Kaepernick
,
Ted Thompson
,
Mason Crosby
,
Cedric Benson
,
Bryan Bulaga
TEAMS:
Green Bay Packers
,
Minnesota Vikings
,
Philadelphia Eagles
,
San Francisco 49ers
One by one, Greg Jennings took down the photos of his wife and children that lined his locker, careful not to rip them as he removed the tape. Below him, two plastic bins were filled with shampoo, lotion, toothpaste and deodorant. Still numb from the rout in San Francisco that ended their trying season, the Green Bay Packers headed into an offseason sure to bring change - some of it big. Jennings and Donald Driver, key parts of the team that won the Super Bowl two years ago, are all but gone, and Charles Woodson may have played his last game for Green Bay. ''At the end of the day, you know the Packers are going to do what's best for the Packers. And that's not going to change whether you're No. 4, No. 80, No. 85, No. 77. That's going to be the case,'' Jennings said Sunday, referring to Brett Favre, Driver and Cullen Jenkins, as well as himself. ''And as the other half of the businessman sitting down at that table, I have to do what's best for myself and my family.'' Jennings finished with career lows in receptions (36), yards per catch (10.2) and total yards (366) after missing half of season with a torn muscle in his groin. He remains Aaron Rodgers' favorite target, however, and he reminded everyone why with one big catch after another when he returned from the injury. He led Green Bay with six catches and a score in Saturday night's 45-31 loss to San Francisco in an NFC divisional game. But the Packers have perhaps the deepest receiving corps in the NFL, and breakout seasons by James Jones and Randall Cobb have made Jennings, an unrestricted free agent, expendable. ''Everybody in this locker room is trying to win Super Bowls, but everybody in this locker room is trying to take care of their family as well,'' Jones said. ''Football is our job and football is how we do it, and we understand that we've got four or five No. 1 receivers that are going to want money at some time. So we know it's going to be hard for this organization to pay everybody what they want, which (stinks) ... because I wish we could stay together for the rest of our career and go on a run and win some Super Bowls.'' Driver is Green Bay's all-time leading receiver, and is adored by fans. But he will be 38 next month, and had only a bit role in the offense after restructuring the final year of his contract. His eight catches for 77 yards were his lowest totals since his rookie season, and he was inactive for four games, including the NFC wild-card, possibly his final game at Lambeau Field. Driver would like to play until he's 40, and thinks he can still help a team. But he said he'll talk with his wife and children before making any decisions on his future. ''If (Saturday) is my last game, then it was a true honor just to put that uniform on once again,'' said Driver, who played on special teams Saturday. ''I wore that uniform for a long time and it's truly a blessing to be wearing the green and gold.'' Woodson, linebacker A.J. Hawk and big tight end Jermichael Finley are all under contract for next year. But they're all due raises, too, and the Packers have to begin making tough decisions because they need to lock up long-term deals with Jones, Clay Matthews and B.J. Raji. The three, considered cornerstones of the franchise, all will be free agents after next season. Woodson, the 2009 defensive player of the year, is one of the most-respected players in the Packers locker room - by players and coaches alike - and he's still disruptive. But he turned 36 in October and missed nine games with a broken right collarbone, the same one he broke in the Super Bowl. Youngsters Casey Hayward and M.D. Jennings made big impressions this season, and the Packers may decide they're enough to make up for Woodson's absence. The Packers were repeatedly torched by Colin Kaepernick and the 49ers, and Hawk looked particularly overmatched. Then there's Finley. He set a franchise record for receptions by a tight end this year, and few Packers were better down the stretch. But he's mercurial, and general manager Ted Thompson may decide he's not worth the big bump in payroll. ''We just finished losing, man,'' Finley said. ''Hopefully I'm here forever. I'm good for next year, as far as I know.'' Regardless of what the roster looks like, the Packers have to find a way to finish better next year. This was the second straight year they were bounced out in the divisional round, and neither game was close. In fact, finishing was a season-long problem for Green Bay. The Packers fell to 2-3 after blowing an 18-point halftime lead at Indianapolis. They also struggled to put away less-than-mediocre teams like New Orleans, Jacksonville and Detroit. After securing the No. 2 seed with a rout of Tennessee, the Packers gave it up to San Francisco by losing to Minnesota in the regular-season finale. And after Mason Crosby's 31-yard field goal midway through the third quarter tied Saturday's game at 24, the 49ers steamrolled the Packers, scoring three straight touchdowns. ''We didn't finish. That's the bottom line, we didn't finish,'' Jones said. ''We had a chance to do something great and get back to the Super Bowl. (But) we didn't finish our season strong. So got to start all over.'' NOTES: RB Cedric Benson, who played only five games before a season-ending foot injury, hopes to return next year. ''Absolutely. I don't have a preference to be anywhere else,'' he said. ''This is what I know and I'm excited about winning Super Bowls, too, and everybody around here is as well.'' ... RT Bryan Bulaga, who suffered a season-ending hip injury Nov. 4, expects to be ready for next season. ''It's a little bit far out in advance to tell what I'm going to be doing, but I'm pretty confident training camp is a good goal.'' --- Online: http://pro32.ap.org/poll and http://twitter.com/AP-NFL
Original Story:
http://msn.foxsports.com/nfl/story/Of...
THE BACKYARD
BEST OF MAXIM
RELATED ARTICLES
Just like that, the Packers' season is over. After a win in the opening week of the playoffs, Green Bay's road to the Super Bowl was potentially lining up just as it did two years ago. This time, however, the Packers were unable to string together any victories on the road, with the team now looking for offseason answers for the second year in a row after a divisional round...
Indicative of what's to come, Greg Jennings took down the family photos attached to his locker. The Packers saw their championship hopes dashed the night before in a lopsided loss at San Francisco.
Right guard Josh Sitton is one of the few sure things on the offensive line There are a lot of questions that need to be answered between now and the start of training camp. One of them deals with the offensive line. There could be a number of changes in the group that is charged with protecting Aaron Rodgers and opening holes for whichever pedestrian back wins the starting job....
Hot News for WR Greg Jennings
It all started so well for the Green Bay Packers, taking an early lead on an interception returned for a touchdown. Then, over the final 58 minutes of the game, the San Francisco 49ers dominated offensively and sent Green Bay into the offseason with its second divisional-round defeat in two years. Handing out grades following the Packers' 45-31 loss to the 49ers: Passing offense...
Laura Kaeppeler was named Miss America 2012, entering the pageant at Miss Wisconsin. Therefore, you can put aside your stereotypes about fat people in Wisconsin; at least for a year. Tonight she relinquishes her crown. And as you might expect, she's a Green Bay Packers fan. Kaeppler introduced herself on the evening of her 2012 crowning moment by mentioning the NFL's defending...
2012 Miss America, and Miss Wisconsin Laura Kaeppeler relinquished her crown tonight. You remember her as the pageant contestant who mentioned the Green Bay Packers and Aaron Rodgers in her acceptance speech. Well, her era ended on the same night Rodgers and the Pack were eliminated from the NFL playoffs. Tonight the San Francisco 49ers and A 23-year-old Brooklyn native Mallory Hagan...
This evening's divisional playoff game features the Green Bay Packers taking on the San Francisco 49ers. Weather will not play a role in tonight's contest. Afternoon high temperatures of the low 50′s under sunny skies will give way to a clear night with temperatures in the mid-40′s. This playoff game will be one of three in the divisional round which features a rematch of...
  According to the Associated Press, 92 fans were ejected from Candlestick Park during the team's win last night against the Green Bay Packers (Credit: AP Photo) While last night's game ended well for fans of the San Francisco 49ers. However, for some within Candlestick Park, they did not get to catch the end of the game. According to the Associated Press, 92 fans were ejected...
Colin Kaepernick repeatedly raced past the Green Bay defense on option runs. Frank Gore barreled over the Packers on more traditional plays. A week after holding 2,000-yard rusher Adrian Peterson in check, the Packers were run over by the San Francisco 49ers and sent home from the playoffs with a 45-31 loss Saturday night. The Packers (12-6) came into the game brimming with confidence...
The Good: Colin KaepernickKaepernick terrorized the Green Bay Packers all night long with a dizzying array of scrambles and lethal throws from the pocket.  He shook off an early interception that was returned for a touchdown by Sam Shields to set league and team records en route to a 45-31 shellacking of the Packers.  He made plays and throws that Alex Smith could not even dream...
Green Bay Packers at San Francisco 49ers The 49ers and Packers both have great championship traditions but only one can move onto the NFC Championship.  The 49ers come into the game as the favorites and enjoy the home-field advantage, but also have to face the healthiest version of the Green Bay Packers since the first day of the season.  Charles Woodson, Clay Matthews, and Donald...
NFL News

Delivered to your inbox

You'll also receive Yardbarker's daily Top 10, featuring the best sports stories from around the web. Customize your newsletter to get articles on your favorite sports and teams. And the best part? It's free!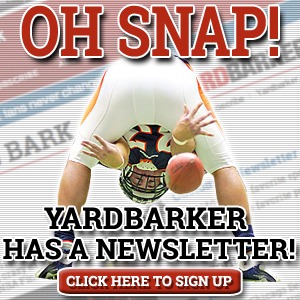 Latest Rumors
The Backyard

Today's Best Stuff

For Bloggers

Join the Yardbarker Network for more promotion, traffic, and money.

Company Info

Help

What is Yardbarker?

Yardbarker is the largest network of sports blogs and pro athlete blogs on the web. This site is the hub of the Yardbarker Network, where our editors and algorithms curate the best sports content from our network and beyond.