Found January 22, 2013 on Purple Jesus Diaries:
Lauded sports journalist source, The Onion, has broken an exclusive story about one of the Minnesota Vikings - and the NFL's - most popular players, running back Adrian Peterson. In a statement released this week, Peterson has confirmed that in order to be prepared for the 2013 NFL season, ready to come back better than ever and not only break Eric Dickerson's single season rushing record but to CRUSH it, he has intentionally tore the LCL and PCL in his knee in hopes that a repeat of the injury will bring a repeat of 2012's success From the breaking news report: Hoping to improve upon the remarkable feat of rushing for the second most yards in NFL history a year after tearing his ACL in the final week of 2011, Vikings running back Adrian Peterson announced Sunday that he has intentionally torn his ACL again and will undergo reconstructive knee surgery later this week. "It worked last year on the left knee, so I'm trying the other one this year," said Peterson, whose intense dedication to offseason recovery has earned him the reputation of "rehab rat" among his teammates. "It's hard to get over that playoff loss, but immediately after, I got right back to work and tore my ACL. If I was just eight yards short of the record last year, I'm thinking that rupturing my LCL and PCL this offseason should put me over the top." Peterson, who confirmed that he had found the best postseason regimen to stay on top of his game, announced plans for a new football camp where the Pro Bowl running back will show young players the best way to damage their knees by hacking away at their ligaments with scissors. As a Vikings fan, I am excited to hear this wonderful news. With two devastating knee injuries in such a close time frame, and with the results of one knee injury already in the bag, fans should expect nothing but the best in 2013. The best news? Peterson's dedication has encouraged other players on the roster to get back to "what worked" for many of them: - Harvin has vowed to smoke more weed and have more temper tantrums - Phil Loadholt, if resigned, promised he WILL eat the lowest drafted rookie in 2013 - Christian Ponder said he'll stop this whole marriage thing and go back to being a bachelor, and playing shirtless - Leslie Frazier promised to take a hat tip, resign from his position to become defensive coordinator, and hire anyone else as head coach but Brad - John David Booty promised to come back to Minneapolis to do something, but he forgot what it was, was pretty sure it had to do with Funyons though, and maybe hanging out at the Russian Art Museum before heading to Ely during the cold to hunt Sasquatches, but he's not sure. In other words? Super Bowl in 2013 or bust. [follow]
Original Story:
http://www.purplejesusdiaries.com/201...
THE BACKYARD
BEST OF MAXIM
RELATED ARTICLES
No, silly, not a DALLAS Cowboy (Although I wouldn't really mind if he was), I'm talking about a real Cowboy. A Western, gun totin', cowboy boot wearing, Django Unchained lookin', steer wrastlin' Cowboy. Jerome Simpson, Minnesota Vikings receiver (for the time being, anyway) has developed a surprising affliction for the rustic wear. And I have no real idea...
Here's a futile exercise: Try to name something that Chris Kluwe sucks at doing. Besides tackling, I guess. And maybe throwing a football in a forward motion. And possibly his vertical leap. Then probably some other stuff, but I'm talking like COOL stuff. Name one COOL thing he can't do, like dance or kick **** for charity. You can't name anything, because that'...
The Vikings got an amazing season from Adrian Peterson, who came within 9 yards of the single season rushing record despite being less than a year removed from tearing his ACL and MCL. Without that, they would have been screwed. Peterson dragged them into the post-season, but the Vikings were never a legitimate threat to do anything in the post-season because of their quarterback...
As Vikings fans wait for the announcement of the NFL MVP in 10 days, the debate is still out there on who will win it. Will it be Adrian Peterson or Peyton Manning? We approach the debate from a different angle.
That's BYU 4-star defensive end recruit Troy Hinds and NFL legend Brett Favre in some Mississippi garage where Hinds did his Mormon missionary duty by tracking down the Gunslinger for a conversion. It's been about 10 days since we last spotted Favre doing church work by firing dodgeballs at opponents in some Baptist church tourney. Now comes word that Hinds (6-5, 23rd rated...
ST. PAUL, Minn. Kyle Rudolph's breakthrough season has earned him a trip to the Pro Bowl. Rudolph, the Minnesota Vikings' second-year tight end, was named to the NFC team Tuesday, replacing the Atlanta Falcons' Tony Gonzalez, who won't play due to injury. Rudolph was Minnesota's second-round pick in 2011 and developed into one of the top receiving options for...
When it was discovered that Washington Redskins quarterback Robert Griffin III sustained an injury similar to the one Minnesota Vikings running back Adrian Peterson endured prior to his monster 2012 campaign, the comparisons started pouring in. However, Peterson told reporters, including Andy Fenelon of NFL.com, that it's not fair to compare the injuries of the two players. ...
Have you been in the market for a late 1980s limo with class, style, functionality and a hint of flair? Are you a Packers fan? We have the car of your dreams. Just look at this 1988 Cadillac Fleetwood that's a piece of football history. You are looking at the 'Legend of Lambeau' limo that was reportedly used by the Brett Favre family to transport them from their homes in Mississippi...
Robert Griffin III is in the process of going through a rigorous rehab process that will test his mettle.  RG3 has torn an ACL before, so mentally he knows what to expect. With people watching the remarkable way Vikings running back Adrian Peterson was able to return to form, many will question and wonder if Griffin III can pull off the same feat. Peterson via NFL.com warns pundits...
As the Packers and Colts moved on without Brett Favre (2008) and Peyton Manning (2012), their moves affected numerous franchises over the next several years, and it's still having an effect on the Super Bowl.
Vikings News

Delivered to your inbox

You'll also receive Yardbarker's daily Top 10, featuring the best sports stories from around the web. Customize your newsletter to get articles on your favorite sports and teams. And the best part? It's free!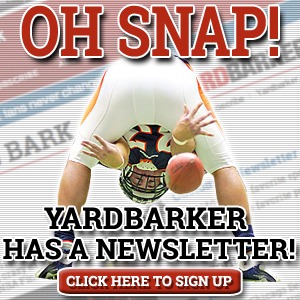 Latest Rumors
Best of Yardbarker

Today's Best Stuff

For Bloggers

Join the Yardbarker Network for more promotion, traffic, and money.

Company Info

Help

What is Yardbarker?

Yardbarker is the largest network of sports blogs and pro athlete blogs on the web. This site is the hub of the Yardbarker Network, where our editors and algorithms curate the best sports content from our network and beyond.