Found October 11, 2012 on Fox Sports Wisconsin:
GREEN BAY, Wis. -- There's defiance in their voices -- a sense of frustration that some of the blame is falling on them. The Packers' wide receivers believe they've done their part this season. They've watched the film of the first five games, and it all checks out. They see plenty of separation between themselves and the cornerbacks assigned to cover them. They look at their performance and mark it off as a job well done.And yet, despite this state of mind, only one NFL team has allowed its quarterback to be sacked more than Aaron Rodgers has been.Though the responsibility of pass protection falls mostly on the offensive line, wide receivers play an important role by getting open quickly so Rodgers has someone to throw to. As has often been the case this season, even when Rodgers has time in the pocket, the ball is still in his hand several seconds into the receivers' routes.But the criticism that's fallen on Greg Jennings, Jordy Nelson, James Jones, Randall Cobb, Donald Driver and tight end Jermichael Finley is not at all accurate. At least that's the way they see it."They say the wide receivers are getting jammed up, (and) it's definitely not true," Jones said. "If you turn on the film, we're 30 yards, 40 yards down the field every time. We're not getting jammed up. I don't know who started that rumor."Coach Mike McCarthy acknowledged Thursday that teams have played bump-and-run coverage against the Packers more this year than in past seasons. But other than that, McCarthy said he doesn't see anything different.When Rodgers was sacked five times in the second half in Week 5 against the Indianapolis Colts, McCarthy was quite pleased with the pass protection from the offensive line."The rush was heavy there at some points, and the protection was very good," McCarthy said Monday.So why has Rodgers been sacked 21 teams already this season? ProFootballFocus.com assigns blame for each sack, but it never faults receivers. In Green Bay's five games, Rodgers is listed as responsible for five of the sacks, most on the team. Starting left tackle Marshall Newhouse has allowed four sacks, the most of any Packers lineman. Right tackle Bryan Bulaga has given up 18 quarterback hurries, the fourth-most of any lineman in the NFL.The receivers, however, don't quite see why the sack numbers should be their problem."They are coming up and pressing us, but it's nothing that we haven't beat," Jones siad. "We've beat every coverage out here. There's a lot of stuff out there that you want to say when you're losing, which is arguable when you're losing."I think we've been trying to go out there and meet everybody else's expectations, trying to make the big play all the time. (We need to) take what the defense gives us and we'll be fine."Then that must be it. It must be that the Packers are simply going for the big play too often.But when asked if more short pass plays need to be called by McCarthy, as well as by Rodgers during his changes at the line of scrimmage, Jones wavered."We throw it down the field deep, we throw it short," Jones said. "We just need to put the defense in a bind and pick their poison. We need to drive it down the field. We're always going to take our shots."We're an explosive offense, so we're going to try and go down the field. We don't need to do nothing tricky."Jones added that "it hurts" to hear fans and media blaming him and the receivers for Green Bay's offensive woes. After leading the league in scoring last season, the Packers, with a 2-3 record, are 21st in the NFL in total yards and 18th in points."It hurts pride-wise when you hear the outsiders saying the receivers and stuff are getting jammed up," Jones said. "We work hard during the week and the offseason for people to say that. Especially if it's not happening. If it was happening, I would take it as a man and say, Yeah, we're getting beat up.' It's not really happening."As an offense, we're just struggling. Everybody. The offense, the linemen, receivers, quarterback, we're all struggling and we need to get on a roll. Right now."Jennings, though he's missed two games with a groin injury, agrees with Jones' assessment."There's been a lot of talk of the separation and it's frustrating to listen to when you watch film and it's like, OK, was that separation? Or was that separation?' So, the separation has been there, we just haven't been executing."Rodgers' numbers aren't bad, but they don't match what he did in 2011, when he was named the league's Most Valuable Player. Rodgers is currently ranked eighth in passer rating, fifth in touchdown passes, ninth in passing yards and third in completion percentage."I just have to do things I know I'm capable of doing on Sundays, (and) I'm not far off," Rodgers said this week. "I think there's guys who would probably trade with me right now, kind of how they're playing (and) how I'm playing. There's plenty of guys that wish they had the kind of numbers I have. But we have to do a better job of finishing out games, and I've got to do a better job on third downs."McCarthy also looks at Rodgers' season as relatively successful so far."I think Aaron, he's had a solid year compared to the standard that he's played to, but we're a different team this year," McCarthy said. "The system is built around making the quarterback successful. There's a lot on his plate. He spoils you as a coach because you have to be disciplined to pull back just because he can do whatever you ask him. He understands run-blocking schemes, pass protections, he's got a tremendous mental capacity.'"But with that, you always fear, at least I always do, guard against giving the quarterback too much. We have to just keep battling and overcoming. I'm fully confident, I have great faith and belief in him more than I've ever had."He's a special player, and our offense philosophy will never change, especially while he's here."Follow Paul Imig on Twitter
Original Story:
http://www.foxsportswisconsin.com/10/...
THE BACKYARD
BEST OF MAXIM
RELATED ARTICLES
Im sure all football fans can agree that Aaron Rodgers and the Green Bay Packers hasnt been looking like themselves and if you dont think so, Rodgers agrees that he himself hasnt been playing his best football. Our friends over at ProfootballZone.com has a snippet of Rodgers interview with 540 AM in Milwaukee via NFL.com: "I set the bar high and I expect to play at a higher level...
GREEN BAY, Wis. -- Now that the Packers have a 2-3 record and are struggling this season, the questions to quarterback Aaron Rodgers during his weekly meeting with the media were a bit more direct than usual. Rodgers addressed the offense's issues, his interceptions, playing the undefeated Houston Texans this weekend and much more.Five question-and-answer highlights:1. Why do...
At 2-3 are the Green Bay Packers in trouble?Last season the Packers survived off the arm of Aaron Rodgers who threw 45 touchdowns and only 3 interceptions. Thus far in 2012, Rodgers has only 10 touchdowns to 4 interceptions, which projects him to have approximately 32 touchdowns and 13 interceptions on the season. Those stats are not the stats a winning team can have when surviving...
Quarterback Aaron Rodgers talks about the state of his season; plus injury reports and much, much more from a newsworthy Wednesday at Lambeau Field.
Our weekly 21-point game preview leads off with the matchup within the matchup: J.J. Watt's excellence in batting down passes against Aaron Rodgers' excellence in avoiding deflections. Plus, Clay Matthews, Duane Brown, Andre Johnson and much, much more in what is guaranteed to be the biggest and best preview in the world.
While I have never jumped on the bandwagon of a football player, I have to admit Andrew Luck was very impressive this past weekend.  When coming out of Stanford, I was pushed away from the Andrew Luck love because of the media. As a scout, I knew he was a great quarterback, but I to say he is the best player coming out in 10 years, and all the the love he was getting was ridiculous...
In one of the more anticipated matchups of Week 6 the Green Bay Packers will travel to Houston to play the undefeated Texans.The Packers are still stinging from a second half debacle in Indianapolis. It was there that they let the Colts comeback from an 18 point half time deficit. The offense of the Packers was inept at best in the second half and then Mason Crosby, one of the league...
GREEN BAY, Wis. -- The relationship between Packers quarterback Aaron Rodgers and tight end Jermichael Finley frequently boils down to one word: chemistry. In Finley's mind, chemistry between the two is often directly related to his personal statistics and those of the offense as a whole. With Green Bay's 2-3 record and an offense ranked 21st in the NFL in total yards and...
Love him or hate him — you probably don't love him — Jermichael Finley is a modern-day E.F. Hutton. When he talks, people listen. Finley made headlines again when asked about his chemistry with Aaron Rodgers. What did Finley really say, and what did his position coach say on Thursday?
http://nbcsports.msnbc.com/id/25907471/ns/sports-sunday_night_football/ Follow @Dan Vasta and like Gridiron Grit on Facebook  It is finally official and everybody is talking about how the Green Bay Packers are essentially dead as a doornail with the Texans awaiting them on Sunday night. Green Bay is done and Aaron Rodgers is overrated a a quarterback, right? Wrong! While a 2...
NFL News

Delivered to your inbox

You'll also receive Yardbarker's daily Top 10, featuring the best sports stories from around the web. Customize your newsletter to get articles on your favorite sports and teams. And the best part? It's free!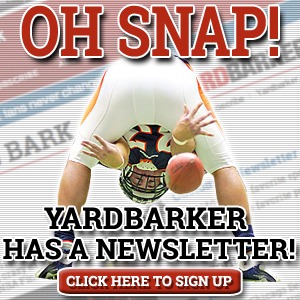 Latest Rumors
The Backyard

Today's Best Stuff

For Bloggers

Join the Yardbarker Network for more promotion, traffic, and money.

Company Info

Help

What is Yardbarker?

Yardbarker is the largest network of sports blogs and pro athlete blogs on the web. This site is the hub of the Yardbarker Network, where our editors and algorithms curate the best sports content from our network and beyond.