Found January 25, 2013 on Waiting For Next Year:
On the heels of the Greater Cleveland Sports awards, it seems like a good time to see what the rest of awards season brings. Grantland's resident NFL coaching critic Bill Barnwell has taken down Pat Shurmur all season, and now that it is in the books, he's deemed Pat Shurmur's challenge from a week eight game against the Chargers to be the "Most Useless." On the first play of a San Diego drive from their own 18-yard line, the Chargers picked up six yards on a pass to Robert Meachem. Shurmur saw something on replay and decided to throw his challenge flag. The play was overturned, turning an insurmountable second-and-4 into a dominant position of second-and-10. With about 46 minutes of challengeable action left to go, it's hard to figure that Shurmur got good value for one of his two opportunities to throw the challenge flag without worrying about losing the flag for the rest of the game. As I wrote at the time, "It's like being granted two wishes and using one of them to have a genie take out the trash for you." Not to ruin the whole charade, but Barnwell has also named Pat Shurmur the worst coach of the year. The man that the Eagles will be counting on to coordinate their Chip Kelly-fueled offense next year 1  is most likely harshing at least some of the mellow that was achieved with the coup of landing Chip Kelly. Sometimes the words we write on these pages can be questioned because the perspective is so close to home, but when you start reading national people with no Dawg in the fight, even if you agree with some of what they have to say, it's noteworthy, I think. It's not that Shurmur made one bad decision in one particular aspect of the game in 2012; it's that he made obviously wrong calls in so many different spots. He failed to go for two up 15-10 in the fourth quarter in Week 1 and it cost him the game in a 17-16 loss. He used a timeout before punting on fourth-and-1 from the Indianapolis 41-yard line with 6:38 left in a close game and ended up having to go for it on fourth-and-6 later on. He called nine pass plays on third/fourth-and-short in one Ravens game alone. If Shurmur had developed his young talent into successful players, you would excuse his play-calling blunders. Instead, Shurmur failed to develop either Colt McCoy or Brandon Weeden into anything resembling an NFL-caliber starter, ran an injured Trent Richardson into the line for no gain for most of the season, and left the Cleveland organization with a lot of young players who have failed to reach anything resembling their potential. There's more there of course, and I recommend you read it, but if you wondered if Browns fans were just too hypercritical of Pat Shurmur in his time here, I think it's pretty plain to see that the lack of coaching quality really truly does go beyond the won/loss record. It truly wasn't you. It was Shurmur himself. Here's hoping this same thing isn't written about Chud a year from now. [Related WFNY Podcast – 2013-01-25 – Cleveland Frowns in a two-part podcast] ___________________________________ Bob LaMonte is a wizard, apparently.
Original Story:
http://www.waitingfornextyear.com/201...
THE BACKYARD
BEST OF MAXIM
RELATED ARTICLES
The 2012 season is over for the Cleveland Browns, and now we look onto the potential 2013 Cleveland Browns roster changes. There will be potentially 19 players hitting free agency in 2013, and that doesn't include the players new Head Coach Rob Chudzinski decides to let go as well. The first sign of good news for the Browns is the offensive line stays intact, but only if Chudzinski...
The good news for the Cleveland Browns, new defensive coordinator Ray Horton interviewed with eight NFL teams for a head coaching position. The bad news? Obviously no one signed him. Horton has a chip on his shoulder and the first change he will make for is to run a 3-4 defense instead of the 4-3. That could be a problem for defensive end Jabaal Sheard, tackle Ahtyba Rubin and linebacker...
Norv Turner knows quarterbacks having coached some of the all time greats. Troy Aikman raves about Turner and his play-calling, and won two Super Bowls with him as his offensive coordinator. Turner may not be that good at being a head coach, but he sure is respected as one of the best offensive coordinators in the business. Turner is in a perfect place, he's looking to groom...
The Cleveland Browns have hire former University of Colorado Jon Embree as their tight ends coach, according to Mary Kay Cabot of the Cleveland Plain-Dealer. Embree is a former St. Louis Rams TE 1987-88 and spent the last two seasons as head coach of the Buffaloes, going a dismal 4-21 in that span. He was fired by the school in November after going 1-11 in 2012. So it'...
Super Bowl XLVII is coming up on February 3rd when the San Francisco 49ers play the Baltimore Ravens is New Orleans. I was at a large grocery store in the Cleveland area and I saw that they had Super Bowl team decorations out for the game. They had paper cups, plates and napkins with the 49ers' logo on them.  But, they had zero Baltimore Ravens items. This made me think about...
In a world with more high-profile TV singing competitions than Cleveland Browns' coaching changes, one man has truly become a pioneer in revolutionizing music creativity. Nick Pitera, the man who mesmerized the YouTube viewers with a video of him singing A Whole New World from Disney's Aladdin, one that has reached nearly 31 million views.  Pitera miraculously belted out the...
New Browns offensive coordinator Norv Turner offered some of his thoughts on QB Brandon Weeden and his future with the team. "I saw a young guy that I think now and I thought then has a real positive upside and when I look at him on tape, I haven't spent any time with him, but when I look at the tape I see a guy who can be a really good player," said Turner, via Sports Radio...
You might not have been at the Renaissance Hotel located in downtown Cleveland last night, but five of us from Waiting For Next Year were there for you — Rick, Scott, TD, Jon Cole and I. Earlier this morning, I shared with you some of the highlights in narrative form. But now it's something a bit more. Thus, courtesy of Jon Cole's awesome photographic skills and our media...
NFL News

Delivered to your inbox

You'll also receive Yardbarker's daily Top 10, featuring the best sports stories from around the web. Customize your newsletter to get articles on your favorite sports and teams. And the best part? It's free!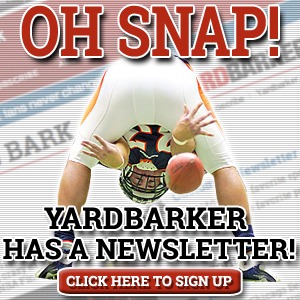 Latest Rumors
Best of Yardbarker

Today's Best Stuff

For Bloggers

Join the Yardbarker Network for more promotion, traffic, and money.

Company Info

Help

What is Yardbarker?

Yardbarker is the largest network of sports blogs and pro athlete blogs on the web. This site is the hub of the Yardbarker Network, where our editors and algorithms curate the best sports content from our network and beyond.