Found July 24, 2012 on CJ Sports NASCAR Talk:
BALTIMORE - OCTOBER 30: Patrick Peterson #21 of the Arizona Cardinals returns a punt for a touchdown against the Baltimore Ravens at M&T Bank Stadium on October 30. 2011 in Baltimore, Maryland. The Cardinals lead the Ravens 24-6 at the half. (Image credit: Getty Images via @daylife)
As we get ready to roll into the 2012-2013 NFL season, it's time for Patrick Peterson to update his "return policy".  I know you are sitting there scratching your head wondering "return policy"?  It is the policy that needs to be issued at the beginning of the season.  The policy of what will happen to you if you kick the ball in the vicinity of Patrick Peterson.  Just ask St. Louis, they wish they would have known the policy, TWICE last year.
As I sat there last year hating, not because of why you think, I got to watch one of the best punt returners of my time. The only reason I was hating was because I wanted my Cleveland Browns to draft one of the most talented special team players of my generation.   Patrick Peterson set three franchise records and also tied a NFL record, all in his rookie season.
Who sets franchise records with a 99-yard punt return, most punt returns for TDs (4), most return yards (699), and ties a NFL record with those four returns in a single season?  As a rookie?  Oh yea, Patrick Peterson.
Last years policy read something like this, "I am a rookie and you don't know me yet, but you might want to kick the ball away from me".  This years it should read something like this, "Remember me?  I am no longer a rookie and I will return the ball for a touchdown".
NFL Stats
Regular Season Returning Stats SEASON TEAM GP ATT YDS TD FC LNG ATT YDS TD FC LNG 2011
NCAA Stats
RETURN Stats PUNTS KICKOFFS YEAR TEAM PR YDS TD FC LNG KR YDS TD LNG 2008
Patrick Peterson is one of the most exciting returners I have ever gotten to see.  I have seen Devin Hester, Eric Metcalf, DeSean Jackson, and Deion Sanders, but there is something about Peterson that has me on the edge of the seat every time the ball is kicked to him.  You just don't know if any one will be able to bring him down.  Not only is Peterson fast, he is strong.  I have seen him break tackles that he had no business breaking.
As we roll into the season, I guess the only question left is, will teams actually continue kicking the ball to him?  They pretty much stopped kicking it to Hester, so with Peterson being a younger and much improved version, I can see teams kicking to him less and less.  I hope that isn't the case, I want to see him break the record and set the "return policy" to a higher bar.
Related articles
Original Story:
http://110sportztalk.com/patrick-pete...
THE BACKYARD
BEST OF MAXIM
RELATED ARTICLES
FLAGSTAFF, Ariz. -- Cardinals fans received a mild surprise when training camp began at Northern Arizona University on Tuesday. Running back Beanie Wells (knee) joined tight end Jeff King (quadriceps) on the active physically unable to perform (PUP) list after failing the team physical. Like King, Wells designation will prevent him from practicing until that designation is lifted...
The Arizona Cardinals have signed five-time Pro Bowl safety Adrian Wilson to a contract extension that runs through the 2015 season. The deal was reached Tuesday as the team reported to its training camp in Flagstaff. The 32-year-old Wilson had two years remaining on his contract. The new agreement reworks that deal and could pave the way for him to retire as a Cardinal. Terms...
Well, we have to look at other NFC West teams besides the 49ers at some point. The NFL preview continues… ARIZONA CARDINALS: 2011 RECORD – 8-8: My favorite bizarro fact about the 2011 Arizona Cardinals? Despite being saddled with the anti-awesome twosome (Kevin Kolb and John Skelton) at quarterback, 13 of Arizona's 16 games were decided by seven points or less. The Cardinals...
Cardinals running back Beanie Wells will begin training camp on the physically unable to perform list. Wells had knee surgery and missed offseason workouts. He failed his physical but coach Ken Whisenhunt said he should be ready to return soon. Starting tight end Jeff King is nearly recovered from a partially torn quadriceps tendon but also began training camp on PUP. Wells...
Getty Images NFL Network analyst and Former NFL linebacker Willie McGinest was on NFL Total Access and said that friends of his that are on the Arizona Cardinals have told him they prefer John Skleton over Kevin Kolb. "Talking to some of my buddies down there, it seems like they're gravitating toward Skelton a little bit more," McGinest said. Skelton certainly looked more...
NO CLICHES OR boilerplate statements here. The Pac-12's Media Day is generally marked with tired phrases and the same safe answers from the parade of Pac-12 coaches. But Washington State's Mike Leach just doesn't operate that way. Asked which head coach in the Pac-12 would make for the best hunting/fishing partner, Leach relished the opportunity to answer.
LOS ANGELES -- All eyes are on Pullman this season as Cougar fans hope new head coach Mike Leach can turn the program around. He discusses some of the biggest changes to the program, a few emerging players to keep an eye out for and more in this 1-on-1 video interview.
Fun times this week after the Pac 12 Media day. Mike Leach was comparing his WSU football players to Civil War Generals this week. Scroll thru to the 16:30 mark.
IF THIS WERE THE Las Vegas Strip, Mike Leach would have just signed a 10-year contract extension. If it were Yankee Stadium, he'd still be doffing his cap. If he played for the Detroit Red Wings, the ice would be a foot deep in octopi. Yep, the reviews are fully in and Mike Leach's debut performance at Pac-12 Media Day was a smash hit. Here's what some folks are saying ...
UNIVERSAL CITY, Calif. - Photos of Matt Barkley, Mike Leach and all of the action from Pac-12 Media Day.
NFL News

Delivered to your inbox

You'll also receive Yardbarker's daily Top 10, featuring the best sports stories from around the web. Customize your newsletter to get articles on your favorite sports and teams. And the best part? It's free!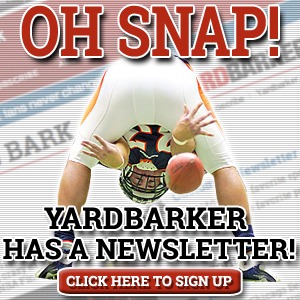 Latest Rumors
The Backyard

Today's Best Stuff

For Bloggers

Join the Yardbarker Network for more promotion, traffic, and money.

Company Info

Help

What is Yardbarker?

Yardbarker is the largest network of sports blogs and pro athlete blogs on the web. This site is the hub of the Yardbarker Network, where our editors and algorithms curate the best sports content from our network and beyond.