Posted December 22, 2011 on AP on Fox
PLAYERS:
Bill Belichick
,
Tom Brady
,
Reggie Bush
,
Rob Ninkovich
,
Matt Moore
,
Chad Henne
,
Andre Carter
,
Devin McCourty
TEAMS:
Miami Dolphins
,
New England Patriots
,
Denver Broncos
,
Houston Texans
,
Buffalo Bills
,
New Orleans Saints
The New England Patriots are in the playoffs for the ninth time in 11 years. The Miami Dolphins missed them for the ninth time in 10. Both, though, have a lot at stake on Saturday with the Patriots going for a first-round bye and many Dolphins playing for jobs next season. And both have the same approach to moving toward those goals. Forget about them. ''Right now, all we're worried about is Miami,'' Patriots coach Bill Belichick told reporters. ''All the rest of it is just something for you guys to write about.'' Todd Bowles, a head coach for just one NFL game compared with Belichick's 291, isn't focused on what a victory would mean for his future in that position. ''I don't have any expectations, really,'' he said. ''I'm just trying to get the guys to play hard and play better and play fast and try to come out with wins. I don't control those decisions.'' The Patriots (11-3) clinched their third straight AFC East title last Sunday with a 41-23 win at the Denver Broncos. There are several ways for them to secure a bye this week, the easiest being a victory combined with a loss or tie by the Houston Texans. They even can clinch the top seed in the AFC and home-field advantage throughout the conference playoffs if they win and Houston, Pittsburgh and Baltimore all lose or tie. ''I don't think we think about any of those things other than Miami,'' quarterback Tom Brady said. ''We prepare hard, focus on what we can focus on, control what we can control, go out there and play with great effort, good execution and we'll be in good position.'' The Dolphins (5-9) will focus on stopping Brady. They couldn't do it in their season-opening 38-24 loss in Miami in which Brady threw for a franchise record 517 yards. Bowles, who led the Dolphins to a 30-23 win over the Buffalo Bills last Sunday after replacing the fired Tony Sparano, was the secondary coach then. ''It was the toughest game for me as a coach,'' Bowles said. ''You don't see those kind of numbers every day. Nothing worked. .man (to man), zone, pressure, prevent. He completed everything. You write it off as a bad loss.'' But he remained confident and the secondary has improved considerably since then. ''I just think it was a bad game,'' he said. ''You just write it off and move on next week.'' The Patriots also have a dangerous offensive threat to handle. Reggie Bush rushed for a career-high 203 yards against Buffalo last Sunday, the same day New England allowed 167 yards rushing in the first quarter alone. In their last two games, the Patriots have been burned for a total of 422 yards on the ground. ''He's a special guy,'' New England linebacker Rob Ninkovich said of Bush. ''A guy like Reggie can do a lot of different things. ... So you've just got to make sure you don't let him do those things.'' Bush already has shown he can thrive as an every-down back, something he didn't do in his other five NFL seasons, all with the New Orleans Saints. So what motivates him with his team out of the playoff race? ''It's the New England Patriots,'' he said. ''Anytime you're playing a divisional opponent it's always big and we want to finish the season strong. At the same time, we know that we're still being evaluated. No matter what the record says, we're all still being evaluated on a daily basis, on a weekly basis.'' Bush's job for next season is secure. Matt Moore is still trying to enhance his resume as the starting quarterback after Chad Henne suffered a season-ending shoulder injury in the fourth game. The Dolphins rebounded after losing their first seven games with a 5-2 record, but Moore has completed fewer than 60 percent of his passes in each of the last four games. Still, Bush said, ''he's been the backbone of this team. I honestly believe that. Without him, we wouldn't (have) been able to put together the stream of wins that we have. ...I think you see when we give him time to throw the ball he can be dangerous, he can be effective.'' He very well could be against the Patriots. Starting with the third week of the season, their defense has been ranked worst in the league in both total yards and yards passing allowed. And now they must go on without defensive end Andre Carter, the team leader with 10 sacks who suffered a season-ending injury to his left quadriceps against the Broncos. ''He works incredibly hard and he's been having a great season,'' cornerback Devin McCourty said. ''To lose a guy like that, we just have to come together as a group.'' If they succeed, they could lock up a playoff bye with one regular-season game left. But if the Dolphins play spoilers? ''We're not trying to spoil anything,'' Bowles said. ''We're just trying to get better as a team and try to close out the season on a winning note. So we're just going to worry about us now.''
Original Story:
http://msn.foxsports.com/nfl/story/Pa...
THE BACKYARD
BEST OF MAXIM
RELATED ARTICLES
It's always a nice surprise when Patriots coach Bill Belichick turns into Professor Belichick and decides to explain some nitty-gritty football stuff. It's a little nerdy, sure, and a little inside football. But it's also incredibly enlightening. I was asking about how they made the decision to go with the three-man fronts against the Broncos instead of their four-man fronts...
What is really amazing, and the most important thing about Tom Brady is that he is still putting on great gridiron performances on the field, and still have good to outstanding seasons after he turned the dreaded age for an athlete, 30, on August 3, 2007. Related posts: Defensive Previews for the NFL Divisional Playoffs NFL Divisional Playoffs Preview & Predictions – Inside...
By Carolyn Thornton Asked about Miami's Vontae Davis, Patriots coach Bill Belichick put him in the same category as Denver cornerback Champ Bailey and the Jets' Darrelle Revis. "Has a lot of confidence playing out there. The interception he had last week against Buffalo was really an outstanding play," Belichick said of one of two picks Davis made on the Bills...
ANTI-SOCIAL MEDIA
Twitter has become the hip thing for the Patriots -- both Aaron Hernandez and Wes Welker joined the service this week. But Belichick and Brady say they have no plans to join.
DATELINE: HUMOR!Most of this season the fans of New England have claimed that the Patriots defense tinks because of Coach Bill Belichick.Media blabmeisters have ravaged the airwaves with a particular venomous bite for genius Bill Belichick for whom they no longer give a tinker's damn.Thinkers have been on the opposite side of the artificial yellow blab line that demarks the demerits...
While New England Patriots wide receiver Wes Welker and tight end Aaron Hernandez are busy trying to break the Internet, the team's two biggest stars -- quarterback Tom Brady and head coach Bill Belichick -- have said they'll give cyberspace a break for a while. Hernandez joined Twitter on Monday, and Welker jumped on board Tuesday. Within 20 hours of Hernandez's first...
FOXBORO -- The New England Patriots are in the playoffs for the ninth time in 11 years. The Miami Dolphins missed them for the ninth time in 10. Both, though, have a lot at stake tomorrow with the Patriots going for a first-round bye and many Dolphins playing for jobs next season. And both have the same approach to moving toward those goals. Forget about them. "Right now...
Listening to Bill Belichick explain the rapid-fire decision making process for in-game adjustments, the conversations are constant.
There are lots of folks out there who just do not like Bill Belichick to the point that some try to deny that he is even a good football coach. It is perfectly all right for someone to dislike Belichick; that is a personal reaction so it belongs entirely to an individual. I had a visceral dislike of Mr. Rogers – - the guy with the kiddies' show on TV who would start his show...
FOXBORO - It should come as no surprise that Patriots coach Bill Belichick uses rookie tackle Nate Solder as an...
This article originally appeared in the September 29th, 2010 issue of Patriots Football Weekly. CBSSports.com's Freeman Tweets It Like It Is By Bruce Allen Ask a Patriots fan who they like as a national sports columnist, and I don't think Mike Freeman would be near the top of that list. Come to think of it, I really don't know who that honor would go to, but I do know it would...
NFL News

Delivered to your inbox

You'll also receive Yardbarker's daily Top 10, featuring the best sports stories from around the web. Customize your newsletter to get articles on your favorite sports and teams. And the best part? It's free!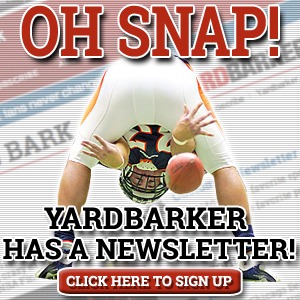 Latest Rumors
The Backyard

Today's Best Stuff

For Bloggers

Join the Yardbarker Network for more promotion, traffic, and money.

Company Info

Help

What is Yardbarker?

Yardbarker is the largest network of sports blogs and pro athlete blogs on the web. This site is the hub of the Yardbarker Network, where our editors and algorithms curate the best sports content from our network and beyond.