Posted September 12, 2013 on AP on Fox
Peyton Manning loves Eli's game, and not just because he's his little brother. As a fellow NFL quarterback, he appreciates the way Eli has improved every year despite an ever-changing supporting cast, all while working under the bright glare of Broadway. Oh, and those two Super Bowl rings are pretty sweet, too. Big brother has just one of those. The siblings square off Sunday at MetLife Stadium, the third - and quite possibly last - time they'll face each other in the pros. Peyton came out on top in the first two, with his old team, the Indianapolis Colts, beating the New York Giants in 2006 and `10. Peyton, 37, sees Eli, 32, through the dual prism of blood and quarterback brotherhood, and he's thoroughly impressed by the view. ''Eli is a great player,'' Peyton said. ''He's a consistent player. I think he's gotten better every year. I've always thought that's the goal for a brand new player is to try to be a better player...
Original Story:
http://msn.foxsports.com/nfl/story/Pe...
THE BACKYARD
BEST OF MAXIM
RELATED ARTICLES
Ladies and Gentlemen Peyton Manning is now a happy mood changing strain of weed. That's right Peter Burns shared the news that the Colorado marijuana dispensary is selling this mood altering strain of weed named after Manning.   Most athletes can't say that they've broke records and had a form of weed named after them so this is a pretty big deal for Manning. Also that description...
What's The Haps for September 12th? Greg Schiano is sort of sabotaging his own QB, Chappelle tells hilarious Kanye story, a fantasy league kills it with their WWE-themed costumes, you can now smoke Peyton Manning, and a Google Glass baseball app blows minds. The Links - Players reportedly believe Greg Schiano rigged the vote to [&hellip(Visited 1 times, 1 visits today)The post...
Have you ever frantically chased a rabbit all the way down a hole — only to discover that the rabbit you were chasing was really your own nose? That's what happened to me this week, and that is why the Week 1 Complete Quarterback Rating (CQBR) numbers are coming out on a Thursday instead of […]The post CQBR: Peyton Manning runs laps around competition in Week 1 by Rourke Douglas...
A lot of athletes feel that they've made it when they finally hear their name mentioned in a hip hop song. What happens when you get a form of cannibis named after you.  Yea we make joke about Browns quarterback Brandon Weeden and smoking on that Weeden, but he's not official. Peyton Manning is. Next Impulse Sports via Peter Burns is reporting that a Colorado marijuana dispensary...
The big news out of Denver today is that there's a medical marijuana dispensary selling a "Peyton Manning… [[ Read More ]]
By Jeff Heck, Bears Claws Contributor Week one is in the books and The Old Man went a respectable 12 and 4, a much better start than ANY of the AFC North teams. Week one saw a lot of safeties, Peyton Manning having a so-so day (7 TD's, really?), Jim Harbaugh and Clay Matthews setting the table for an off [...]
With a riveting Week 1 in the books, we look onto Week 2 of the NFL Regular Season and which players can help bring your Fantasy Football team(s) to a win. Peyton Manning was by far the MVP of Week 1 and you can't predict those sorts of results for anyone in any given week, but there are a few players who have the talent and matchups to come close this week. NY Jets at New England...
Each week the FOX Sports Girls will provide you a fantasy football league recap in the video above. Week 1 Highlights River City Rampage - Week 1High Score (158.1 FP) O-H Factor - own Peyton Manning (144.9 total FP) Mr. McGibblets - managed to pull of two trades late in the week, but had to wait until Week 2 to start his new players (Jimmy Graham / Drew Brees) Cheesehead Cuties...
Welcome to the Weekend Warrior, your web-based congregation for water-cooler discussion. We will get you up to speed on what you missed over the past few days and what's on this weekend's itinerary. At worse, this will give you a five-minute respite from being productive at work or school. Our sporting culture is infused with high-end contentions: LeBron versus Kobe. Should...
If you are like me, you probably have pinch marks all over your body caused by disbelief. Between the Eagles breakout performance, upsets galore and Fantasy surprises, there was a lot of drama to soak in. While not necessarily a surprise, Peyton Manning changed the game this week both in real life and fantasy life and it was a mad scramble to scoop up any offensive player wearing...
It was an exciting week of football, starting with an explosive showing by the ageless veteran Peyton Manning.  And while all eyes were on the Baltimore Ravens-Denver Broncos rematch of the 2013 AFC Divisional Playoffs to usher in the new NFL season, for once, it seemed that the NFL community also had their radar on Russell Wilson and the Seattle Seahawks.  Wilson deserves...
NFL News

Delivered to your inbox

You'll also receive Yardbarker's daily Top 10, featuring the best sports stories from around the web. Customize your newsletter to get articles on your favorite sports and teams. And the best part? It's free!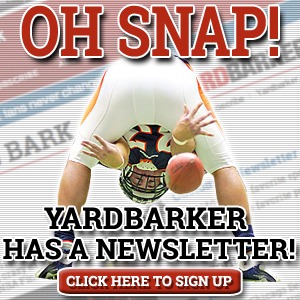 Latest Rumors
Best of Yardbarker

Today's Best Stuff

For Bloggers

Join the Yardbarker Network for more promotion, traffic, and money.

Company Info

Help

What is Yardbarker?

Yardbarker is the largest network of sports blogs and pro athlete blogs on the web. This site is the hub of the Yardbarker Network, where our editors and algorithms curate the best sports content from our network and beyond.