Found February 08, 2013 on Sports Blog Net:
Billy Davis was a blip on our radar, but far from the lead in our imaginary race for Eagles DC... Then CBS Sports broke the story at noon on Thursday, Feb. 7: This just in from Evan Hilbert of CBSSports.com: "The Philadelphia Eagles and Chip Kelly have found their defensive coordinator, Billy Davis, according to Geoff Mosher of CSNPhilly.com." Davis, who was the Cleveland Browns linebackers coach the past two seasons, met with Kelly late last month. His position with the Browns was precarious after Cleveland canned coach Pat Shurmur in favor of Rod Chudzinski. (Shurmur is expected to be named Philadelphia's new offensive coordinator.) Prior to his time in Cleveland, Davis was the defensive coordinator for the San Francisco 49ers for two seasons from 2005-06, and he later held the same position for the Arizona Cardinals in 2009 and 2010. Davis also has spent time holding various posts with the Steelers, Panthers, Packers, Falcons and Giants. Kelly and the Eagles are rumored to be shifting from a 4-3 defensive scheme to a 3-4, which is in line with Davis' experience. I'll leave that on the table for now, just to turn the page... It's a big hire that means a lot to the Eagles' chances of turning the team around.  Davis will have almost complete autonomy in how he runs the defense. I'll come back later with some more meat to add to this breaking news. We'll also take a look at some of the big name players being cut around the league for salary cap reasons, and wonder if any of them may find their way to the Eagles roster. UPDATE 7:30 P.M. EST 2/7/13... Reaction has been...well, lukewarm at best to the Billy Davis hiring. The CSN Philly.com poll being taken has 5% of responding fans FOR the hire, 44% AGAINST, and 51% responding "WHO KNOWS?---we'll find out in September"...and that's over 1,000 respondents so far. That reaction is mirrored by our Bored members. Most folks are going "whaaaaa?" And JB-Sage-Lion hates it. But Dutch Rubb said it well: Billy Davis is an improbable hire from a backgound of coaching for some pretty bad teams, but so was Jim Johnson when Andy Reid hired JJ...so give the guy a shot to prove himself. And as Leo Pizzini pointed out, Davis has worked under some terrific coaching influences. He worked under Wade Phillips in Atlanta. He was on staff with Packers DC Dom Capers and with 49ers DC Vic Fangio in Carolina. And he was defensive quality control for DC Dick LeBeau in Pittsburgh. ATV provides this link to Tommy Lawlor's igglesblitz.com column for those who want a closer look at Billy Davis as to how he stacks up to the remainder of the 3-4 coaching candidates' style and philosophy:   http://www.igglesblitz.com/philadelphia-eagles-2/billy-davis-vs-the-world/ And here's a PPW-provided link to a Bleeding Green Nation analysis of Billy Davis' scheme trends: http://www.bleedinggreennation.com/2013/2/7/3964144/explain-the-scheme-of-eagles-defensive-coordinator-billy-davis. JEFF STOUTLAND UP NEXT AS OL COACH? I can almost hear Keith Jackson announcing Stoutland going to the Eagles from "AL----A--BAMA".... Although still awaiting confirmation, it appears Chip Kelly has landed Stoutland as his offensive line coach to replace the retired Howard Mudd. Joe Pendry was a tough guy to replace when he retired from Alabama in 2010, but Jeff Stoutland was the first guy Nick Saban turned to for filling Pendry's shoes. Stoutland made his bones at "The U." but he became available to Alabama when head coach Randy Shannon went down in flames in Miami. Stoutland is still reaching the peak years of his career. He's only in his late 40's. Like Pendry, he has worked in the NFL. At the U. of Miami he took a line that was in shambles and turned it into an All-ACC weekly honors winner in 5 of his last 10 games there. More background info on Stoutland to come as his confirmation is awaited.... Check out other great articles at Eagles Eye.
Original Story:
http://winyourleague.sportsblognet.co...
THE BACKYARD
BEST OF MAXIM
RELATED ARTICLES
According to CSNPhilly.com, the Philadelphia Eagles have hired former Browns linebackers coach Billy Davis as their new defensive coordinator. Davis most recently coached on Pat Shurmur's staff with the Browns the last two years. Shurmur is also joining Chip Kelly's new staff with the Eagles. Let's hope Davis is better then the last three coordinators the Eagles hired to replace...
Chip Kelly has picked Bill Davis to be the new defensive coordinator for the Philadelphia Eagles!  Finally, the long grueling search is over, we have found the man who will return Philly's defense to it's once dominant ways…right? Maybe?  Hopefully? Bill Davis (or is it "Billy"?).  Wait, who?  We've waited this long to find out it was going to be Billy friggin...
The first round draft prediction for the Philadelphia Eagles in 2013 has to be Eric Fisher. Now, this selection takes into account Luke Joeckel being scooped up before he lands to the Eagles at the first spot. If Joeckel falls to the Eagles, the Eagles will pick him 4th overall with no debate, but the main point of this selection, is fixing the offensive line of the Eagles. Jason...
The Eagles have a new coach in Chip Kelly and he has some decisions to make.  Do they keep Vick, do they have the players to run Chip's offense?   They need to make some calls quick and get prepared for the draft     There are a lot of solid players available, where do they go? 1 Luke Joeckel, OT, Texas A&M 2 Jarvis Jones, DE, Georgia 3 Star Lotulelei...
Categories: BREAKING NEWS Eagles NewsTags: Billy DavisPhiladelphia EaglesThe Philadelphia Eagles have answered one of the biggest questions looming around the new coaching staff: Who will lead the defense? Billy Davis, who most recently served as the Browns linebackers coach, is going to be the man. Billy Davis has been a defensive coach since 1992 with the Pittsburgh Steelers...
Categories: BREAKING NEWS Coaching Staff Eagles NewsTags: Chip KellyPhiladelphia EaglesWith the selection of Billy Davis as his defensive coordinator, new Eagles head coach Chip Kelly has finalized his coaching staff. Kelly will hold a new conference on Monday afternoon at 1:30pm to discuss his staff. Pat Shurmur (offensive coordinator) This is second time through Philadelphia...
NFL News

Delivered to your inbox

You'll also receive Yardbarker's daily Top 10, featuring the best sports stories from around the web. Customize your newsletter to get articles on your favorite sports and teams. And the best part? It's free!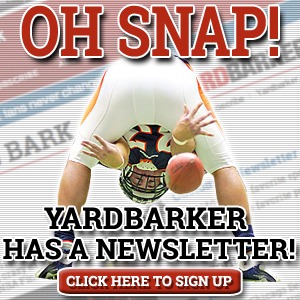 Latest Rumors
The Backyard

Today's Best Stuff

For Bloggers

Join the Yardbarker Network for more promotion, traffic, and money.

Company Info

Help

What is Yardbarker?

Yardbarker is the largest network of sports blogs and pro athlete blogs on the web. This site is the hub of the Yardbarker Network, where our editors and algorithms curate the best sports content from our network and beyond.