Found August 31, 2012 on Purple Jesus Diaries:
THAT WAS AWFUL:
If we're being honest, I don't know if I've sat through a worse game than the Vikings game last night, which
they LOST anyway, 24-28
. Really. And the worst part was that I DID actually sit through and watch most of it. The whole first half. Parts of the third, and really most of the fourth. During the last preseason game of the year. Without a single alcoholic libation, either! What is wrong with me?! The only saving grace of this ankle biting fest was all the offense that took place, largely because the people playing defense were way too incompetent to do their job. There were long touchdown passes, missed tackles, kick returns ... Exciting stuff in a normal game. But then I remember what it's like to watch junior high kids do the same stuff and I became bored with this game.
Whatever. It's over. It's on to the real **** now, and likely, the return of the one and only Purple Jesus to the football field. Good. I can't wait. Let's never speak of this preseason again.
Mushroom Stamp of Disapproval:
There were a TON of people I wanted to shiv after watching this miscarriage all night. Zachary Bowman, as much as I want him to make the team, looked like a swollen butt hole Thursday night. Every single linebacker should be stood in front of a firing squad. The offensive line can look forward to being ushers at a high school play, because they certainly were capable of showing the defenders their way to the quarterback. Worst of all though, for me anyway, was Eric Frampton. His play tonight was atrocious, which is made even sadder because he's been someone this team has had to rely on for SO LONG. I don't know if that says more about the team or more about the fact that Frampton has declining skills. Either way, his poor angles, weak tackling, disgusting coverage, all of it, pretty much sealed up his walking papers tonight. But while he may be the loser in making the team, he's definitely the WINNER of this Mushroom Stamp of Disapproval. Congrats, Eric! I think.
About the Replacement Refs:
OK, the refs were about as bad as losing your virginity to a Wisconsin girl. I think we can all agree on that. But still ... there's something about this juvenile performance that I absolutely love. I think it is hilarious. The NFL, for as staunch and old timey and no-fun as they are, now find themselves putting up with a bunch of ******* CLOWNS week in and week out until they bend over backwards and accept the regular refs demands in a new contract. It is so funny, because every fan watching knows the game better than these jackalopes, so the NFL can't hide behind obscure rules and regulations anymore. Dude, you screwed the Vikings out of 10 yards of ball placement during a personal foul call! Everyone knows it! What's the excuse NFL? That you're money grubbing pimps? OK, well fine, just say that then. But Jesus, get the real guys back. No one is going to make a Replacements movie out of this point in history.
Also, I saw a
tweet last night from Greg Coleman
that sounded pretty sexist to me. Take it in the context of a vacuum and tell me what you think.
Check My Notes:
Lots of WEIRD **** happened in this game, so let's break it down in bullet points, so it's easier for the buffoons to read:
Joe Webb looked pretty bad. I honestly am not sure if he'll make the team at this point. He probably will, but as a 3rd string QB. I thought he was always a lock for the backup spot, but I'm not so sure.
Instead, I think that spot goes to Sage. Who knew?! Sage came in though, with a bunch of playhouse amateurs, and showed an amazingly steady hand and threw some honest-to-god pretty nice balls. If anyone had to step in and try to get us a win if Shirtless Ponder went down, I would put Sage tops on my list. Of who would be available on the roster, of course.
Going into the game I was on board with Matt Asiata getting the final roster spot. He didn't necessarily do anything for me to think differently about that, but that little mousy guy Jordan Todman kind of stole my heart. It'll be interested to see who the team keeps as the 3rd guy. I honestly can't even offer a guess here.
I didn't see a thing from Manny Arceneaux. I haven't EVER seen a thing from Manny Arceneaux. He's cut.
Aromashodu locked down a roster spot (at least for the first 3 games with Jerome Simpson out) with his performance last night. I'm kind of disappointed by that, but don't really care. He shouldn't see the field that much, and if he does, we already got bigger problems.
Robert Blanton, safety from Notre Dame, saw his first game action of the preseason. Can't tell much from this one game against the bar stools that were out there, but he looked to hit hard, and be in the right place occasionally. That's probably enough to keep him around.
The defense .... JESUS CHRIST THE DEFENSE ... It was so bad. Our backups were just flat out garbage. I really doubt we are any better than we were last year. Good lord.
The audio on the TV was broken for much of the first quarter, and it actually enhanced my viewing experience because I didn't have to listen to Paul Allen from KFAN give broadcast blow jobs to McLeod Bethel-Thompson, who was equally full of ****, too. PA kept talking about how he was a sleeper to make the team. Get ******, dude. MBT sucks. What a horrible trolling attempt.
I'm making shirts for Audie Cole. #COLETRAIN is the main theme. Any other suggestions?
Losers Haiku:
"Hey all nine of you,
I just scored big time, so close
Your whispering eye."

That's what I got, ladies. Enjoy your holiday weekend. We should have something up Monday because whatever. But after that, it's real football time. We get to see Shirtless Ponder for an entire game, and then get super mad when the "real," starting defense sucks for an entire game's length, too. Should be a blast!
[follow]
Original Story:
http://purplejesusdiaries.com/2012-ar...
THE BACKYARD
BEST OF MAXIM
RELATED ARTICLES
SAD STORY
A 45-year-old man fell to his death during the Vikings-Texans preseason game in Houston, the second time a fan has died in such fashion in as many years.
The Minnesota Vikings wrapped up their preseason last night with a loss to the Houston Texans 28-24  at Reliant Stadium.  The Vikings finished 1-3 as they enter the regular season. The Vikings did not start any of their regulars as Joe Webb started the game as he passed 4/7 for 47 yards.  Webb was in for two drives and set them up for two field goals.  Vikings' running...
EDEN PRAIRIE, Minn. Adrian Peterson's goal since Dec. 31 knee surgery has been returning for the Minnesota Vikings' first regular-season game on Sept. 9. A little more than a week away and Minnesota coach still isn't sure if the goal will be met.Following the preseason finale 28-24 loss at Houston on Thursday, Frazier called Peterson a "game-time decision&quot...
With numerous NFL rumors swirling regarding possible roster cuts and trades taking place over the next few days, the Minnesota Vikings are only concerned with players who are guaranteed a spot to start the 2012 regular season, and whether or not they are healthy. More specifically, they are most concerned about the health and availability of one Adrian Peterson. After having surgery...
Getty According to Tom Pelissero of 1500 ESPN in Minneapolis, Vikings running back Adrian Peterson will likely be a game time decision for next week's season opener. Adrian Peterson likely a game time decision for Week 1. #Vikings — Tom Pelissero (@TomPelissero) August 31, 2012 If Peterson ends up playing next week, I believe TOby Gerhart will start and Peterson will only get...
Damn, I could really go for some Texas BBQ right now. I can smell it I want it so bad. It mixes smell and taste somewhere on the back of my tongue. GUH.Anyway, welcome to another Purple Jesus Diaries Game Thread. We're back for the final time during the preseason, which means the next time you'll see a game thread it will actually be during a Sunday afternoon (because the...
After trimming back to 53 players Friday night, the Minnesota Vikings continued to put the finishing touches on their regular-season roster Saturday. The biggest move was the completion of a trade first reported Friday night: The Vikings acquired third-year cornerback A.J. Jefferson from the Arizona Cardinals for what is reported to be undisclosed draft picks. Jefferson, who went...
The Vikings had three injuries sustained in Thursday night's game, but the focus next week will turn to Adrian Peterson's recovery, along with John Carlson and Geoff Schwartz. Plus, how about those replacement officials? Another player vents and Leslie Frazier tries to avoid the topic.
The attorneys for Brett Favre say some requests made in court are only trying to hurt or embarrass him.
The Minnesota Vikings ended the preseason Thursday with a 28-24 loss to the Houston Texans, unable to gain any momentum team-wise while finishing the preseason with a 1-3 record. But this preseason hasnt been about a record; its been about the development and evaluation of a very young roster. A look at how the team graded out with its backups on the field in the final rehearsal...
The Minnesota Vikings acquired cornerback A.J. Jefferson from the Arizona Cardinals on Saturday for a conditional draft pick in 2013. In bringing in the 24-year-old Jefferson, the Vikings continued their approach of adding youthful depth to a rebuilding roster. Cornerback was an area of concern for the coaching staff with Antoine Winfield entering his 14th season and missed the...
As if we needed another parody of Carly Rae Jepson's "Call Me, Maybe," here comes another video version of the pop tune titled "Draft Me, Maybe."  This version of Canada's most annoying musical export since that Celine Dion "Titanic" song centers on what is hopefully the last area of sports that can be parodied — the NFL Fantasy Draft and...
Vikings News

Delivered to your inbox

You'll also receive Yardbarker's daily Top 10, featuring the best sports stories from around the web. Customize your newsletter to get articles on your favorite sports and teams. And the best part? It's free!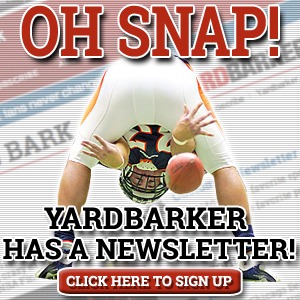 Latest Rumors
Best of Yardbarker

Today's Best Stuff

For Bloggers

Join the Yardbarker Network for more promotion, traffic, and money.

Company Info

Help

What is Yardbarker?

Yardbarker is the largest network of sports blogs and pro athlete blogs on the web. This site is the hub of the Yardbarker Network, where our editors and algorithms curate the best sports content from our network and beyond.