Found January 28, 2013 on Fox Sports Ohio:
HONOLULU (AP) -- After a week in Hawaii and a blowout game, the NFL's all-stars are defending the Pro Bowl as a worthy reward for top players who don't make the Super Bowl. "I hope we keep it here and keep it here for a long time," Minnesota tight end Kyle Rudolph said after winning Pro Bowl MVP in a 62-35 NFC win on Sunday. Rudolph called the award icing on a cake of being named to the roster and getting to spend time with other Pro Bowl players in Hawaii. "That was the big emphasis this week, making sure that we were competitive and I think we showed that," he said. The shenanigans were limited. The teams scored plenty of points. Yet the results were familiar -- another ho-hum Pro Bowl. Now, the future of the game depends on how Commissioner Roger Goodell sees it. "That's for him to decide," Denver quarterback Peyton Manning said. "I thought it was a good, competitive game." Seattle quarterback Russell Wilson got the crowd pumped up in the second half with some nifty scrambles and three passing touchdowns. There was also Houston's sack-happy defensive end J.J. Watt going out for a couple of passes as a wide receiver, and retiring Green Bay center Jeff Saturday snapping to two Mannings on opposite teams. But while the NFC appeared unstoppable on offense, with nearly each player putting up fantasy-worthy lines in limited play, the AFC had five turnovers and scored most of its points well after the game was no longer competitive. "Guys were competing, guys wanted to win and guys want to keep the game here," Rudolph insisted. "That was the point before the game. We want to keep this game rolling for future Pro Bowlers." Watt, who had 20 sacks for Houston, lined up as a wide receiver on the AFC's third play from scrimmage, but missed a pass from Peyton Manning. He was targeted one more time, but didn't make a catch. He later showed a television camera a bloody left pinkie, joking with NBC broadcasters that it was proof that the players were trying. "Hey, Commish, we're playing hard," Watt said as he showed his finger. Watt said after the game that he wanted to stay in even as things got lopsided. "I'm sure some guys thought about (letting up), but I'm not going to sit out," Watt said. "I like to play football, it's fun, so I just tried to enjoy it." Goodell has said the Pro Bowl won't be played again if play didn't improve this year. Last year, fans in Hawaii booed as lineman were clearly not trying. On one play in that game, Minnesota defensive end Jared Allen did a barrel roll to switch positions with a teammate. If players were coasting this time around, it was less obvious. The AFC just played poorly. And fans didn't boo much -- the stands were relatively empty even though the game sold enough tickets to lift a local television blackout. The game was trending on Twitter in the United States early on, but quickly gave way to the Screen Actors Guild Awards and the WWE Royal Rumble. Saturday, retiring at the end of this season, played for both teams, though he came representing the NFC. He lined up on one play for the AFC to snap the ball one last time to Manning, his longtime former Colts teammate. Saturday said it meant a lot to him that the Broncos quarterback, whom Saturday called a true friend, orchestrated the stunt. "He's got a little more pull than I got," Saturday said. "He got it all set up and timed up for me, so it was really nice of him to do that." Saturday played 13 seasons in Indianapolis, all with Manning -- except 2011, when Manning was out with a neck injury. Saturday then played later in the game for the NFC, snapping to Peyton's brother, Giants quarterback Eli Manning. Saturday's last play on the field was a passing touchdown by Eli Manning. Peyton Manning said it was nice for the NFL to allow the play to happen. "It's something that I'll always remember," he said, "that he'll always remember to kind of get that one, final snap together after the thousands that we've taken together." Even as the NFC piled up touchdowns, the game struggled for memorable moments after Saturday's momentary switch. In the second quarter, referee Ed Hochuli drew cheers when announcing a pass interference penalty on Denver cornerback Champ Bailey in the second quarter -- the first flag of the game. "Yes, there are penalties in the Pro Bowl," Hochuli said, drawing laughs and loud cheers. Giants wideout Victor Cruz broke a Pro Bowl record with 10 catches. Tampa Bay receiver Vincent Jackson had 91 yards and two touchdowns. Eli Manning threw for 191 yards and two touchdowns. Cincinnati's A.J. Green had three TD catches for the AFC. NFL officials said earlier in the week that the league wants to decide the future of the Pro Bowl by the time next season's schedule is released in April. "We understood exactly what (Goodell) wanted, guys were making plays all over the field," Cruz said. "There was a little bit more high intensity than in years past and we were excited to play."
Original Story:
http://www.foxsportsohio.com/01/28/13...
THE BACKYARD
BEST OF MAXIM
RELATED ARTICLES
ONE LAST TIME
The Pro Bowl is full of gimmicks and the 2013 version was no different. Jeff Saturday spent most of his career snapping the ball in Indianapolis to quarterback Peyton Manning. Every game that Manning played in Indianapolis occurred with Saturday as the center. This year both players left Indianapolis as Manning went to Denver and Saturday headed to Green Bay. Both ended up in Hawaii...
Green Bay Packers center Jeff Saturday momentarily switched teams during the Pro Bowl on Sunday for one last thrill before he retires. Saturday was the longtime center of the Colts and played his entire Indianapolis career with Peyton Manning as his quarterback. He came into the league a year after Manning, and the two won a Super Bowl and made 16 Pro Bowls together. Both left the...
HONOLULU (AP) -- Sack-happy defensive end J.J. Watt went out for a pass as a wide receiver, retiring center Jeff Saturday snapped to two Mannings on opposite teams and the NFC blew past the AFC 62-35 in a Pro Bowl that could be the league's last. Whether the NFL's all-star game will return or not is a question league officials will ponder the next few months. And, the players...
HONOLULU (AP) -- Sack-happy defensive end J.J. Watt went out for a pass as a wide receiver, retiring center Jeff Saturday snapped to two Mannings on opposite teams and the NFC blew past the AFC 62-35 in a Pro Bowl that could be the league's last. Whether the NFL's all-star game will return or not is a question league officials will ponder the next few months. And, the players...
Green Bay's Jeff Saturday, the NFC's backup center, snapped the ball to the AFC's Peyton Manning. With Saturday retiring, it was a special moment between longtime teammates. It was a highlight of the NFC's 62-35 victory over the AFC.
usatodaysports: This is pretty great: Jeff Saturday played center for the AFC on one play to snap the ball to Peyton Manning for the final time before he retires. (screengrab via @NFLRT)
According to NFL Network's Ian Rapoport, Baltimore QB Joe Flacco is hoping for a larger contract than Peyton Manning when he becomes a free agent after the season.Fantasy Spin:Manning makes $19.2 million annually so it sounds like Flacco is hoping for at least $20 million. There's no way Flacco deserves to be paid as much as Peyton but guiding the Ravens to the Super Bowl...
The Pro Bowl is a joke.  You know it.  I know it.  The NFL and NBC most certainly know it.  The game is such a joke that jokes about the game are even getting old fast and seem as fresh as Tebowing. We've reached some sort of absurd meta level of ridiculousness that everyone involved with the Pro Bowl from the players to the referees to the announcers promote the farcical...
Twitter.com Hard to believe, but the Pro Bowl just got funnier. During Train's performance, one of the Pro Bowl dancers got a little excited and exaggerated her jump, letting her shirt ride up and showing off an elite level camel toe in the process. Commissioner Roger Goodell may opt to suspend her for leading with the lobster claw. She looks naked, but she's not naked; just...
Click on photo to read more about the Absurdities of the Super Bowl I'm sorry I just can't get amped up for the Super Bowl. I think it's a great match-up, but I'm just not into it. I can't root for either team so I guess I'm just pulling for a last second field goal to win the game. The Press These Auburn fans don't care much for Ole Miss guard Marshall Henderson [WithLeather...
Once the Baltimore Ravens knocked off the Denver Broncos and the possibility of a Peyton Manning versus Tom Brady AFC Championship was eliminated, the next best option for the Super Bowl immediately became a Baltimore-San Francisco match-up. In the AFC Championships second half Joe Flacco looked very Tom Brady-esque. Anquan Boldin shed years off his [...]
NFL News

Delivered to your inbox

You'll also receive Yardbarker's daily Top 10, featuring the best sports stories from around the web. Customize your newsletter to get articles on your favorite sports and teams. And the best part? It's free!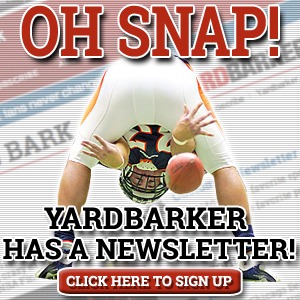 Latest Rumors
The Backyard

Today's Best Stuff

For Bloggers

Join the Yardbarker Network for more promotion, traffic, and money.

Company Info

Help

What is Yardbarker?

Yardbarker is the largest network of sports blogs and pro athlete blogs on the web. This site is the hub of the Yardbarker Network, where our editors and algorithms curate the best sports content from our network and beyond.