Found December 01, 2011 on Redskins Blog:
Click to view slideshow. With more than half of the Redskins roster under the age of 27, and nearly everyone under the age of 30, this is a generation of players that have grown up on computers. I had a great chat with offensive linemen Eric Olsen and Tyler Polumbus today, discussing the rise and fall of different fads in Internet social media.  After Al Gore invented the Internet, there were chat rooms, online journals, Hotmail, Myspace, Napster, Xanga, and finally Facebook and Skype. But the greatest of all creations for me in middle school and high school (and even college), was AOL Instant Messenger (AIM).  And 23-year-old Redskins offensive lineman Eric Olsen is still on it. "Yeah, I'm still on it," he said with a smile.  "I mean, it's one of those applications that just opens automatically when I turn on my computer.  I don't have to sign in, the buddy list just pops up." In the age of text messaging, Facebook Chat, and Twitter, AIM has been dubbed nearly obsolete, left to com...
Original Story:
http://blog.redskins.com/2011/12/01/p...
THE BACKYARD
BEST OF MAXIM
RELATED ARTICLES
Fred Davis appeared on his way to having a monster game on Sunday, recording three catches for 53 yards and a touchdown on the Washington Redskins' game-opening scoring drive against the Seattle Seahawks. But from that point on, the tight end had only one more catch for five yards. Statistically, it may have appeared like a drop-off in production, but Davis will tell you he remained...
Click to view slideshow. Redskins receiver Santana Moss is synonymous with production and professionalism in Washington, where he has been a rock of stability over the last seven years. But in light of the upcoming game against the New York Jets, he reminisced on some of the mistakes that he made with the media in The Big Apple. "I came in young, went through something real rough...
Redskins Coach Mike Shanahan said safety LaRon Landry (groin), linebacker London Fletcher (ankle), fullback Darrel Young (concussion), and defensive end Stephen Bowen (knee) did not practice because of injuries Wednesday. Linebacker Brian Orakpo (shoulder), offensive tackle Jammal Brown (hip) and receover Niles Paul (toe) were limited in practice. Read full article >>
Click to view slideshow. As the Redskins start to find their mid-season stride, they're also starting to gain national attention, both individually and as a team. In this week's edition of the Dan Graziano ESPN NFC East Blog All-Division Team, the Redskins secured each of last week's selections and added and extra spot.  On this week's list, there are nine Cowboys, seven...
After Rex Grossman got benched against the Eagles, he strongly advocated Grossman keep his starting job, saying "that's not even something that should be asked," and that Grossman "deserves to start." Some fans thought that was just what any teammate would say about his starting QB, but it felt considerably stronger than that to me. Read full article >>
Apparently four days after the fact people are still giving their opinion of what they thought of Stevie Johnson end zone celebration against the Jets. Washington WR Santana Moss was the latest to weigh in. Moss was asked on PFT Live for his thoughts on Johnson's celebration. "Some guys, that's a part of their game," Moss said of Johnson on Thursday's PFT Live. "They...
I know some of you are fond of Football Outsiders, (as am I) so once the season gets underway and trends start developing, looking at an opponent's rankings on Football Outsiders helps to give fans some perspective. (As a heads up, negative percentages are good on defense, bad on offense & specials) Pass Offense: -13.2% (27th) Rush Offense: -9.2% (30th) O-Line Ranking: Run...
The Washington Redskins take on the New York Jets Sunday and hope to pick up back-to-back victories for only the second time this season. The vibe around Redskins Park this week has been one of overall encouragement. The offense has finally started to click and generate big plays. The defense got stops against Seattle and had a solid outing. Read full article >>
Late in the first half Sunday, the Seahawks were scurrying right along on offense, and the teams were bickering after every whistle, and then, apparently, DeAngelo Hall sat down on the field. Now, I never saw this on the broadcast, and I forgot to DVR the game, but there were Twitter mentions to keep me informed. Read full article >>
The most important number for the Redskins in their 23-17 victory over the Seattle Seahawks, was the number they didn't reach - 7 - as in 7 straight losses. Washington ended their 6-game slide with the win, and moved to 4-7 on the season. Here are the other relative statistics and numbers from Sunday's game: 416 - Total net yards for Washington. It isn't the Redskins...
In the NFL, every team is constantly searching for that golden formula to guarantee success. The concept of how to go about it is always evolving, but ultimately if a healthy balance isn't achieved at every level of the organization, then it's very difficult to accomplish much anything. From what I gather, that balance hasn't been instilled in the Washington Redskins organization...
Redskins News

Delivered to your inbox

You'll also receive Yardbarker's daily Top 10, featuring the best sports stories from around the web. Customize your newsletter to get articles on your favorite sports and teams. And the best part? It's free!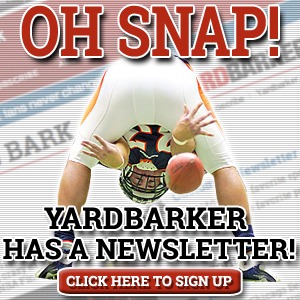 Latest Rumors
Best of Yardbarker

Today's Best Stuff

For Bloggers

Join the Yardbarker Network for more promotion, traffic, and money.

Company Info

Help

What is Yardbarker?

Yardbarker is the largest network of sports blogs and pro athlete blogs on the web. This site is the hub of the Yardbarker Network, where our editors and algorithms curate the best sports content from our network and beyond.