Found January 17, 2013 on NorthWest Sports Beat:
Where it all went wrong for Seattle against Atlanta Alright Seattle Seahawks fans, it's time to step back from the ledge and do what we do best; point the finger at who cost us a shot at Lombardi's trophy. And for this, we have to start at the top—head coach Pete Carroll. Yes, it's true that the Hawks fared far better than pre-season expectations. And yes, it's true that Carroll's own instincts allowed us fans to witness the emergence of a dynamic young quarterback.  But just what was going through his mind in short-yardage situations on Sunday? Actually, we'll get to that later.  The first call I would like to bring up was the fourth-down situations in the first half, where kicking a field goal seemed to be completely forbidden by Carroll. Unless Kicker Steven Hauschka was more banged up than we were lead to believe, the Hawks could have secured an easy three points twice. But sensing a weakness, Ol' Pete went searching for major scores, both times coming up empty handed.  Just think where three or six more points would have the Seahawks now. Pete Carroll is partly to blame for the loss to the Falcons. The second gaffe in Carroll's coaching strategy was actually a recurring theme, and proved to be most fatal in the end—the failure to shut down Atlanta's tight end, Tony Gonzales.  It seemed like the Falcons QB Matt Ryan targeted the feature receiver on every third down pass.  And time and time again he came up with the timely catch. Kam Chancellor couldn't stop him, and KJ Wright wasn't able to either. But at no time was Gonzales ever double-teamed.  It was Gonzales who came down with a huge reception late in the contest to set up Atlanta's game-clinching field goal. Coach Darrell Bevell is being considered for many head coaching spots, which is fair. His defense was solid throughout the season, but he had to do a better job of adjusting his personnel on Sunday, and it was up to Carroll to make that happen. Finally, the last point to reflect upon was those ill-fated third and fourth downs in short-yardage situations.  If there was any a time to run the read option, that was it.A simple misdirection hand-off to Michael Robinson wasn't going to cut it.   That play took too long to develop and the Falcons' D was positioned to shut the short run. Next time, take it wide, have the end make the wrong decision and leave the defenders in the dust.  When your backfield has Russell Wilson and Marshawn Lynch, you keep the ball in their hands at crucial times. Two chances for one yard and Carroll goes away from the bread and butter that lead to a fantastic season. Alas I digress. I just had to get that off my chest.  When you watch the game at the local watering hole, you are surrounded by about 30 guys, who, after a few pints, are now all better coaches than Pete Carroll. They're dead wrong most of the time, but on these three illustrations, I'd have to give them the benefit of the doubt.  So drink up lads, if it helps to ease the pain. But let it be known, our beloved Hawks are in good hands for seasons to come. Cheers, The Bartender. CLICK HERE CHECK OUT THE SEAHAWKS BLOG IN OUR CLUBHOUSE AT NWSB!
Original Story:
http://www.nwsportsbeat.com/seahawks/...
THE BACKYARD
BEST OF MAXIM
RELATED ARTICLES
There isn't a whole lot I can do introduce this video, except (shamelessly) ask you to copy this link and send it to everyone and anyone who enjoys NFL football.  This won the world championship of the internet today.  Hilarious. Jim Harbaugh wants cake and he wants it now and Pete Carroll cheers on his team to stop doing heroin… VIDEO COURTESY OF BAD LIP READING — check...
The Seattle Seahawks hired defensive line coach Dan Quinn to defensive coordinator, the team announced Thursday. Quinn replaces Gus Bradley, who was named the Jacksonville Jaguars head coach. Quinn spent the past two seasons as the University of Florida's defensive coordinator. Prior to that, he coached the Seahawks' defensive line and was assistant head coach for two...
The fine folks at the YouTube channel Bad Lip Reading took on the NFL, and the results are hilarious. It's gone viral and rightfully so, closing in on 1.4 million views in just over a day. Watch it and you'll understand why it's so glorious… I'm having a hard time deciding on my favorite part of the video. Pete Carroll's anti-heroin PSA? Jim Harbaugh's cake tantrum...
Seahawks head coach Pete Carroll mentioned that they discussed the possibility of adding a quarterback with a similar skill set to that of Russell Wilson, which is obviously the exact opposite of Matt Flynn. "We've talked a lot about that," Carroll said, via the Tacoma News Tribune.. "It would be nice to have another guy that might be able to be a factor that way. There's...
The Chicago Bears will speak again with three candidates for their head-coaching job, ESPN.com reported Tuesday. The Bears are interviewing for a second time Seattle Seahawks offensive coordinator Darrell Bevell, Montreal Alouettes head coach Marc Trestman and Indianapolis Colts offensive coordinator Bruce Arians. Seahawks coach Pete Carroll confirmed that Bevell and Seattle...
The Jacksonville Jaguars hired Gus Bradley as their new head coach, ESPN reported Thursday. Bradley has been the Seattle Seahawks defensive coordinator for the past four years. He replaces Mike Mularkey, who was fired after just one season. The Jaguars were a franchise-worst 2-14 this season, dating back to 1995. Bradley, 46, has received praise from Seahawks coach Pete Carroll...
The Jacksonville Jaguars have found their man to replace fired head coach Mike Mularkey. Now they just have to hammer out the terms. Seattle Seahawks defensive coordinator Gus Bradley, who also interviewed with the Philadelphia Eagles, has been chosen for the job and has accepted, sources told FOXSports.com. However, Bradley and the team are working out contract details right now...
Seattle moved quickly Thursday to fill its vacant defensive coordinator position by hiring Dan Quinn away from Florida to replace Gus Bradley, who left to become the head coach in Jacksonville. The Seahawks made the hiring official just hours after Bradley was hired by the Jaguars. It will be a nearly seamless transition for the Seahawks. ''Dan Quinn is an excellent teacher...
The Seattle Seahawks have announced that they've hired Dan Quinn as their next defensive coordinator. Seahawks name Dan Quinn defensive coordinator to replace Gus Bradley. — Seattle Seahawks (@Seahawks) January 17, 2013   Gus Bradley was hired as the Jaguars head coach this morning leaving an opening on their coaching staff. Quinn has been the defensive coordinator at the...
This is just hitting the ol interwebs today. The YouTube channel called Bad Lip Reading just released a hilarious NFL video. It shows players and coaches like Tom Brady, Adrian Peterson, Peyton Manning, and Pete Carroll and what it looks like they could possibly be saying to each other on the sidelines or on the field. If you have not seen this viral video yet well, like Terrell...
Both coordinators for the Seahawks, Gus Bradley and Darrell Bevell, have been cashing in on the team's success the last few weeks by interviewing for multiple head coaching vacancies across the league.  But while it appears likely that Bevell will stay on for the 2013 season, earlier today it was announced that Bradley has been hired by the Jacksonville Jaguars to be their new...
NFL News

Delivered to your inbox

You'll also receive Yardbarker's daily Top 10, featuring the best sports stories from around the web. Customize your newsletter to get articles on your favorite sports and teams. And the best part? It's free!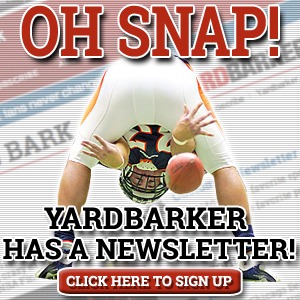 Latest Rumors
Best of Yardbarker

Today's Best Stuff

For Bloggers

Join the Yardbarker Network for more promotion, traffic, and money.

Company Info

Help

What is Yardbarker?

Yardbarker is the largest network of sports blogs and pro athlete blogs on the web. This site is the hub of the Yardbarker Network, where our editors and algorithms curate the best sports content from our network and beyond.