Found June 26, 2012 on isportsweb.com:
As I was sitting in a cabin in the Smoky Mountains last Thursday, watching Game 5 of the NBA Finals while on vacation, I never thought of who would be next to have the pressure of winning the title in their respective sport. Yet almost immediately after the Heat wrapped up the NBA championship, chatter began about who now has the most pressure to win a title, and talk turned to Dallas Cowboys QB Tony Romo. And the pundits are right. For a guy in his 7th season as a starter, and who is arguably the 3rd best QB in franchise history statistically, he only has one playoff win to show for it. Now granted playoff wins are team efforts, but a great quarterback is measured not on regular season success, but on how he guides his team through the playoffs. The ultimate goal of a QB is to get better, and make his team better, and there have been no consistent signs of that with Romo. Tony Romo needs to lead the Cowboys to the promised land if he wants any chance of having his career matter. Yet, if you were to look at his stats, he is an elite QB, at least in the annals of Cowboys lore. Romo has statistics very similar to Staubach, Aikman, and Danny White. All 3 of those QBs led the Cowboys to conference finals, and two of them have multiple Super Bowl rings. Keep in mind though, that both White and Aikman played nearly twice as many games as Romo, so take these stats for what their worth. Romo leads all franchise QBs with a completion percentage of 64.5%. He trails Danny White for 3rd on the all-time franchise list by 1,100+ yards, which he will easily get this season, and he will eclipse both Staubach and White for TDs, as he trails them by 4 and 6, respectively. He trails Aikman by 16 in that department, so it's even a great likelihood that he becomes the franchise leader in TD passes before the year ends. But considering the pass-happy nature of the league, it's no shock that Romo is on the cusp of achieving such a milestone. For all the costly interceptions he has thrown, he still trails all 3 of the elite Cowboys QBs by half. But he is on pace to also throw the most interceptions of any Cowboys QB in history. And here is where the detractors will say "I told you so" but remember, it's a pass-happy league. The more passing attempts made, the higher the probability of getting intercepted. All-in-all, the stats are there. But the intangibles aren't. Romo isn't the best leader, and he doesn't make his team better. In fact, all of his miscues and turnovers in crucial situations put pressure on his teammates, specifically the defense, to perform better and bail him out.  He seems to say the right things, but saying the same thing every year gets old and tiresome. Romo needs to show by his performance that he can get it done, and he hasn't. 6 years as starting QB for the Cowboys, 4 playoff games, and a 1-3 record. All of that on a franchise that is one of the most scrutinized in all of sports, and that is always under a microscope. Worse yet, this is on a team that has a storied history, but that hasn't won anything in nearly 20 years. So the pressure is definitely on Romo. Most Cowboys fans, including me, want him out. And while his job is secure, the window is closing for this team as assembled. Romo still has a chance to get his name among the Aikmans and Staubachs of the world, but until then, he is mired among the Quincy Carters and Chad Hutchinsons of team history. No more excuses, no more turnovers. It's time for Romo to put up or shut up.
Original Story:
http://feedproxy.google.com/~r/isport...
THE BACKYARD
BEST OF MAXIM
RELATED ARTICLES
'CLUTCH' ZINGER
Giants defensive lineman Chris Canty recently stated that he believes the Giants are a better team than the Cowboys because of Tony Romo's play in the clutch.
Giants defensive lineman has had a busy week on topics ranging from his facemask to his recovery from knee surgery to his extremely high opinion of a teammate. Now Canty is speaking up about one of his former teammates. Canty made it clear to say that he thinks Cowboys quarterback Tony Romo, who was his teammate in Dallas from 2005 to 2008 is a good player, but he then said...
Tony Romo grew up in Burlington, Wisconsin idolizing Green Bay Packers quarterback Brett Favre. So what the legendary gun-slinger told Deion Sanders Tuesday on the NFL Network had to bring a huge smile to Romo's face. Favre was on the network discussing his thoughts on several of today's active NFL quarterbacks when his attention turned to pin-pointing the one that reminded...
Getty Images Dallas Cowboys great, Roger Staubach ended up speaking with KTCK-AM's Norm Hitzges on Monday and said that he thinks people don't realize how good Tony Romo is. "One of the most important things a quarterback can do is transfer the confidence he has to his teammates so everybody can believe in each other," said Staubach.  "You can't do it by yourself. It's...
  How Far can Tony Romo take the Cowboys in 2012? The Dallas Cowboys are led by Jerry Jones and although is ability to win is under scrutiny of late, there is no disputing that he has made all of the right moves in the offseason. The odds for the Cowboys to win the Super bowl are listed at 24-to-1 at online sportsbook BetOnline and with the way this team has improved in the offseason...
Brett Favre and Tony Romo now share a bound that goes beyond being consistent subjects of scrutiny. Favre sat down with Deion Sanders on the NFL Network to discuss a number of topics, including some of the league's current quarterbacks. During his discussion, Favre praised Romo, and said that he sees a lot of himself in the Cowboys quarterback. "Romo is probably more like...
New York Giants defensive end Chris Canty spent his first four NFL seasons with the Cowboys. For three of those, Tony Romo was the starting quarterback. Since signing as a free agent with the Giants, Canty has been paid to chase Romo around. Those circumstances make Canty an ideal source to discuss the pressure that's on Romo to win a Super Bowl with the Cowboys. While some...
When we think of Brett Favre, there are generally two schools of thought. On one hand, we remember the guy who was one of the greatest quarterbacks in NFL history and probably the toughest player to ever play the game. On the other, we think of the guy who didn't know when to call it quits and who made a mockery of himself over the final few years of his career. But do we think...
Getty Images New York Giants defensive tackle Chris Canty told ESPN's SportsNation,  (via the Dallas Morning News) that the Dallas Cowboys haven't been able to have as much success as the Giants because quarterback Tony Romo simply hasn't performed well during crunch time. "Romo's a tremendous quarterback, statistically he's a top five quarterback, that's undeniable...
LeBron James is now an NBA champion, which raises an important question for all the sports fans out there who love celebrating the misfortunes of famous athletes: Who do we turn to next? Prior to last week, LeBron was the ultimate case of a superstar athlete who has never won a thing. Before LeBron, we had Alex Rodriguez. What about now? As Michael Irvin reminded us this past weekend...
Cowboys News

Delivered to your inbox

You'll also receive Yardbarker's daily Top 10, featuring the best sports stories from around the web. Customize your newsletter to get articles on your favorite sports and teams. And the best part? It's free!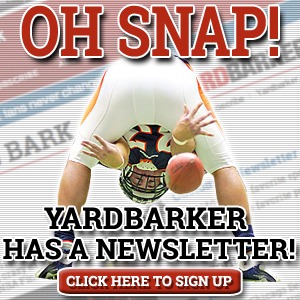 Latest Rumors
Best of Yardbarker

Today's Best Stuff

For Bloggers

Join the Yardbarker Network for more promotion, traffic, and money.

Company Info

Help

What is Yardbarker?

Yardbarker is the largest network of sports blogs and pro athlete blogs on the web. This site is the hub of the Yardbarker Network, where our editors and algorithms curate the best sports content from our network and beyond.