Found March 26, 2012 on Thoughts from the Dark Side:
PLAYERS:
Nnamdi Asomugha
,
Robert Gallery
,
Thomas Howard
,
Ted Thompson
,
Kamerion Wimbley
,
Stanford Routt
,
Chris Johnson
,
John Henderson
,
Hiram Eugene
,
Jason Campbell
TEAMS:
Philadelphia Eagles
,
New England Patriots
,
Cincinnati Bengals
,
Green Bay Packers
,
Tennessee Titans
,
Oakland Raiders
,
Chicago Bears
For many years, there has been a vocal contingent of Raiders fans that clamored for recognition that the league was anti-Raiders.  If the schedule seemed less favorable, if the league awarded fewer prime time games - whatever the situation - there were individuals that claimed that the league didn't like the Raiders, never had. I'm not a subscriber to this theory and if the league gifts the Raiders as kindly as it did today, no one in the future will be able to claim the league dislikes the Raiders - or, at least, not claim it and be taken seriously. The league announced the compensatory picks for the 2012 draft today.  The picks, which are derived from a proprietary formula that the league keeps a secret, are designed to compensate teams that suffer a net loss in the number of quality of their free agents. Therefore, teams that sign a fewer number of player than they lost to free agency, or players that are substantially worse, can expect to be awarded some picks the following year. Last season, the Raiders lost arguabley the top free agent, CB Nnamdi Asomugha, as well as TE Zach Miller, G Robert Gallery and LB Thomas Howard.  The only real gain was TE Kevin Boss. The league awarded the Raiders 3 compensatory picks which is right in line with what was expected.  What was unexpected was the rounds that were awarded. The team was awarded picks in 3 sequential rounds - a 3rd round (95th overall), a 4th round (129th overall) and a 5th round (168th overall). When I was doing research it was very rare for teams to get a both a 3rd and a 4th and I'm not aware of any team getting a 3rd, 4th and 5th - it is, to my knowledge - unprecedented. Even Raiders GM Reggie McKenzie was surprised about it, pleasantly so.  In a conference call with Bay Area media organizations today, he said, "Let me tell you something. Whatever the formula is, I love this formula. I love it. I thought I would possibly get a three, a high one for Nnamdi, and the others, obviously, this is better than what I expected. So I'm extremely excited about the compensatory picks that the league has afforded the Raiders. Hopefully we can make due and have some good picks from this." McKenzie went on to talk about how he thinks they can find good players with all three of the compensatory picks. Furthermore, he cleared up some questions about how the Raiders are likely to operate.  The Raiders will, he said, pick the highest rated player on their board regardless of what position that player plays or how many players the Raiders already have at the position. McKenzie also spoke about his experience at Green Bay, stating he was heavily involved with both free agency and the draft during his years there.  It was unknown what his specific duties were because he worked under GMs Ron Wolf and Ted Thompson during his time in Wisconsin. Don't expect another windfall of compensatory picks at this time next season.  Under the known rules, compensatory picks are not awarded for players that are cut by the team, only by players whose contracts expire and choose to sign elsewhere.  That means that most of the Raiders free agents this year, and vitually all of the big names, will not be count in the formula. The players that the team cut and are, therefore, not included for compensatory picks next year include Kamerion Wimbley, Kevin Boss, Stanford Routt, Chris Johnson, John Henderson and Hiram Eugene. Players that were free agents and have signed with other teams include Jason Campbell, Michael Bush and Samson Satele.  It is possible that those three and any others that sign will offset what looks to be a relatively meager class that Oakland will bring in and could still allow the team some sort of compenation next year. Whatever next year brings, McKenzie is focused on this year, now, and will take any assitance he can get.  Prior to today, Oakland had only two picks - a 5th and a 6th rounder.  Now, he has five picks, total. For Raiders news and analysis throughout the day, or to ask me questions or tell me what you think by following me on Twitter @AsherMathews
Original Story:
http://www.tfdssports.com/2012-articl...
THE BACKYARD
BEST OF MAXIM
RELATED ARTICLES
In the NFL, defensive ends are key in both stopping the run, and rushing the passer. There are many who specialize in one or the other, while finding players who can be productive in both areas is rare. The Oakland Raiders have two young defensive ends who possess that very rare ability. Lamarr Houston and [...]
This week, we wanted to know who the fans think will be the leading wide receiver for the Oakland Raiders in this upcoming season.  The Nation, in keeping with the trend of naming a clear cut winner, did it again.  Our top vote-getter won with 53% of the vote.  The second place receiver ended up [...]
Josh Chapman will be visiting the Oakland Raiders facility soon (he will also visit Tennessee and Atlanta).  This, according to Aaron Wilson of Scout.com. There has been much talk and debate as to whether the Raiders will employ a 3-4 or a 4-3 defensive alignment this coming season.  Throughout the entire offseason to this point [...]
According to Paul Schofield, Pittsburgh Tribune-Review, Oakland Raiders quarterback Terrelle Pryor made an appearance at a Pittsburgh area mall and squashed any rumors that the Raiders asked him to switch positions. "I haven't heard them," Pryor said about the rumors, per the Tribune-Review. "That's not even a question. I'm still working to become the best quarterback...
Last season, the Oakland Raiders selected Ohio State University QB Terrelle Pryor in the league's supplimental draft. The quarterback was only on the field for one play last year but he said recently that there are no plans to make him switch positions moving forward. During an autograph session in Pennsylvania this weekend, Pryor was asked about rumors that the Oakland...
The Oakland Raiders were the biggest winners among NFL teams receiving compensatory draft choices, picking up an extra third-round pick (selections 33-95), a fourth-round pick and a fifth-round selection. In all, 32 compensatory choices were awarded to 15 teams on Monday. The Browns, Packers and Jets also came out well with extra picks: each team was awarded a total of four compensatory...
The Oakland Raiders have more than doubled their draft haul by receiving three compensatory picks. The NFL awarded the Raiders picks at the end of the third, fourth and fifth rounds of April's draft based on free agents they lost and signed last offseason. Oakland previously only had picks in the fifth and sixth rounds because of trades and the supplemental draft. New general...
See our updated Depth Chart projections with guesses on where players will fall at this time.The Raiders went into 2012 free agency with almost no bodies at CB position and came out with a number of players that will be able to vie for the starting CB spots.The CB position will be one of the, if not the, most changed positions from last season.  There are only 3 players that are...
It's not a well-publicized aspect of the annual NFL Owners Meeting or its effect upon the overall talent search of the Eagles and 31 other teams in the league...but the "Compensatory Draft" game is a bigger deal than most fans realize.It's kinda like refinancing a mortgage...and where else do you get that kind of real and intelligent discussion on an Eagles board...
Real Oakland Raiders Jerseys usually are constructed by means of Reebok and are also readily available on the net regardless of workforce people service or maybe what exactly player's jacket you want to unique. In the event of which are not plenty of available for you, you possibly can generally tailor-make some sort of jacket with all your label within the returning as well as...
NFL Oakland Raiders jerseys is very the most significant activities for the majority of. It offers an essential using. National football jerseys, to be a massive component of workforce tools, sometimes appears anywhere people head out. For all addicts, using this jerseys in their beloved workforce or maybe beloved people is significant to back up in addition to brighten the workforce...
NFL News

Delivered to your inbox

You'll also receive Yardbarker's daily Top 10, featuring the best sports stories from around the web. Customize your newsletter to get articles on your favorite sports and teams. And the best part? It's free!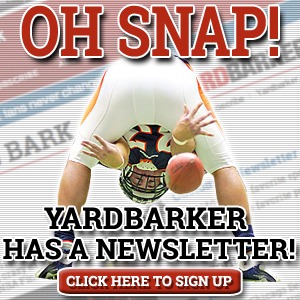 Latest Rumors
Best of Yardbarker

Today's Best Stuff

For Bloggers

Join the Yardbarker Network for more promotion, traffic, and money.

Company Info

Help

What is Yardbarker?

Yardbarker is the largest network of sports blogs and pro athlete blogs on the web. This site is the hub of the Yardbarker Network, where our editors and algorithms curate the best sports content from our network and beyond.