Found May 16, 2012 on Fox Sports Midwest:
PLAYERS:
Brian Quick
,
Jeff Fisher
,
Sam Bradford
,
Michael Brockers
,
Justin Blackmon
,
Kellen Clemens
,
Tom Brandstater
,
Brandon Lloyd
,
Brandon Gibson
,
Danario Alexander
,
Josh Mcdaniels
,
Isaac Bruce
,
Torry Holt
,
Kurt Warner
,
Chris Givens
TEAMS:
St. Louis Rams
,
Jacksonville Jaguars
,
New England Patriots
,
Detroit Lions
,
Tampa Bay Buccaneers
,
Appalachian State Mountaineers
,
Oklahoma State Cowboys
ST. LOUIS Brian Quick cradles the ball in the middle of a practice field, the hope of a franchise resting in his hands. Its the second session of a rookie minicamp at Rams Park, and the St. Louis Rams future at wide receiver wants to make an impression. Quick searches for open space against defenders during drills. The pace is light, but the man taken 33rd overall earns rave reviews for his potential from coach Jeff Fisher after the workout. Before walking into the locker room at the ContinuityX Training Center, he stops and addresses his first taste of NFL life. Nothing caught me by surprise, Quick says, a crowd gathered around him. I expected this. Its my job. Im supposed to handle my job and do the things to get better. Nothing really surprised. With time, he answers questions about lessons gained from his first two practices as a professional. He speaks with a confidence that will help him when he manages expectations that come with being the first wide receiver taken in the Fisher era. The position was the Rams greatest area of need after a painful 2-14 season in 2011, and the teams new leadership envisions Quick growing into a dynamic threat to aid Sam Bradford. Questions for the former Appalachian State star continue before he walks off the field. The answers show anticipation for his new life and the challenges that will come with it. Was the minicamp an eye-opener? Ive got to come out here everyday and work, Quick says. I want to play. That will open your eyes. What do you think of coaches giving you one-on-one chances? They want to use me this year, he says. Theyre trying to basically test and see what I can do. Do you see your role as being a big-time wide receiver? I hope to, he says. Whatever helps us win games. They knew they had secured a possible star. There was a moment late on April 26 when Fisher and general manager Les Snead were confident that they had a chance to select a potential difference-maker to fill the most gaping hole on their roster. It was shortly after they made LSU defensive tackle Michael Brockers the 14th overall pick in the NFL draft. Oklahoma State wide receiver Justin Blackmon had been a top Rams target, but the Jacksonville Jaguars made a trade with the Tampa Bay Buccaneers to move up to the No. 5 slot and selected Blackmon one spot ahead of St. Louis. Still, Snead and Fisher were optimistic about their position. They owned the first pick of the second round, and Quick was available after four wide receivers were taken on the drafts opening night. Their interest in the 6-foot-4, 220-pound prospect piqued after watching his private workout the week before in Boone, N.C. After the first round, Fisher was asked in a news conference if there were still wide receivers available who excited the Rams. His response was pointed but coy. Its safe to say, yes, he said at the time. As a member of a Football Championship Subdivision program, Quick didnt carry the name recognition of Georgia Techs Stephen Hill, South Carolinas Alshon Jeffery or LSUs Rueben Randle all wide receivers who went unclaimed in the first round. But Rams coaches were convinced he would be a strong fit because of physical traits that made backup Rams quarterbacks Kellen Clemens and Tom Brandstater say, Wow, during the drive back to the airport after the private workout in North Carolina. Quicks performance before Fisher and other members of the Rams traveling party that day was an extension of the success he enjoyed in college. He set Appalachian State's all-time records in receptions (202), receiving yards (3,418) and touchdown catches (31). He also averaged 16.9 yards per catch and earned first-round marks among some NFL scouts. What makes him unique is his combination of size and speed, said Rick Beasley, a former Appalachian State wide receiver who played from 1977 to 1980. He creates real matchup problems for every team that we played. There arent many folks 6-5 who have the elevation and the strong hands and the long arms that he has. He just gets better. The Rams need someone with high potential. Brandon Lloyd, who signed with the New England Patriots as a free agent in March, led St. Louis with 683 yards receiving and five touchdowns as the teams lone deep threat. Meanwhile, Brandon Gibson and Danario Alexander were the only other Rams players to have more than 400 yards receiving last season, both finishing with 431. The lack of depth at the position contributed to Bradfords decline after a strong rookie season. At times, the quarterback seemed to doubt his wide receivers ability to find space within a system designed by then-coordinator Josh McDaniels. As a result, Quick arrives in St. Louis as a symbol of the Rams reconstruction. He offers promise that he can become the versatile weapon Bradford has lacked throughout his first two years in the league. For a franchise trying to remake itself under a veteran coach, Quick has become a reason to hope for a more competitive future. First of all, youve got a big man, Snead said. Hes tall, 225 pounds, long arms, can catch it. Hes got rare hand-eye coordination, so he can go snatch a ball. Hell get rebounds for us, but that same big man can cut on a dime, and he can get off the ball really fast. I think we worked out a lot of receivers and this guy was as good, or better, than all of them. Quick says all the right things after the recent rookie minicamp at Rams Park. He knows this is a time for making a smooth transition between his former life and what hell become as St. Louis primary deep option starting Week 1 at Ford Field against the Detroit Lions. Adjustment will take time, but hes not focused on pressures that come with the role. For now, hes trying to grow in a healthy way before judgments about his play begin. I feel like theres no pressure, because if I come out here everyday and work and do what Im supposed to do, there shouldnt be pressure at all, Quick says. As long as I come out here and do things Im supposed to do, then I do that on the field, it translates to the game what you do in practice. Still, expectations will never be far away. Performance of the Rams three second-round picks will go a long way in determining the success or failure of Snead and Fishers first draft class together. Quick will be studied close because of it. To the Rams, hes a second-round steal. They view him as a player with first-round skill who can stretch defenses in a way that hasnt been seen at the Edward Jones Dome since Isaac Bruce and Torry Holt broke huddles with Kurt Warner. Until the fall, though, Quick represents little more than potential. Early reviews are promising, and his showing at the rookie minicamp offered a glimpse at what he could become: A tall and agile talent capable of creating excitement on Sundays in a city that hasnt witnessed a team finish about .500 in nine seasons. But Fisher sees Quick becoming so much more. The coachs vision for the Rams could hinge on his choice wide receiver meeting that ideal. Its definitely exciting, said rookie Rams wide receiver Chris Givens, who was taken in the fourth round. Its a big opportunity its all going to be about what we make of it. Weve got to put in the hard work this summer and get in our playbook and get in the weight room and do things we need to do to take care of our mind and body so that when training camp comes around, we can be full speed. Just coming here with the receiving corps being wide open, completely new coaching staff, it just makes everything that much more fun. Exciting. Fun. Both are words that have been absent when describing the Rams throughout their lost decade. Exciting. Fun. Both are words that could be appropriate when Quick takes the field as a face of a possible turnaround.
Original Story:
http://www.foxsportsmidwest.com/05/16...
THE BACKYARD
BEST OF MAXIM
RELATED ARTICLES
ST. LOUIS The spring means scrubbing away a bad memory. More than four months after Steve Spagnuolo left the Edward Jones Dome as the St. Louis Rams' coach for a final time, there's optimism at Rams Park this week with veterans returning for offseason training activities. It's found in what wide receiver Danario Alexander calls a more relaxed setting under coach Jeff...
AP Photo St. Louis Rams head coach Jeff Fisher decided to take a gamble when he drafted former Florida/North Alabama cornerback Janoris Jenkins in the second round of this year's draft. Fisher was a guest on ESPN's NFL32 today and said they did a lot of research on Jenkins prior to the draft and he actually heard a lot of good things about him despite the fact that he was...
ST. LOUIS (AP) Jeff Fisher took an offbeat approach for breaking the ice when St. Louis Rams veterans and rookies met for the first time. Besides standing and reciting their names, schools, favorite movies, etc., during introductions, the new players were asked to recall the name of their first pet along with how it died. Fisher said several mentioned hamsters and turtles, while...
If you listen carefully you'll hear it. The grunts in the background along with the rhythmic clinking of weights as St. Louis Rams' running back Steven Jackson is getting himself ready for another season. Jackson knows there is a lot at stake. The team just drafted what could be his eventual replacement in the second round of the draft and he will be 29 years old when the 2012...
ST. LOUIS Suddenly, there's a wish list with theworry. Suddenly, there are bullet points to go along with concern that the Ramscould begin packing after the 2014 season. Suddenly, there are sketches to showwhat a revamped Edward Jones Dome could look like to prevent a possible move toLA. Now the Rams' vision has a public identity. It's outlined in a thickcounterproposal...
The 2012 NFL draft has reached a conclusion. And not only that, NFL teams are basically done with the signing of undrafted rookies as well. The June 1 cuts will allow the St. Louis Rams to make a few more veteran additions to the team (if that's what they desire), but for the most part, the members of the official 53-man roster are hidden within the current 84-man roster. ...
NFL News

Delivered to your inbox

You'll also receive Yardbarker's daily Top 10, featuring the best sports stories from around the web. Customize your newsletter to get articles on your favorite sports and teams. And the best part? It's free!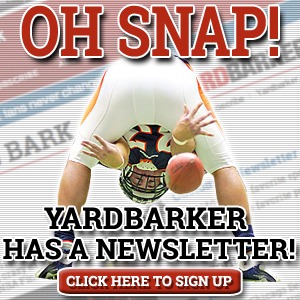 Latest Rumors
The Backyard

Today's Best Stuff

For Bloggers

Join the Yardbarker Network for more promotion, traffic, and money.

Company Info

Help

What is Yardbarker?

Yardbarker is the largest network of sports blogs and pro athlete blogs on the web. This site is the hub of the Yardbarker Network, where our editors and algorithms curate the best sports content from our network and beyond.