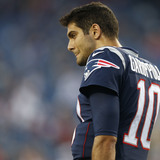 Tom Brady has five Super Bowl rings, and might be the greatest quarterback of all-time. He led the Patriots to the biggest comeback in Super Bowl history earlier this year, helping the team fight back from a 28-3 deficit.But there are certain Patriots fans who are overreacting and think it's time to move on from him, for some reason.Brady got outplayed by Alex Smith in Thursday...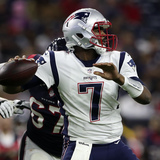 In what would be absolutely shocking news, one report from the Boston Herald suggests that New England Patriots quarterback Jacoby Brissett is not guaranteed to make the team's final 53-man roster.Jeff Howe of the Herald took time to break down the final roster battles taking hold for the defending champs. He had a rather interesting take regarding Brissett's status with the...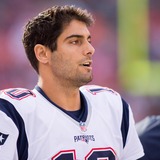 Would Jimmy Garoppolo sign an extension with the New England Patriots?Talk about a curve most wouldn't expect—but then again, is it really so crazy given the seemingly endless rich-get-richer vibe around the Patriots?Maybe not. And Garoppolo didn't exactly slam the door shut on the idea in a recent interview, according to NFL.com's Chris Wesseling:"I'll entertain any...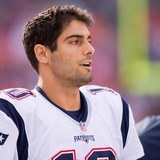 Jimmy Garoppolo has just one year remaining on his rookie contract, and it looks like all roads lead to the franchise tag for the backup quarterback. But what if the New England Patriots offered to sign him to an extension this summer?On Tuesday, Garoppolo said he would be open to the possibility of signing a new deal with the Patriots. Making matters more interesting, Mike Giardi...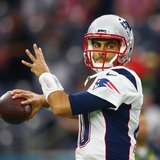 All those Jimmy Garoppolo trade rumors may finally going away, with even his most stubborn suitors seeming to lose hope of a successful pursuit.NFL Network's Ian Rapoport reasserted that the New England Patriots do not want to trade Garoppolo, and even the Cleveland Browns are starting to believe they'll be out of luck in that pursuit."From my understanding, the Patriots do...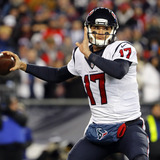 The Cleveland Browns didn't even have Brock Osweiler for 10 minutes before they started receiving trade calls on the quarterback.Cleveland acquired Osweiler from the Houston Texans on Thursday for a 2018 second-round pick and 2017 6th-round pick, though they are sending a 2017 4th-round pick to the Texans in return.There are mixed reports about the Browns' intentions for Osweiler...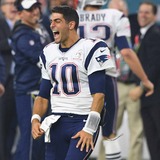 Jimmy Garoppolo remains a member of the New England Patriots heading into the final day of action at the 2017 NFL Scouting Combine. A player many thought might be on the move by now as quarterback-needy teams searched for answers, Garoppolo's asking price is apparently far too steep at this time."No team has come anywhere close to meeting the Patriots' demands in a potential...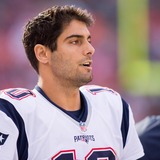 With two picks in the top 12 of the NFL Draft, the Cleveland Browns have perhaps the best assets to land New England Patriots quarterback Jimmy Garoppolo in a trade.They are reportedly considering doing just that.NFL Network analyst Mike Mayock said (per Phil Perry, CSN New England) that his goal if he was with the Browns would be to draft either Texas A&M's Myles Garrett or...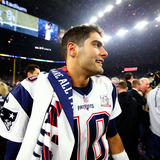 Jimmy Garoppolo figures to be on the trade market this offseason, but what will the New England Patriots want for him?In a radio interview on Friday, ESPN's John Clayton suggested that while the Pats may want a first rounder, a deal could be "very similar to the Alex Smith trade of a couple years ago.""Where naturally, if you're the Patriots, you're going to hold out...
The New England Patriots will likely entertain trade offers for backup quarterback Jimmy Garoppolo this offseason, and they may wind up getting a phone call from the Houston Texans.Aaron Wilson of the Houston Chronicle speculates that the Texans are one of the teams in need of a quarterback that could be interested in acquiring Garoppolo. The problem, of course, is that the Patriots...
MORE STORIES >>
Patriots News

Delivered to your inbox

You'll also receive Yardbarker's daily Top 10, featuring the best sports stories from around the web. Customize your newsletter to get articles on your favorite sports and teams. And the best part? It's free!