Found November 21, 2012 on Ravens Football Machine:
PLAYERS:
Johnny Unitas
,
Philip Rivers
,
Joe Flacco
,
John Harbaugh
,
Terrell Suggs
,
Ed Reed
,
Jarret Johnson
,
Bernard Pollard
TEAMS:
Baltimore Ravens
,
Denver Broncos
,
Pittsburgh Steelers
,
San Diego Chargers
,
Houston Texans
,
Kansas City Chiefs
The Ravens (8-2) fly to San Diego this weekend to play the Chargers in a 4:00 game (EST, Sunday, Nov.25)...and even though the Chargers are 4-6, they are being picked by a lot of media "experts" to beat the Ravens. This is because Baltimore has a history of playing their worst games against San Diego in Qualcomm stadium. Maybe it's the "Curse ofJohnny Unitas", who was traded away from the old Baltimore Colts to spend his last season with a terrible San Diego franchise at the time. But the trend is undeniable--- the Ravens were embarrassed by the Chargers last year for virtually no good reason. Maybe it's just a weird matchup matrix between these two teams.           San Diego is coming off a 30-23 loss to the Denver Broncos while Baltimore beat the Pittsburgh Steelers 13-10. San Diego has a 4-4 record all-time against Baltimore which includes a 34-14 win during the 2011 NFL season.  San Diego is also 4-2 all-time at home against the Ravens. Baltimore gives up 4.0 yards per rushing attempt which ranks 11th in the NFL while they surrender 7.0 yards per pass attempt which ranks 16th in the league. San Diego gives up 3.8 yards per rushing attempt which ranks sixth in the league while they rank 15th in yards per pass attempt. Chargers quarterback Philip Rivers has 17 touchdowns and 14 interceptions while he ranks 13th in the NFL in QB rating.  Ravens QB Joe Flacco has 13 touchdowns and seven interceptions while he ranks 14th in QB rating. San Diego is 0-5 this season against teams with a QB who has an above average QB rating right now. Baltimore averages 26.7 points per game which ranks seventh in the NFL while San Diego ranks 16th in this category with an average of 23.2 points per game. Baltimore gives up 20.6 points per game which ranks ninth in fewest points per game allowed while San Diego ranks 13th in this category because they surrender 22.1 points per game. But none of these comparative stats seem to ever figure into the final score when the Ravens visit San Diego. Baltimore's only loss from Nov. 13 through Jan. 21 of last season was a 34-14 disaster in San Diego. In that game, Rivers went 17 for 23 for 270 yards and a touchdown with no interceptions. "He sliced us and diced us last year,'' coach John Harbaugh said Wednesday. Linebacker Terrell Suggs added, "It wasn't that pleasant. Before I could look up it was 31-7. It was like raining touchdowns out there. He's a good quarterback.'' In his last three starts against Baltimore, Rivers has won twice while going a combined 67 for 103 for 955 yards and six touchdowns with only three interceptions. It's obvious the Ravens (8-2) need all the firepower they can get against the fearless nine-year veteran Sunday in San Diego. Fortunately, Baltimore won't have to face Rivers without free safety Ed Reed as the last line of defense. Reed, an eight-time Pro Bowl star, was suspended for one game on Monday for repeated helmet-to-helmet hits. He appealed the suspension, and on Tuesday the punishment was reduced to a $50,000 fine. "It probably would have been a pretty good break for us, but I thought the suspension was ridiculous,'' said San Diego linebacker Jarret Johnson, who played with Reed in Baltimore for nine seasons. Reed's current teammates weren't too crazy about the ruling, even in its reduced form following the appeal. "You don't win those (appeals) often,'' strong safety Bernard Pollard said. "They still took 50k from him. But he's able to suit up and play. We're excited about that. We get one of our 11 back.'' Suggs said: "It's good to know (the rules are) not carved in stone and that they treat every case differently. We all know what type of player Ed Reed is, and there's not one player in this NFL who would call Ed Reed a dirty player - except for maybe the guys he hit. It was not intentional. It was a football play.'' The Chargers (4-6) have struggled this season, but the circumstances are not unlike last season, when Baltimore came in with a four-game winning streak before being embarrassed by Rivers and the prolific San Diego offense. "It will be a big challenge. He's a great player,'' Harbaugh said. "Between the quarterback and their receivers, maybe they're the most talented passing group in the league.'' Said Pollard: "This is a team that's so much better than their record. Phillip Rivers is probably one of most competitive quarterbacks in the National Football League. That offense is explosive, so I just really think we have to have a great week of preparation.'' Pollard played against Rivers as a member of the Kansas City Chiefs and Houston Texans before coming to Baltimore last year. In each instances, Rivers excelled. "This dude is competitive. I like it, I really do,'' Pollard said. "We've got to shut him up.''  
Original Story:
http://www.ravensfootballmachine.com/...
THE BACKYARD
BEST OF MAXIM
RELATED ARTICLES
Breaking sports news video. MLB, NFL, NBA, NHL highlights and more. You don't see too many sideline/postgame interviews end with the "thank you gorgeous" Baltimore Ravens WR Jacoby Jones dropped on NBC's Michele Tafoya Sunday night.  While that's an awkward interaction, Tafoya to her credit was able to continue without getting flustered.  And, at least...
NFL teams have become adept at using social media to connect with their fan bases. But at some point, when seasons are going really, really bad, they have to know that posting anything – from charity events to team merchandise discounts — is going to get some backlash. That's what happened this week with the San Diego Chargers, who decided to have a nice Black Friday sale....
Ray Rice was spotted with a Terrible Towel draped over his head after the Baltimore Ravens defeated the Pittsburgh Steelers on Sunday night, and Pittsburgh linebacker LaMarr Woodley is not happy about it. Woodley apparently felt it was disrespectful of Rice, and he took to Twitter on Tuesday morning to warn him about it and remind everyone about two players who have done it in the...
Baltimore Ravens FS Ed Reed will play against the San Diego Chargers on Sunday after his one-game suspension was reduced to a fine by the NFL. Reed was suspended for violating the league's policy of hits on defenseless players. "I do not believe that your actions were so egregious as to subject you to a one-game suspension without pay," Ted Cottrell of the NFL's appeal board...
RAY OF LIGHT
The Ravens running back expressed regret for draping a Terrible Towel over his head following a win over Pittsburgh, saying, "I apologize to those who saw it as disrespectful."
Veteran Baltimore Ravens safety Ed Reed has been suspended by the NFL for one game after be flagged for an unnecessary roughness penalty in Sunday's row with the Pittsburgh Steelers. Reed's helmet-to-helmet collision with Steelers' receiver Emmanuel Sanders was not the first time Reed has gotten in trouble for similar Hits. According to the NFL, [...] [[ This is a content...
Look out Ray….their coming for you. After the Baltimore Ravens defeated the Pittsburgh Steelers on Sunday, Ravens runningback Ray Rice was seen exiting the field wearing a Terrible Towel on his head. Steeler linebacker LaMarr Woodley took to twitter reminding Rice of what happens when you disrespect the towel. "Bad idea ray just ask lendale white and tj whosyourmama." ...
Week Twelve Fantasy Football Rankings Ray Rice is a top three option overall this week as the Ravens square off against a Chargers team that has been struggling as of late. We expect the Ravens to be protecting a lead in this one and thus giving Ray a lot of work. Jimmy Graham is finally showing returns on the early pick his fantasy owners had to spend to get him on their roster...
For the Ravens: Out: CB Jimmy Smith (abs) Did not participate: CB Chris Johnson (thigh) and WR/RS Jacoby Jones (ankle) Limited participation: NT Terrence Cody (arm), TE Ed Dickson (neck), LB Dannell Ellerbe (toe/finger), S James Ihedigbo (neck), DE Pernell McPhee (thigh), DT Haloti Ngata (shoulder), TE Dennis Pitta (head), S Bernard Pollard (chest), S Ed Reed (shoulder) and LB Terrell...
  Are the Ravens the league's most underrated team? It sure seems that way. After a rash of injuries knocked out a pair of starters on the defensive side of the ball, Baltimore was left for dead.  So while everyone turned away, Flacco and the still stout defensive unit have put together a quietly elite performance through ten games. Sure missing Ray Lewis in the...
NFL News

Delivered to your inbox

You'll also receive Yardbarker's daily Top 10, featuring the best sports stories from around the web. Customize your newsletter to get articles on your favorite sports and teams. And the best part? It's free!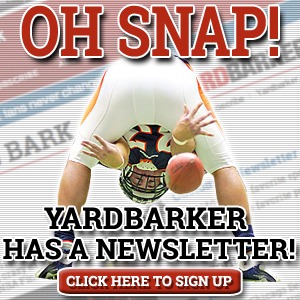 Latest Rumors
Best of Yardbarker

Today's Best Stuff

For Bloggers

Join the Yardbarker Network for more promotion, traffic, and money.

Company Info

Help

What is Yardbarker?

Yardbarker is the largest network of sports blogs and pro athlete blogs on the web. This site is the hub of the Yardbarker Network, where our editors and algorithms curate the best sports content from our network and beyond.