Consistency is the name of the game when you think of the Baltimore Ravens. Monday night, under the bright lights of Monday Night Football, the Ravens kick off their 2012 campaign with hopes of making the postseason for a 5th consecutive year. After seeing their division foes (Steelers and Browns) suffer loses in the first Sunday of NFL action, the Ravens are aiming to be the only AFC North team with a victory with this divisional battle with the Cincinnati Bengals. If last season is any indication this one will be a close battle, as last year's meetings between the two were settled by one score each. The Ravens come into Monday night looking to show off their new and improved no huddle offense and show the critics that even without Terrell Suggs, their defense is still one to be feared. Within the offense, Torrey Smith and his big play ability are becoming one of Joe Flacco's favorite targets. The Ravens are also hoping their first round draft choice Courtney Upshaw can replace some of the pass rush void left by Suggs. The Bengals travel to Baltimore hoping to pick up where they left off after their surprise 9-7 2011 season and to return to the post season in consecutive years for the first time since the 1980's. Andy Dalton is looking to shake his division woes and hopes to pick up his first victory over the Ravens. The defense of the Bengals are hoping to build on their strong 2011 season as well in which they finished 7th in the league in overall defense.  Both of those tasks won't be easy ones against a Ravens team with Super Bowl aspirations.   Ravens 3 Keys to Victory 1)      Develop the pass rush early and often The Ravens need to get after the young Andy Dalton as much as possible. Dalton is as accurate as anyone in the league when he can drop back, make his reads, and not have defenders in his face. If the Ravens let him do that, Cincy could put up points in a hurry. If the Ravens frustrate Dalton, they could have very similar results as they did in 2011 against the Bengals which resulted in a 2-0 record and three interceptions to only one passing touchdown.  It will be interesting to see how the Baltimore defense mixes things up with Suggs out of the line-up but if they can get to Dalton often and make him hurry it could lead to early three and outs and early turnovers which is exactly what this tenacious Ravens defense thrives on. 2)      Get Ray Rice his touches There's a reason why Ray Rice is a top three pick in fantasy football drafts. He produces numbers, and he can do so in a hurry. In two match-ups against the Bengals last year, Rice had 346 yards combined rushing and receiving to go along with four touchdowns. Now it doesn't take someone with the intelligence of Doctor Emmit Brown to know that with that kind of production, you just need to give him the damn rock. If the Ravens feed their workhorse, you just might think you stumbled into an old time traveling Delorean and are watching one of their 2011 matchups. 3)      Hit a home run on defense Baltimore can be a scary defense with the ball in their hands especially if that person is named Ed Reed. Reed doesn't necessarily need to force the turnover either to get the ball in his hands and be eyeing the end zone. Baltimore's defense is one of those teams that have plays set up once they get the ball and you could very easily see the ball lateralled a time or two to get it in Reed's hands and the rest of the defense laying out blocks like they are playing special teams. Reed is where the term "Ball Hawk" originated from and for good reasons. He has a career 57 interceptions to go along with 13 career touchdowns. If the front seven for the Ravens do their job, Ed Reed and the secondary could be swinging for the fences. Bengals 3 Keys to Victory 1)      Develop a consistent pass rush of their own Baltimore has a new no huddle offense which looked very Tom Brady like in the preseason. The Bengals will need to disrupt the great timing Flacco developed in the preseason and not let him get comfortable. Last season the Bengals were able to get pressure on most quarterbacks with only sending their four down lineman. On Monday night, we'll see if they can continue getting pressure with only four guys or if they'll need to send extra pressure. This will be a tougher task than usual though because their best pass rusher in Carlos Dunlap will miss Monday's game due to an injured knee. DT Geno Atkins will have to pick up some of the slack left by Dunlap's absence and see if he can add to last season's success where he led the league in sacks for interior defense lineman. 2)      Deny the home run play If Cincy wants to beat the Ravens for the first time since 2010 its going to have to stop letting up huge plays for scores. This applies to both offense and defense but more so to keeping the Ravens offense in check. In the first meeting between the two last year, the Ravens scored on a 35 yard pass to Anquan Boldin and a 38 yard pass to Torrey Smith. In the second game the Ravens scored on runs of 70 yards and 51 yards by Ray Rice. Cincy needs to eliminate those big plays in order to have a chance at the victory. 3)      Get AJ Green the ball This is no easy feat for the Bengals to accomplish. This season every defense knows who AJ Green is and they go into each contest with a game plan of how to keep the ball out of his hands. Last year Green missed the first match-up between the two and was held to only 2 catches for 26 yards in the second meeting. In order to get AJ Green involved in the game, the Bengals are going to need to establish the run game early and show the Ravens that Green is not their only receiving threat. Dalton needs to get TE Jermaine Gresham early touches along with the rest of their young deep receiving core. If the rest of the Bengals offense comes out firing, a deep bomb to AJ Green can happen at any time. Key Match-Up of the game The match-up to keep an eye on in this AFC North contest is going to be the Ravens Lardarius Webb going against AJ Green. During the preseason the Ravens had a tough time stopping big time receivers. Julio Jones, Calvin Johnson, and Justin Blackmon all torched the Ravens D and had big games. AJ Green is already considered one of the best receivers in the game after making the pro bowl in his rookie season and Webb is going to have his hands full in this game. If Webb can keep AJ Green in check I think the Ravens come out the victors. If AJ Green torches him and proves that he is in fact one of the best receivers in the game, then I think the Orange and Black head back to Ohio with a notch in the win column. Prediction The AFC North is one of the best divisions in football and this Monday Night matchup will show you why. Last season the AFC North sent three teams to the playoffs and two of them will face off in this heated contest. I do believe Cincy will be able to get a victory against Baltimore this year, I just don't see it in this contest. Being in Baltimore and being Andy Dalton's first game under the bright lights of Monday Night Football, I'm taking the Ravens in nail-biting fashion that comes down right to the final horn, 24-20.    
Original Story:
http://blogsohardsports.com/nfl-2/rav...
MORE FROM YARDBARKER
NFL News

Delivered to your inbox

You'll also receive Yardbarker's daily Top 10, featuring the best sports stories from around the web. Customize your newsletter to get articles on your favorite sports and teams. And the best part? It's free!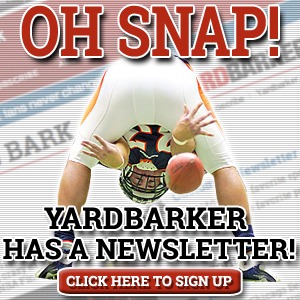 Latest Rumors
Best of Yardbarker

Today's Best Stuff

For Bloggers

Join the Yardbarker Network for more promotion, traffic, and money.

Company Info

Help

What is Yardbarker?

Yardbarker is the largest network of sports blogs and pro athlete blogs on the web. This site is the hub of the Yardbarker Network, where our editors and algorithms curate the best sports content from our network and beyond.