Found January 26, 2013 on Ravens Football Machine:
PLAYERS:
Ray Rice
,
Joe Flacco
,
Jacoby Jones
,
John Harbaugh
,
Terrell Suggs
,
Corey Graham
,
Cary Williams
,
Ray Lewis
,
Dennis Dixon
,
Colin Kaepernick
,
Ozzie Newsome
,
Robert Griffin III
TEAMS:
Baltimore Ravens
,
San Francisco 49ers
,
Washington Redskins
You can talk all you want about "teams of destiny", but it all boils down to one essential fact: winning teams usually out-work and out-practice their opponents. Ray Rice's "Hey-Diddle-Diddle" 4th-and-29 conversion, Joe Flacco's 70-yard miracle bomb to Jacoby Jones with 30 seconds left in regulation in Denver... these sorts of things seem to reek of "destiny", but they do not happen if the team as a whole is not superbly conditioned and prepared to create them. I found it remarkable about the Ravens that they just completed some of their toughest and most grueling practices since training camp this past Thursday and Friday...and with the Super Bowl still more than a week away.           John Harbaugh's work ethic is all over this team. If the Ravens don't get the big prize in New Orleans, it will not be because they lacked the will to work hard hard enough for it. Terrell Suggs (OLB) talked a little about the Ravens' work ethic on Friday after practice: On whether it has sunk in that he is going to play in the Super Bowl: "Nah, it hasn't sunk in yet, because we're still taking care of the logistics, if you know what I mean – especially with the kind of practice we just had. So, you never know. You would've never thought that's the game we're [preparing] for; we thought it was training camp out there. But we're just kind of enjoying the ride. It's pretty fun, so I'm pretty sure it'll sink in when we get down there." On what he says to all the naysayers now who thought they'd never make it: "I don't really have to say anything to them. I think the fact that we're the last two teams playing says it all. So, I don't have anything to say to them. We're just going to keep chucking and keep our eyes on the prize. One more to go." On why they can be this far in the season and have a practice like that: "I don't know. We're a special group of guys, and we've never been immune to working hard around here. That's pretty much the only way we know how to work. But it was pretty fun. It was pretty cool." On how much satisfaction he takes out of this knowing all that he's been through personally this season: "None. Not yet. Ask me that question on February 4." On the play of some of the unheralded defensive players like CB Corey Graham and CB Cary Williams: "One unit. Through all our ups and down, like you all said, we've stuck together. We always believed, and we kept our eyes on the prize, and that's what we just kept doing." On the emotions going into this game knowing this really will be LB Ray Lewis' last game: "We haven't thought about it yet. Right now we're just taking it one day at a time, trying to enjoy the work. But I'm pretty sure, like I said, when we get out there, come kickoff, we're all going to get a little emotional. But we've still got business to handle, and we'll try to get it for him." On how QB#3 Dennis Dixon has looked imitating 49ers QB Colin Kaepernick in practice this week, and if he's lifted his biceps up yet: "He did it a couple of times in practice – him and Tyrod [Taylor]. So, they're having fun being him. It's a fun offense to run; it's not a very fun offense to play against. But they're enjoying it." On if preparing for Redskins QB Robert Griffin III earlier this year helps in their preparations for Kaepernick: "A little bit, but they're two different quarterbacks. They're both great; they're probably the only two quarterbacks in the league that can run that offense. But, I don't know, I guess we'll see how we fare come February 3." On how the 49ers' offense is different than Washington's: "I don't know, they're both pretty successful. So, you can't really tell the difference, just that one is in the Super Bowl and the other one isn't. But with that being said, it's going to be a challenge to play against them." GM Ozzie Newsome (who rarely speaks to the press) puts his own spin on the work ethic of the team: Ozzie, you are the architect of this team. You and your staff put this together, and what are your thoughts on the kind of football team you have because your depth was severely tested all year? (Aaron Wilson) "I think [head coach] John [Harbaugh] has used the word 'resolve.' [The team] has a lot of resolve. I think you saw that with those first four games in 17 days. That was a tough stretch. John did a very good job with his staff preparing the team for that stretch. You could see the resolve that the team had. They never blinked during those first four weeks, and we were able to come away 3-1. I think the resolve of the football team, I think we've got outstanding leadership on our team. And I think what they do in the locker room is we have a mentoring program, where some of the veteran players actually take and spend a lot of time with our rookie players. We've got great leadership also." Destiny? Meh...it's about conditioning, practice, preparation, correction of mistakes through hard work...and combining all that with talent and leadership. The two teams which combine all those elements in the best possible way over the long haul of an NFL season will meet in the Super Bowl. This year the Ravens are one of those two teams.  
Original Story:
http://www.ravensfootballmachine.com/...
THE BACKYARD
BEST OF MAXIM
RELATED ARTICLES
Baltimore Ravens' quarterback Joe Flacco is scheduled to become an unrestricted free agent in 2013, but odds are the Ravens will use their franchise tag on Flacco for 2013. There are two reasons for this prediction. The first reason, the Ravens almost always wait to negotiate big contracts until after the season is over. Take defensive tackle Haloti Ngata who received the tag in...
Waka Flacco Flames shooting for the MOON. It is understandable because his stock will never be higher. Coming off beating Peyton Manning and Tom Brady this is the time for ask for the biggest contract in NFL. Here is the report according to Pro Football Zone. ESPN's John Clayton says if Flacco gets hit with the franchise tag, the Ravens will owe him $14 million in 2013. He's...
Baltimore Ravens quarterback Joe Flacco is looking to win his first Super Bowl next weekend, and he'll have to beat one of the best defenses in the league in order to do so. San Francisco ranked second in points allowed this season and third in yards allowed. They had one shutout and held five opponents to 7-or-fewer points during the regular season. When asked to compare the 49ers'...
The Baltimore Ravens have an opportunity to place the franchise tag on Joe Flacco this offseason. Every time the Ravens use the franchise tag on a player, that player usually signs a major contract by the end of the offseason. Terrell Suggs in 2009, Haloti Ngata in 2011 and Ray Rice in 2012 are proof of that prediction having a strong chance of becoming a reality in 2013. What will...
I'm inventing a new word to describe the 2013 Pro Bowl game--- "Slackluster"... If you watched any part of this debacle you know what I mean...and yet, I agree with the players (and coaches) who obviously know that slacking is the only logical methodology in a pro football All Star game where the risk of endangering multi-million dollar contracts through meaningless...
While every year,  EA Sports releases a video of Madden's prediction on who will win the Super Bowl, this year we have gone in a different route. Frank Schwab at Yahoo!'s Shutdown Corner, found a video of a Tecmo Super Bowl prediction. According to the Tecmo Bowl prediction, the 49ers beat the Ravens 31-17. In the end, Ray Rice led the game with 72 rushing yards. Joe Flacco...
The Super Bowl is less than a week away, Colin Kaepernick and the San Francisco 49ers will face off against Joe Flacco and the Baltimore Ravens. Until then enjoy photos of the 2013 NFL Pro Bowl Cheerleaders, these girls work hard and enjoy their time in Hawaii.
With the Superbowl just over a week away, it's time for a little preview before we make our prediction for the big game this time next week! OFFENSE The offensive performance of the Ravens is completely reliant on how well Joe Flacco can continue to play. We've seen the past few weeks that when he is playing with confidence and hitting his...
Frank Gore and Ray Rice took different paths to the Super Bowl, but here they are in New Orleans – two elite running backs that are the driving engines on offense for the 49ers and Ravens. Gore's path has been one of resilience and determination that's finally giving a great warrior his just due as one of the NFL's best, while Rice has known nothing but success since he entered the league.
No NFL fan would argue that today's league is a passer's league, a quarterback's league. And with each new Super Bowl winning quarterback, the media quickly anoints that player into the "elite" status.But the favored quarterback to win this year's Super Bowl has not even started a full season in the NFL. After starting Quarterback Alex Smith suffered a concussion in November...
Once the Baltimore Ravens knocked off the Denver Broncos and the possibility of a Peyton Manning versus Tom Brady AFC Championship was eliminated, the next best option for the Super Bowl immediately became a Baltimore-San Francisco match-up. In the AFC Championships second half Joe Flacco looked very Tom Brady-esque. Anquan Boldin shed years off his [...]
Eli is better than Peyton. Trent Dilfer? He's better than Dan Marino.Every year the media fuels the foolish fire claiming wining a  Super Bowl makes a quarterback elite. Once a quarterback wins, BOOM! He goes from a good quarterback to magically this amazing elite quarterback. One game, whether the Super Bowl or not does not define a quarterback's eliteness.I would take Peyton...
NFL News

Delivered to your inbox

You'll also receive Yardbarker's daily Top 10, featuring the best sports stories from around the web. Customize your newsletter to get articles on your favorite sports and teams. And the best part? It's free!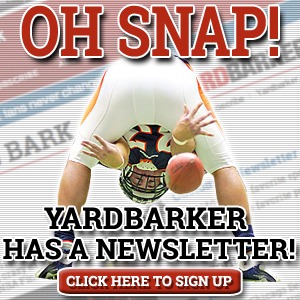 Latest Rumors
Best of Yardbarker

Today's Best Stuff

For Bloggers

Join the Yardbarker Network for more promotion, traffic, and money.

Company Info

Help

What is Yardbarker?

Yardbarker is the largest network of sports blogs and pro athlete blogs on the web. This site is the hub of the Yardbarker Network, where our editors and algorithms curate the best sports content from our network and beyond.