Found May 04, 2012 on Fox Sports Southwest:
IRVING, Texas The Dallas Cowboys' players are seeing a lot less of defensive coordinator Rob Ryan these days. He's lost 35 pounds after having lap band surgery. They're also going to see a lot more of Ryan, as in coaching the rookie camps and mini camps the Cowboys missed out on last season because of the labor dispute. Both factors should result in both Ryan and the defense being in better shape in 2012. "We're taking our time to teach defense the way it needs to be taught," Ryan said Friday as the Cowboys opened a two-day rookie camp. "I'm not making excuses for last season, it was all me. I screwed it all up. We're fortunate enough to get another shot and we plan on getting it right." Ryan was sporting a new, shorter haircut in addition to a slimmer waistline. "I'm down 35 pounds already, so that's a good thing," Ryan said. "It's only been a couple of months. Dr. Smith's real happy with me. So hell, I'll keep working." Ryan said he's not changing his appearance to look more like a head coach, as other overweight assistants have done to improve their chances of getting a promotion. Health issues were behind the decision to have the lap band surgery, which restricts the amount of food a person can ingest. "Well, I mean breathing at night, my wife, just, uh, we were looking for the long haul here," Ryan said. "I did it for health, not for beauty. I did get a sweet cut." The haircut, he said, makes him look more like a cowboy. He hopes the hands-on work in the offseason will make his unit look more like a Rob Ryan defense this season. With the players locked out last spring and summer, Ryan was also virtually locked out from teaching his system in his first season with the team. By the time the labor impasse was broken, Ryan had to turn training camp into a crash course. "I put a little too much in, and too fast, and you know we didn't have any basics, we had no foundation," Ryan said. "We were trying to keep it in, but this is what you build on. You have a foundation, you build it here. Then you're so much further ahead in training camp." Players admitted to communication issues early in the season. There were also personnel issues that limited what Ryan could do, but there were other breakdowns throughout the season that kept the defense from getting stops. "Everything was new," Ryan said. "I'm not making any excuses for why we did bad or whatever, and I'm terrible The bottom line is this helps. It's like getting a tutor. My kid gets a tutor, he gets 90s in math. He doesn't, 40s. We need 90s or 100s." The tutoring begins with the rookies, both draft picks and undrafted free agents, getting introduced to the Ryan scheme. The Ryan School of Defense began Thursday when playbooks were issued. "I'm not dumbing it down, we're going to teach at a slower pace that we can actually learn, so everybody feels good about it," Ryan said. "We've come back to square one and we start from day one here and it's going to be great." Follow Keith Whitmire on Twitter: @Keith_Whitmire
Original Story:
http://www.foxsportssouthwest.com/05/...
THE BACKYARD
BEST OF MAXIM
RELATED ARTICLES
GUT FEELING
Rob Ryan has become known for the confidence he expresses in his Cowboys, and it looks like things will be no different this year.
Cowboys Offensive Line Coach, Bill Callahan was interviewed during today's mini-camp and he gave us some insight to where our new free agent offensive linemen will play. Callahan said Nate Livings would play LG and Mackenzy Bernadeau at RG; in addition, Bill Nagy will compete at center where he'll hope to displace Phil Costa. Costa had a very frustrating and inconsistent time...
IRVING, Texas Morris Claiborne was anxious to put on a Dallas Cowboys jersey for the first time, even if it was just a practice jersey. "I mean, I couldn't wait," Claiborne, the Cowboys' first round draft pick, said after his first workout at rookie camp Friday. I probably was the first person with mine on." Putting on Cowboys gear means a lot to Claiborne...
It started early enough in the draft, the Cowboys making an aggressive move up and addressing one of their biggest needs on their team. The question is, was it the right move, did they sacrifice too much in order to draft the top cornerback in the draft? Let's take a look at my 2012 Dallas Cowboys Draft Grade. Here is what I have said about Morris Claiborne from day 1, he is a...
Its absurdly early to try to deduce how any of these rookies will be able to contribute or become starters for the Cowboys, but some of what Ive been reading online and some of Jerry's comments are encouraging for sure. One thing you'll know is that Jason Garrett is still taking Parcell's "earn the star" philosophy. None of the rookies had star helmets, and they'll need...
Sharon Simmons has been a lot of things in her 55 years an author, a fitness competitor, an actress, a grandmother but on Saturday, she attempted to add one more accolade to her resume. Simmons, along with hundreds of other hopefuls, audition for the Dallas Cowboys cheerleaders on Saturday at Cowboys Stadium in Arlington, Texas. "I thought about this when I was about 22...
Back to the Dallas Cowboys history in quote series. Today's quote focus on the 1989 Cowboys, who went 1-15 in Jimmy Johnson's first season as head coach. Before the quotes, take a look at a "highlight" videos about that team. Oh, there's more, including Part 2 and Part 3. On to the quotes— "'K mart' didn't try to fall down. That's just football. You've got...
IRVING, Texas -- The Cowboys will have some noticeable changes on the offensive line when the season opens against the New York Giants on September 5. Last year's top pick, Tyron Smith, is moving to left tackle after starting all 16 games at right tackle in 2011. Doug Free, last year's left tackle, is moving back to the right side, a position he played in 2009. But the...
Via: A former starting offensive lineman (Torrin Tucker) for the Dallas Cowboys was arrested Tuesday night and charged with felony drug and weapons charges after police say he sold an undercover officer $20 in marijuana in the strip club where he works. A subsequent search found 18 baggies of marijuana "packaged for sale" and nine capsules containing cocaine, all in a Crown...
After a broken right ankle ended his rookie season early, Dallas Cowboys running back DeMarco Murray keeps getting asked if he's healthy and ready to go for the upcoming 2012 season. Murray posted a message on his Twitter account and let everyone know just how he's doing. Everyone keeps asking me how I'm feeling.. Let's just say if there was a game this Sunday,29 would be...
IRVING, Texas -- New York Jets coach Rex Ryan revealed in February that his twin brother, Cowboys defensive coordinator Rob Ryan, would be having Lap-Band surgery during the offseason. The procedure, which places a gastric band around the top of the stomach, is designed to reduce the amount of food an obese person consumes, which then improves weight loss. Rob Ryan talked about...
Cowboys white uniform 1960 (Photo credit: Wikipedia) In 2008, I completed a series for the Greatest Cowboys by Their Jersey Numbers. Unfortunately, I have not done a good job of keeping those lists updated. Until now. For the next few weeks, I will post updates to the various numbers, going five at a time. Today's list features jersey numbers 1 through 5. Here is a complete...
Cowboys News

Delivered to your inbox

You'll also receive Yardbarker's daily Top 10, featuring the best sports stories from around the web. Customize your newsletter to get articles on your favorite sports and teams. And the best part? It's free!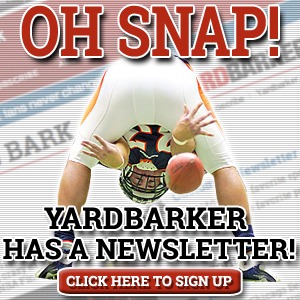 Latest Rumors
The Backyard

Today's Best Stuff

For Bloggers

Join the Yardbarker Network for more promotion, traffic, and money.

Company Info

Help

What is Yardbarker?

Yardbarker is the largest network of sports blogs and pro athlete blogs on the web. This site is the hub of the Yardbarker Network, where our editors and algorithms curate the best sports content from our network and beyond.