Found July 17, 2013 on Cippin on Sports:
PLAYERS:
Adrian Peterson
,
Kirk Cousins
,
Leonard Hankerson
,
Alfred Morris
,
Fred Davis
,
Santana Moss
,
Robert Griffin III
TEAMS:
Washington Redskins
,
Seattle Seahawks
,
Philadelphia Eagles
,
Baltimore Ravens
,
Cleveland Browns
Quarterback Robert Griffin III of the Washington Redskins, the Offensive Rookie of the Year last season, has reportedly been making rapid progress in his recovery from surgery to repair a torn ACL and LCL. It didn't look good after Griffin went wincing in pain on the FedEx Field turf in last seasons Wildcard Playoff matchup against the Seattle Seahawks. At the time, Las Vegas oddsmakers had Griffin III favored to miss the opener, but a lot has changed since then. Griffin III claimed in June that he would "without a doubt" be ready for Washington's training camp which starts on Thursday 25th July, and thus far he has shown signs that he will indeed be taking some snaps. However, he still needs to convince team doctors that he is healthy enough to do so. Griffin III is able to sprint and cut again, and he also now walks with no sign of a limp. Indeed, he is an incredible athlete and he could be capable of coming back from his injury in a similar time to Adrian Peterson, who also suffered a torn ACL and MCL in 2011 but returned in 2012 to have his best season, in which he rushed for 2,097 yards and 12 touchdowns. Some of the Redskins are "astonished" by the rate of his recovery. However, to expect an Adrian Peterson-esque recovery from Griffin III is unfair. ESPN Radio's Chris Russell tweeted on Saturday that the Redskins have not yet set a date for Griffin III's return, according to a source involved in his medical treatment, so the expectations of fans and teammates alike must be realistic. Russell's tweet clearly shows that there remains uncertainty as to whether or not Griffin III will be ready for the Redskins' regular season opener on September 9th against the Philadelphia Eagles, who will present a distinctly different challenge under Chip Kelly to last year's Eagles. Mike Jones of the Washington Post, however, recently said that RG3 looked on track to start in Week 1. Washington fans can take solace in the fact that back up quarterback Kirk Cousins has been preparing for the season as if he is the starter, so in the event that Griffin III cannot play in Week 1, he will be ready. Cousins, who Marc Sessler feels is the best backup quarterback in the NFL, led the Redskins to a fourth quarter comeback to tie their Week 14 game against this year's Super Bowl champions, the Baltimore Ravens, which the Redskins went on to win in overtime. Cousins also displayed his talents in Washington's Week 15 38-21 victory against the Cleveland Browns in which he recovered from an early interception to throw for 329 yards and 2 touchdowns, one of which was a 54 yard bomb to Leonard Hankerson into triple coverage. Cousins' stellar performance against Cleveland earned him the Week 15 Rookie of the Week award. Much like Matt Flynn during his time in Green Bay, Cousins has a solid supporting cast in his Redskins teammates. Running back Alfred Morris was second only to Adrian Peterson in rushing yards in 2012 with 1613; tight end Fred Davis, who was resigned by the Redskins this offseason, is one of the league's better receiving tight ends; and receiver Pierre Garçon is capable of stretching the field whilst Santana Moss and Leonard Hankerson are both reliable catchers. Meanwhile, the Redskins' offensive line protected Griffin III well last season, allowing only 33 sacks, which was below the league average of sacks allowed. Obviously, RG3 is the better quarterback of the two, and most would rather he start in Week 1 if healthy. However, if Cousins has to play in Week 1 against the Eagles, he will be competitive; he is not the quarterback that RG3 is, but he can get the job done in his own way, as he proved in his rookie season. For the time being, Cousins must continue to prepare himself as the starter because the first three games of the Redskins' season – against Philadelphia, Green Bay and Detroit respectively– all present tough challenges for the reigning NFC East champions. However, the signs are showing not to bet against Griffin III being ready for Week 1.
Original Story:
http://feedproxy.google.com/~r/Cippin...
THE BACKYARD
BEST OF MAXIM
RELATED ARTICLES
Redskins.com According to the Washington Post, Redskins quarterback Robert Griffin III has his own display at the Pro Football Hall of Fame in Canton, Ohio. "The jersey and cleats worn Monday night by Redskins quarterback Robert Griffin III are headed to the Pro Football Hall of Fame," The Post reported in December. "Griffin set the NFL's single-season rushing record for...
According to Ian Rapoport of the NFL Network, the Washington Redskins will likely take the same precautions that the Vikings did with Adrian Peterson and have Robert Griffin III start training camp on the PUP list and than likely activate him two weeks later. Scenario laid out for me on RGIII: Look at Adrian Peterson. Same ACL injury. Started camp on PUP list, was active within 2...
Over the weekend the news--and I use that word loosely--that the newly married quarterback of the Washington Redskins was pulling a PG13 Brett Favre and sending a picture of himself topless to another woman on his wedding night. To those of you that lost faith in the man--shame on you. To those of you that didn't, you were right to stand by Robert Griffin III. ...
Soon after undergoing surgery to repair his knee, Washington Redskins quarterback Robert Griffin III told reporters that he was sure he would be with the team from Day 1 of training camp. While Griffin's recovery has impressed many, it remains to be determined if the Redskins will allow him to take the field right away when camp begins, according to NFL.com. Ian Rapoport reported...
Quarterback Robert Griffin III of the Washington Redskins, the Offensive Rookie of the Year last season, has reportedly been making rapid progress in his recovery from surgery to repair a torn ACL and LCL. It didn't look good after Griffin went wincing in pain on the FedEx Field turf in last seasons Wildcard Playoff matchup against the Seattle Seahawks. At the time, Las Vegas oddsmakers...
Whenever Robert Griffin III gets his knee examined to determine whether or not he will be ready to start camp it appears the news will likely be good. Chris Russell of ESPN 980, cited a source who is "very involved on the medical side", posted on Twitter "every test they give him, every path they [...]
Tweet Per a story from the good people over at Busted Coverage Meredith Barber, who allegedly has some type of relationship with popular Washington Redskins quarterback Robert Griffin III, is trying to shop what she claims is nude photos of the star QB after BC published a story about RGIII allegedly texting Meredith on his [...]
Last week a woman claimed that on the wedding night of Redskins quarterback Robert Griffin III, he sent her photos of himself without a shirt on, according to Busted Coverage, via Black Sports Online. Now two men, one of them being the ex-boyfriend of the woman who claimed to have photos of RG3, who are trying to sell naked photos of Griffin for $25,000. Deadspin has some more details...
Robert Griffin III said this offseason that, "without a doubt," he'd be ready for Day 1 of training camp. But it's unclear if the Washington Redskins will let their quarterback hit the field right away. NFL.com's Ian Rapoport reported Thursday on NFL Network's "NFL Total Access" that no decision has been made about Griffin starting training camp...
The sky will be the limit for the Washington Redskins this season if–and its a very big 'if'–they can get healthy and stay healthy.  While the exact return date of quarterback Robert Griffin III is not known yet, the team does know when one of his major weapons is going to return. After his 
Back in the day, a side chick knew her place. She concerned herself only with her A and B situation with her unavailable man, not seeking attention from strangers by leaking texts, photos and proof of their dalliances. But that's not how it goes down in 2013. Internet fame is a drug and now we can add one more name to the ever growing list of alleged side chicks who blast on the...
Bill Barnwell takes a look at the big four rookie quarterbacks from 2012 and tries to project out to 2013 and beyond. He offers up some interesting statistics and comparisons that contribute to any conversation about the future prospects of Andrew Luck, Robert Griffin III, Russell Wilson and Colin Kaepernick. Yet while he addresses how Andrew Luck had little to work with in Indy...
NFL News

Delivered to your inbox

You'll also receive Yardbarker's daily Top 10, featuring the best sports stories from around the web. Customize your newsletter to get articles on your favorite sports and teams. And the best part? It's free!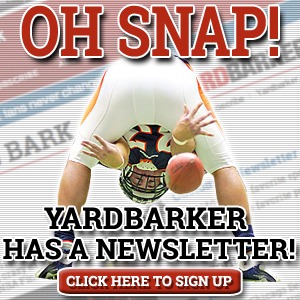 Latest Rumors
Best of Yardbarker

Today's Best Stuff

For Bloggers

Join the Yardbarker Network for more promotion, traffic, and money.

Company Info

Help

What is Yardbarker?

Yardbarker is the largest network of sports blogs and pro athlete blogs on the web. This site is the hub of the Yardbarker Network, where our editors and algorithms curate the best sports content from our network and beyond.