Found June 27, 2012 on Fox Sports Wisconsin:
GREEN BAY, Wis. -- Aaron Rodgers isn't the type of superstar player who gives out compliments to teammates just for a few feel-good moments in the name of team chemistry building. The methodical Green Bay Packers quarterback, who has never met a question that he didn't have an answer ready for, is just as quick to come with criticism when he feels it's warranted. That's what makes Rodgers' positive assessment of Packers practice squad wide receiver Diondre Borel so eye opening. "I think Diondre has made as big a jump as anybody from Year 1 to 2," Rodgers said during the team's offseason programs. "He really made the most of his reps on the scout team last year. He's a great teammate, a hard worker and he really understands the game. "Diondre, I think, has had one of the top springs out of the guys who you were looking for to make a jump." For Borel, an undrafted free agent pickup by Green Bay last year, comments like that from the NFL's Most Valuable Player carry a lot of weight within a franchise. And it didn't take long for Rodgers' words to reach Borel. "Yeah, I heard about it," Borel said. "I read a little bit of it. It feels good to hear that. I just have to keep grinding and staying humble about it . It's good to hear, but I still have to play in the games, preseason games and go through training camp." During Borel's four year college career at Utah State, he caught only two passes. That's because Borel was the team's quarterback, while also serving as their punter. Even though Borel did not learn the wide receiver position until one year ago, Rodgers actually looks at that as a good thing. "I think he has the luxury of being a quarterback in college," Rodgers said. "So he sees the game through a quarterback's eyes, and that gives him a slight advantage over guys he's competing with because he understands timing and progression maybe a little bit quicker than some of those other guys." When Borel was given the Packers' playbook, which this year was downloaded to each player's iPad instead of the traditional thick binder, it was apparent how much his years as a quarterback were instantly paying off. "When I first started looking at the playbook, it was kind of like, I wanted to learn everybody," Borel said. "I was so used to learning what everybody's doing, so when I'm looking at it now, I was just reading the whole play, looking at everybody's position. It's helped tremendously." Our position coach (Edgar Bennett) wants us to learn all the positions: slot, outside, X and Z, and that's helped me a lot knowing everybody's spot. Playing quarterback, it helps because you have to learn what everybody has to do." Borel, 23, could have already been long past practice-squad status. He had a contract offer from Tampa Bay late last season that would have immediately put Borel on the Buccaneers' active roster. But Borel passed on that opportunity, opting to keep fighting his way up the Packers' talented depth chart at wide receiver. However, with all five of Green Bay's top wideouts returning this season, not even a huge endorsement from Rodgers may get Borel a spot with the Packers. "Our roster will be challenged as far as six receivers," coach Mike McCarthy said during minicamp. "But with the way we play, you could make a legitimate argument for six receivers with the overall roster. Special teams will play a big part on which positions are heavier than the others. It always does." If Borel does not make Green Bay's active roster this upcoming season, it is highly unlikely he will spend another year on the Packers' practice squad. "If you're on a practice squad, you're available," Borel said. "I don't know what's going to happen. But when that time comes, then that'll be my decision. I'll have to decide what I want to do." Borel has talked with his good friend and teammate, Alex Green, about his future. "Just talking to Borel a couple times about it, he's just focusing on him, doing what he can to get better every day," Green said. "If that's enough for the team, then there you go. If not, then he'll try somewhere else. "He does want to be around here. He feels comfortable here. He knows the system, knows the plays. He just wants to play." If Borel is able to move up to playing on Sundays, a few other factors will have to fall into place. In order for it to happen, either McCarthy decided to carry six wide receivers on the active roster or an injury occurred in preseason with one of the five regulars. If either of those scenarios becomes reality, it also means that Borel beat out fellow practice squad receiver Tori Gurley for the spot. It had been Gurley who was viewed as the next man up among Green Bay's receivers, but Borel's ascent into the good graces of Rodgers may be an indication that the momentum has shifted. "I feel a lot better now with route running, catching the ball; it all feels more natural," Borel said. "Last year, I don't think my routes were as good. I feel good. I just go into practice and try to make plays and do everything right. "Some people focus on the wrong things so it tends to take them off track if they worry about the numbers game. That's why they lose confidence in themselves going into that practice to go make plays. "I just try to be patient. My mom always tells me to be patient, focus on yourself, don't worry about what anyone says, any negativity. Just have a level head and keep going." That steady, workman-like approach has certainly been noticed by Rodgers. If everything falls into place for Borel, it could lead to him being on the receiving end of a Rodgers bullet pass into the endzone this upcoming season. Follow Paul Imig on Twitter.
Original Story:
http://www.foxsportswisconsin.com/06/...
THE BACKYARD
BEST OF MAXIM
RELATED ARTICLES
The list of accomplishments, accolades and honors in the career of Packers quarterback Aaron Rodgers continues to grow. Rodgers can now add 'No. 1 player in the NFL' to his resume after topping the NFL Network's "Top 100" list.Rodgers, at only 28 years old, already has a Super Bowl ring and an MVP trophy with no signs of slowing down in his future. With this...
If you have an elite QB like Aaron Rodgers, there is no need for a backup. It is all about getting the most you can out from your roster.  Optimizing your bench is crucial in fantasy football because there are always injuries that occur and matchups play a huge roll in who you start. But what is the best way do that? First NEVER! EVER! IN ANY CIRCUMSTANCE have 2 kickers...
Getty Images Green Bay Packers quarterback Aaron Rodgers was voted the NFL's best player by players around the league.  Even though he had a rough playoff game against the New York Giants I can't argue with him being number one. While watching Rodgers go to work over the course of the entire 2011 season, he was almost flawless and picked apart opposing defenses with ease. The...
He spent plenty of time in the offseason taking batting practice from sausages, proving his skills to scouts, and pitching to his real life friend and Brewers outfielder Ryan Braun. But in the latest Brewers commercial featuring Green Bay Packers quarterback Aaron Rodgers, the NFL MVP is reminded of something he may have forgotten during his spring training days with Milwaukee. ...
Aaron Rodgers was recently announced as the number one NFL player of the 2012 season. With that said, let us take a look at some of the numbers behind the top 100 NFL players. Most players by division AFC North: 16 NFC East: 16 NFC North: 16 NFC South: 13 NFC West: 13 AFC South: 9 AFC West: 9 AFC East: 8 By Conference NFC: 58 AFC: 42 Most players on the list by team Ravens: 7 49ers...
There will come a day when what Brett Favre says about Aaron Rodgers won't matter to Green Bay Packers fans, but that day probably has not yet arrived. NFL Network has spent the better part of the last week releasing excerpts of Favre's interview with Deion Sanders, and in the most recent clip, Favre was asked about the NFL quarterbacks that get his attention. He first talked...
(source feed provided no summary content for this entry)
After the departure of Brett Favre, Aaron Rodgers instantly became the face of the Green Bay Packers franchise. Now,the NFL Network released its Top 100 Players Poll on Wednesday night and as many expected, Rodgers was on top. Rodgers led the Packers to an NFL-best 15-1 record while leading the NFL with a 122.5 passer rating. After winning the Super Bowl XLV, the Packers were a favorite...
Polarizing graybeard Brett Favre managed to compliment his successor as the quarterback of the Green Bay Packers, 2011 AP NFL MVP Aaron Rodgers, during a recent interview with Deion Sanders that will soon air on the NFL Network. Favre, who … Continue reading →
Here is a sneak preview of the upcoming Training Camp Preview edition of Packer Report Magazine, which was created by Ray Nitschke 40 years ago. At quarterback, the outlook couldn't be brighter with reigning MVP Aaron Rodgers. The backup situation, however, isn't quite as rosy.
Perhaps it's a good thing the Packers won't see the Detroit Lions for the first time next season until Week 11 of the league schedule, which falls on the third weekend of November. What's become a chippy rivalry between the longtime division foes added a new layer for potentially fueling more friction. Lions head coach Jim Schwartz indirectly may have taken a shot at...
Packers News

Delivered to your inbox

You'll also receive Yardbarker's daily Top 10, featuring the best sports stories from around the web. Customize your newsletter to get articles on your favorite sports and teams. And the best part? It's free!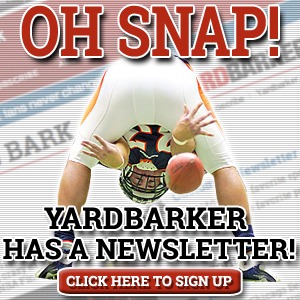 Latest Rumors
The Backyard

Today's Best Stuff

For Bloggers

Join the Yardbarker Network for more promotion, traffic, and money.

Company Info

Help

What is Yardbarker?

Yardbarker is the largest network of sports blogs and pro athlete blogs on the web. This site is the hub of the Yardbarker Network, where our editors and algorithms curate the best sports content from our network and beyond.