Found October 01, 2012 on Fox Sports Wisconsin:
GREEN BAY, Wis. Packers quarterback Aaron Rodgers figured that it wouldn't be a problem if he sat out for one play after getting poked in the right eye midway through the third quarter Sunday against the Saints. In Rodgers' mind, with the ball at the two yard line on first down, backup quarterback Graham Harrell should be able to successfully finish off the drive with a touchdown. Well, that didn't happen. In the first-ever regular-season snap in Harrell's NFL career, the 27-year-old former Canadian Football League quarterback stumbled backwards after tripping on the foot of veteran center Jeff Saturday. As he was falling, Harrell attempted to hand the ball off to running back Cedric Benson, but it bounced away and was recovered by New Orleans. Rodgers, who was having depth perception issues in his right eye, watched -- with relatively blurry vision -- as the Saints then capitalized three plays later with an 80-yard touchdown pass to take a 24-21 lead. "I wanted to stay in the game -- obviously, I don't like coming out for anything," Rodgers said. "I just didn't have any depth perception immediately thereafter, so I figured we were a yard away and we could punch that thing in there. Unfortunately, it didn't happen." Typically, if a player's injury requires a stoppage in play, like Rodgers' did, he has to sit out the next play. But, as head referee Jeff Triplette explained through the Lambeau Field speakers, Rodgers did not have to be removed from the game because the injury was as a result of a defensive penalty -- a 15-yard face mask on safety Malcolm Jenkins, whose finger hit Rodgers' eye. Following a short timeout during which Rodgers was tended to on the field by Green Bay's training staff, Triplette announced: "Green Bay has chosen to substitute their quarterback," with Harrell then getting his one and only snap. "(Rodgers) could not refocus with his right eye, so with that the medical staff wanted to get him to the sideline," coach Mike McCarthy said. "That's why we took him out at that point. But he wanted to stay in. We took the high side of caution here and unfortunately it resulted in that fumble." Rodgers has always been very supportive of his backup quarterbacks -- as evidenced by his decision to allow Matt Flynn to start in Week 17 last season -- and defended Harrell's mistake. "I mean, that play could happen to anybody, including myself," Rodgers said. "He was trying to make a handoff while falling down, which is something that I've done before and it's just unfortunate that we weren't able to complete that handoff. He'll be fine." Rodgers soon regained full vision and depth perception in his right eye and returned to the game on the Packers' next drive. In his postgame press conference, Rodgers did not have any redness or swelling around his eye. For Harrell, he was just relieved that his error didn't end up costing Green Bay a win. "The snap was perfect; I just tripped," Harrell said. "I probably should've just went down and taken the lost yards instead of hitting (Benson) in the hip with it. Unfortunately, it was my first snap . . . It's not something I want to think about. If we would've lost, it probably would have been a little tougher to move on from. "I probably gave us some unneeded adversity, but we answered the bell and got a win." At the time of Rodgers' injury, it wasn't clear to Harrell how many more snaps he would've taken had that drive been extended beyond the one botched play. "I think for a little bit there was a little indecision, just because he got poked in the eye and it was pretty bad," Harrell said. "They got him pretty good. The doctors were still checking him out when I got to the sideline, so it was obviously pretty bad." Harrell and Saturday were not allowed to take any practice snaps before the play, which was the first time in Saturday's 14-year career that he'd ever had that experience. "The ref said, 'You're not allowed,'" Saturday said after the game. "And that's something I never heard before. Because I asked him, 'Hey, can we get a couple snaps?' They said, 'Aaron's going to stay in,' and then Aaron left, and I said, 'Hey, can we get a couple snaps?' And he said, 'No, you're not allowed to have snaps.' I've never heard that before. "That's tough. It's not like Graham and I do a ton during the week. We probably have 10 snaps (together) a week." McCarthy also had some regret over the type of play that he decided to have Harrell run. "We were running an outside zone play (and) that's a tough play call for both the center and the quarterback," McCarthy said. "So, in hindsight, I should have probably given Graham something a little easier, especially it being his first play. But obviously I had confidence. "It was the call that fit the situation. But its quarterback-center exchange, goal line mechanics are a little different." Follow Paul Imig on Twitter.
Original Story:
http://www.foxsportswisconsin.com/10/...
THE BACKYARD
BEST OF MAXIM
RELATED ARTICLES
The Green Bay Packers are through one quarter of their season so it is a good time to look at what the team could improve on, in list mode of course!Improvement # 1 – Figure out the offense's identityA big issue for this seasons Packers offense could be the lack of identity.  Last season it was all Rodgers all the time.  This year, however, the Packers have a somewhat stable...
What's better than having the NFL MVP as the quarterback on your favorite team? (For all the smart asses out there who just made a sarcastic comment about the Packers sitting behind the Vikings and the Bears in the NFC North, go eat dirt.) What's better is watching one of your favorite players star in a commercial for one of your favorite consumer products. No, I am not talking...
As expected, Packers QB Aaron Rodgers shredded the Saints miserable defense for his best performance of the season, putting up 319 yards and four scores.Fantasy Spin:Rodgers only had three TDs over the first three games, likely causing some fantasy owners to panic, but he had to face three of the better defenses in the league in those games. Another big week should be in store against...
Colts Authority Daily Links 10/01/12 Kevin Bowen of Colts.com has a brief but good write-up in which he talked to Drew Stanton, Antoine Bethea, and Robert Mathis about...Aaron Rodgers and the Packers: The best thing you can do is try and put pressure on him," Stanton said. "As we've seen in the past, if you put pressure on him, it's more difficult to try and do things...
GREEN BAY, Wis. -- Aaron Rodgers and the Green Bay Packers won the Distraction Bowl 28-27 over the New Orleans Saints on Sunday at Lambeau Field. In what was supposed to be a marquee game pitting two of the NFL's powerhouse franchises, it turned into a shootout between two teams in dire need of a win in the rugged NFC. The Saints, rocked by the bounty scandal, entered the...
Captain Comeback Scott Kacsmar says the Atlanta Falcons did something no team has done since at least 1981. Also: an Aaron Rodgers comeback, New England's rout, and the Cardiac Cardinals/Eagles strike again.
The Green Bay Packers were able to win a passing shoot out with the New Orleans Saints by the score  of 28 to 27. The Green Bay Packers scored in the fourth quarter and were able to survive a questionable non fumble call by the regular officials this week. After the no fumble call the New Orleans Saints were able to march down the field to set up for the game winning field goal...
This Gatorade is a little sour Juan… I pushed hard all Summer for fantasy players to pass on QBs early, but to think that the top guys would struggle mightily was beyond even my wildest predictions.  Will they continue to struggle?  Will those that have overachieved early on, be able to continue their success? Will Aaron Rodgers finish as a top 5 QB? (currently 20th in standard...
Now that nobody in Green Bay has fingernails left and some will be sporting new gray hairs on their head it is time to sum up the game. This game featured a battle between the starting quarterbacks as Aaron Rodgers threw for 319 yards and four touchdowns.  Not to be outdone Drew Brees threw for 446 yards and three touchdowns. In terms of offense, the Packers had a solid attack. ...
GREEN BAY, Wis. -- The regular referees were back, but the Packers still couldn't escape a few costly botched calls. But unlike Week 3, Green Bay was able to overcome the officiating mistakes and improve to a 2-2 record. Handing out grades following the Packers' 28-27 win over the Saints: Passing Offense: B Aaron Rodgers threw four touchdowns passes in this game, which...
Sunday marked the triumphant return of many Fantasy Football players. Last year's juggernauts such as Aaron Rodgers, Tom Brady, Cam Newton, Roddy White and Drew Brees finally lit up the fantasy scoreboards like their owners have been expecting them to. Even the 49ers came up with an eye popping performance (27 pts in ESPN standard [...]
There's nothing more to say about this defense than to sum it up by saying they suck. I hate to be that crass or simplistic, but right now they really don't do anything well. The run defense is porous, the pass defense is shaky at best when they are 100% healthy (which hasn't been often) and the pass rush takes bad to a whole new level. I have a theory that this defense...
NFL News

Delivered to your inbox

You'll also receive Yardbarker's daily Top 10, featuring the best sports stories from around the web. Customize your newsletter to get articles on your favorite sports and teams. And the best part? It's free!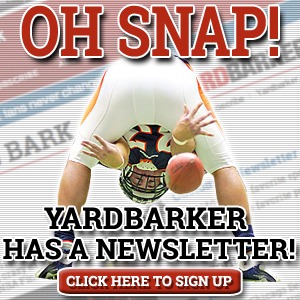 Latest Rumors
The Backyard

Today's Best Stuff

For Bloggers

Join the Yardbarker Network for more promotion, traffic, and money.

Company Info

Help

What is Yardbarker?

Yardbarker is the largest network of sports blogs and pro athlete blogs on the web. This site is the hub of the Yardbarker Network, where our editors and algorithms curate the best sports content from our network and beyond.