Found December 31, 2012 on Fox Sports Southwest:
PLAYERS:
Tony Romo
,
Bill Parcells
,
Alfred Morris
,
Dez Bryant
,
Miles Austin
,
Anthony Spencer
,
Jason Witten
,
DeMarco Murray
,
Rob Jackson
,
Robert Griffin III
TEAMS:
Dallas Cowboys
,
Washington Redskins
LANDOVER, Md. There was a time when a game like Sunday would not have weighed so heavily on Cowboys quarterback Tony Romo, where this 28-18 loss to The Redskins that ended their season and sent Washington the playoffs would have been explained away. This is the guy who, somewhat infamously, declared that "if this is the worst thing that ever happens to me, I will have lived a good life" after a season-ending loss to Philly a couple of year ago. There is a cumulative effect to failure, though, and Romo has been on the losing end of so many of these win-or-go-home games now that the scars have added up. Have taken their toll. Or this is what it looked like as he slowly and gingerly walked to his locker late Sunday. This seemed like a quarterback finally broken by coming up short. "I feel as though I let our team down," Romo said, referring to his late-game interception down . "We've done such a good job in those last 5-10 minutes, like I said, to win a lot of games and we were back in that position again. And that's on me. And that is a very frustrating and very hard thing to think about because you want to be in that position. It's just very hard to think about." There are no curses in football. There is only a minimal amount of luck involved in final outcomes. It is the beauty and savagery of the game, it always strips you down to what you are. And what Sunday's game revealed about Romo is he is what we thought he was, and that is not good enough. He certainly was not as good as his Redskins counterpart Robert Griffin III, a rookie who with one good leg has his team in the playoffs. There are reasons. There are always reasons injuries, wrong routes run by receivers, the wrong coach, the wrong play calls, defensive failures, or just bad luck in Seattle. As former Cowboys coach Bill Parcells loved to say about other things but it is apropos here: He may not be the trouble but he is always there. We have seen some version of this schadenfreude dating back to 2006 when Romo bobbled the snap for what would have been the game-winning field goal in Seattle. Since then, they have been chasing that moment when Romo goes from good to legendary, when he makes the play, when they win the game, when he reveals himself to be special. That is what the Redskins have finally happened upon in RG3. He is special, with special being determined in December and January, when the stakes are win or go home. The best teams in the league, the teams with legit playoff chances all have special quarterbacksDenver with Manning, New England with Brady, Green Bay with Rogers. And now Seattle and Washington with Wilson and RG3. It is always about the quarterback, and the Redskins have the better one. There was no moment of genius for RG3. If we are being honest, he struggled in parts. He was slowed by a balky knee and his game looked off. What he did not do was make mistakes. He gave his running back a chance, and Alfred Morris delivered in such a huge way, 200 yards on 33 carries and three touchdowns. Romo, in contrast, had three interceptions. He did this despite having more big-game experience. And, maybe, it was the cumulative impact of that experience and the scars they carry. There was a meme that started circulated before the game was even done room just staring into nothingness on the bench as the Redskins ice the game. It looked very much like a guy wondering if he was ever going to do it. He said he does not. Does he worry about his legacy? "Your legacy will be written when you are done playing the game. When it's over with, you will look back and talk about those things," Romo said. "It's disappointing not being able to get it done. That is a tough pill to swallow especially when I throw that interception at the end." When you are Robert Griffin III's age, you have no idea how hard this is going to be. What we forget is Romo was once RG3, not as highly touted or drafted quite as early but teeming with that much promise at one point. The Cowboys thought they had found their link to Roger and Aikman. The Cowboys absolutely needed Romo to be special in this game. Their defense was broken, being held together by duct-tape and a bunch of no-names. Their receiving corps lacked Dez Bryant and Miles Austin by the time the game was being decided. And yet there the Cowboys were with 3 minutes remaining and the ball at the 15-yard line. They trailed by only a field goal. Cowboys linebacker Anthony Spencer had delivered a sack forcing a punt that had set them up. This was Romo's chance to rewrite his story, to shake his "chokes in big game, big moments" label. It is what he has been doing all season, coming back, finding a way, leading this team to victory. He found Cowboys tight end Jason Witten for 14 yards. This was finally going to be the time. Then it happened. The Redskins were blitzing. Of course, they were blitzing. Romo saw the rusher break inside. He remembers thinking the safe throw was to running back DeMarco Murray on the sideline. Yes, the Redskins defender had peeled off. All Romo had to do was float the ball over his head. Instead Rob Jackson made an exceptional play. "I wish I had made a different decision," Romo said, the regret thick on his tongue. This is not a curse. This is not luck. This is the difference in every game. Cowboys tight end Jason Witten was right when he said "It does feel close but at the same times you have to be real about it. It's a close league. It comes down to one or two or three plays in a game, in a season." It is in those moments, the game strips a player down and reveals what they are. He is what he is. And that is not enough to win in this league.
Original Story:
http://www.foxsportssouthwest.com/12/...
THE BACKYARD
BEST OF MAXIM
RELATED ARTICLES
The season is over, and its the same story, different year. Tony Romo is never going to get the Cowboys to the Super Bowl. He cannot do it, he just cannot win the big games – he's no good. Romo has been adequate, but he just keeps killing the team in playoff type games and in the playoffs. Heartbreaking. I can't even believe this is how the season ended, what a waste. Moving...
According to ESPNDallas.com, during Sunday night's loss to the Redskins, Dallas Cowboys quarterback Tony Romo suffered a crack rib on his right side after being hit by Redskins' cornerback Josh Wilson in the second quarter. Well the good news is that the season is over and Romo will have some time to get healthy and have another crack at the playoffs next season.     Need NFL...
Let's start with the obvious: when these Dallas and Washington teams met on Thanksgiving, the Cowboys were undermanned on offense. They had fill-ins working on the offensive line, lost Miles Austin early and were without DeMarco Murray. In the games final 20 minutes offense was hardly the problem as Dallas rallied to draw the game close but as Washington was pulling out to a...
Tony Romo reportedly played through cracked ribs from the second quarter on in the Dallas Cowboys' loss to the Washington Redskins on Sunday night, but the 10-year veteran is not using the injury as an excuse. Romo threw three interceptions as Dallas once again fell short of the postseason, and he took responsibility for the loss after the game. "I feel as though I let our team...
Cowboys QB Tony Romo probably didn't sleep too well on Sunday night. His interception with three minutes to go in the fourth quarter set up a Redskins touchdown and may have cost Dallas the game.Fantasy Spin:This isn't the first time we've seen Romo fold under pressure. The Dallas quarterback is now 1-6 all-time in elimination games. He finished the night with two touchdowns...
The Dallas Cowboys (8-8) have a massive and passionate fanbase. When the team finished the 2012 NFL regular season with a 28-18 loss in the Week 17 battle for the NFC East title against the Washington Redskins on Sunday Night Football, excitement erupted in the nation's capitol as rookie QB Robert Griffin III and rookie RB Alfred Morris helped to lead Washington to host its first...
Tony Romo had a great December until it was time to change his narrative. Three picks when he could have finally made something else of himself than a choking clownfraud. A streak of wins that would have at last instilled him in the minds of fans as something other than an abject failure when it counts. But is was all for naught. Good night, sweet price of Derpmania. The post Romo...
The Big Lead's Jason McIntyre states it simply as 'Watch Tony Romo Throw Three Interceptions Against the Redskins, Including a Back-Breaking One in the 4th Quarter' **Follow us on Twitter.... Full story at Bob's Blitz ~ http://www.bobsblitz.com
With the NFC East title on the line, Tony Romo threw interceptions on each of Dallas' first two possessions Sunday night, and Washington kicker Kai Forbath missed a field-goal try for the first time in his NFL career, leaving the Cowboys and Redskins tied 0-0 after the first quarter. It was a win-or-go-home game moved into prime time to mark the end of the NFL's regular...
(Eds: APNewsNow. Will be updated. With AP Photos.) By SCHUYLER DIXON AP Sports Writer Tony Romo sat alone on the Dallas bench, his stare frozen at the ground on a cold night in Washington. Any number of things could have been going through the mind of the Cowboys quarterback in the final minutes of a 28-18 loss to the Redskins on Sunday night. It was his third playoffs-or-bust failure...
  Tony Romo's third interception against the Redskins cost the Cowboys a chance to win the game and reach the playoffs. Roger Staubach led the Cowboys to two Super Bowls. He capped off his great career by leading the Cowboys to a win over Washington after trailing 34-21 in the fourth quarter in a regular-season finale with the NFC East on the line.   Tony Romo has led the Cowboys...
He said 9 yards Juan! We all know Adrian Peterson is plain and simply a robot from the future.  There is no other explanation for what he accomplished this season.  For me, he is the MVP as the Vikes would be a disaster without him.  9 damn yards. Tony Romo Gives Back Danny Glover Hangs With The 49ers
NFL News

Delivered to your inbox

You'll also receive Yardbarker's daily Top 10, featuring the best sports stories from around the web. Customize your newsletter to get articles on your favorite sports and teams. And the best part? It's free!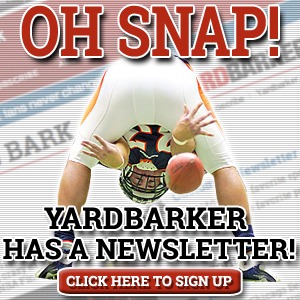 Latest Rumors
The Backyard

Today's Best Stuff

For Bloggers

Join the Yardbarker Network for more promotion, traffic, and money.

Company Info

Help

What is Yardbarker?

Yardbarker is the largest network of sports blogs and pro athlete blogs on the web. This site is the hub of the Yardbarker Network, where our editors and algorithms curate the best sports content from our network and beyond.