Found March 23, 2012 on Bleed Black & Gold:
Even after the report that Mike Wallace was looking for a mega deal the Steelers still have real interest in keeping him long term.  This is no surprise as Mr. Rooney has called signing Wallace a priority since the offseason started.  Rooney wants Wallace to stay and that is his number one goal for the offseason.  He made it clear today that he would like to get it done quickly so it is over with.
"The sooner the better as far as we're concerned but there's two parties to it," Rooney told the Tribune-Review. "We'll have to see what we agree on so I don't want to put any particular time frame on it or restrictions on it because these things take time and I wouldn't want to box myself in on it."
The Steelers are still relatively close to the cap right now.  Signing Wallace may be a priority but it is also going to force the Steelers to rework some other contracts as well unless Wallace takes a low number this season.  The team still has to sign its draft picks and still has a few holes to fill in free agency.  Keeping Wallace in the mix is the best idea for the team but not at the reported cost. Wallace would have to take a more team friendly deal then 8 years and $120 million.  That is roughly an average of $15 million per season.  Wallace is going to have to be happy with $9-$11 million to stay with the team the way it looks.  That is a good deal for Wallace.  He may want that kind of money but he has not earned it yet.  Yes he has good stats but Fitzgerald has great stats.  He also goes after the ball much better than Wallace.  Mike is on his way but just not yet.  It is a good range that he should be happy about receiving.
Original Story:
http://feedproxy.google.com/~r/BleedB...
THE BACKYARD
BEST OF MAXIM
RELATED ARTICLES
The Pittsburgh Steelers cut ties with veteran linebacker James Farrior early in March and the move really wasn't a surprise. In releasing Farrior the Steelers lost their defensive captain and signal caller and their 14 year mainstay at the BUCK linebacker position. The primary job of the BUCK linebacker in the Dick LeBeau 3-4 defense is to take on lead blockers and read and...
Pittsburgh Steelers free safety Ryan Clark was present at his Alma mater LSU on Thursday for their annual pro day to show support for the players taking part in it. Clark managed to give a couple of interviews, as you would expect, and one of those was with 104.5 ESPN radio in Baton Rouge. Clark mostly talked about the pro day process and the success of the LSU program, but he did...
William Gay has interest from four teams on the free agent market.  Over the past week he has visited with the Cardinals, Broncos and Titans.  The Steelers were also looking to resign Gay this offseason. Gay tweeted yesterday that he is done taking visits.  He is looking at four teams and that he will make his decision soon.  Gay likes Pittsburgh and wants to stay but he has...
INFLATED SELF-WORTH
The 49ers inquired, but they were informed that restricted free agent wide receiver Mike Wallace is reportedly looking for a contract in the range of Larry Fitzgerald's 8-year, $120 million deal.
There will be several rule and bylaw change proposals on the table at the NFL owners' annual spring meeting that begins down in Florida on Monday and a few of the ones that the Pittsburgh Steelers are pushing for I have briefly outlined in a previous post. Steelers.com has gone into greater detail now on a few of the things the owners will vote on and the one that catches my...
Mike Wallace reportedly wants Larry Fitzgerald kind of money from interested teams in restricted free agency. That's both good and bad news for the Steelers and their fans.
It's been quite the interesting offseason for the Steelers. Cutting ties with long time veterans and fan favorites like Hines Ward, James Farrior, and Aaron Smith is never easy. Many so called experts seem to have it in their minds that the Steelers are in some sort of trouble heading into the 2012 season, and it's not even into the summer yet. I've heard everything from drafting...
If you're a Pittsburgh Steelers' fan then you've likely been asked the following question; "So is Mike Wallace going anywhere?" We may now be able to provide some evidence as to why Wallace has stayed put to this point and it didn't surprise me one bit. Mike Wallace wants to get paid. He allegedly wants to be paid A LOT. If we are to believe the story as reported by the...
On to the defensive side of the ball.  While the Steelers may look on the offensive line in the first round the defense is where the talent is in the later part of the first round. The Steelers have gone defense 3 of the last 5 years in the first round.  They picked up Ziggy Hood and Cameron Heyward to bring youth to the defensive line.  Both are already seeing significant playing...
A player's value in the NFL is a very subjective matter. What one team would pay a player, another may not. Of course, players think they have an idea of their real value, but they truthfully don't. All they can do is compare themselves to other players of their caliber to try to get an idea of their value.This approach works for some, but it fails for those players that mistakenly...
A strong safety has the ability to be a game-changing force for an NFL defense. While defensive linemen do much of the dirty work in the trenches and the speedy cornerbacks have the highlight reel interceptions, there's nothing like a strong safety patroling the middle of the field. Having an imposing force in the secondary will make wide receivers think twice before turning...
Steelers News

Delivered to your inbox

You'll also receive Yardbarker's daily Top 10, featuring the best sports stories from around the web. Customize your newsletter to get articles on your favorite sports and teams. And the best part? It's free!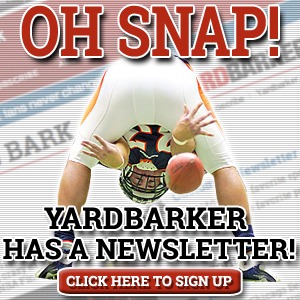 Latest Rumors
Best of Yardbarker

Today's Best Stuff

For Bloggers

Join the Yardbarker Network for more promotion, traffic, and money.

Company Info

Help

What is Yardbarker?

Yardbarker is the largest network of sports blogs and pro athlete blogs on the web. This site is the hub of the Yardbarker Network, where our editors and algorithms curate the best sports content from our network and beyond.