Found January 20, 2013 on Pro Sports Daily:
The "Rooney Rule" is workable - with some tweaks - according to its namesake. Pittsburgh Steelers chairman Dan Rooney believes the fact no minorities were hired for the eight head coaching vacancies or seven general manager-level jobs this year was an anomaly. "I think what we have is definitely a workable thing," Rooney told the NFL Network. "We do have to come up with an idea to try to help people to get to be candidates. But it does get down to the coaches building a staff." NFL executive vice president of human resources called the lack of minority hirings, "disappointing." However, Rooney said each of the franchises involved complied with the interviewing and hiring procedures. "As far as, now people saying they didn't get the job. Maybe this year, there weren't the candidates they thought there would be so they would get the jobs," Rooney said. "On the other hand, it's up to the coach, the candidate, ...
Original Story:
http://www.prosportsdaily.com/article...
THE BACKYARD
BEST OF MAXIM
RELATED ARTICLES
Pittsburgh Steelers GM Kevin Colbert says they're will be some major roster changes in the offseason after going a disappointing 8-8. "When you're 12-4 and a playoff team, sometimes you get mesmerized by your success and you get a little reluctant to change," Colbert said via Ed Bouchette of the Pittsburgh Post-Gazette, referring to the teams' record in 2010...
Pittsburgh Steelers offensive lineman Doug Legursky announced Saturday evening on Twitter that he is done with the social media platform due to his inability to deal with ignorant people. https://twitter.com/Legursky/status/292777173134217217 THIS WILL BE MY FINAL TWEET. IM OFF THE RADAR. MOSTLY DUE TO MY INCAPABILITY OF DEALING WITH IGNORANT PEOPLE", Legursky posted....
Every Pittsburgh Steelers' fan has different teams that they despise but you would be hard-pressed to find any that don't have complete hatred for both of the AFC Championship game participants today. Obviously Baltimore is to Steelers' fans what a poopy diaper is to a baby. New England isn't really much better when you consider the fact the Patriots have gotten the better...
This is part one in a series from steelcityblitz.com arguing the reasons why the Pittsburgh Steelers should take a specific position with the 17th pick in the first round. Today is a look at wide receivers. This does of course assume at this time that free agent Mike Wallace signs elsewhere in the off-season… I like Antonio Brown and I like Emmanuel Sanders. I like their energy...
Ed Bouchette of the Pittsburgh Post-Gazette writes that the Steelers will have to decide between re-signing Rashard Mendenhall or find a true featured back at some point during the offseason. Bouchette adds that Jonathan Dwyer and Isaac Redman are both "complementary backs" rather than true featured running backs. It's also worth noting that both Dwyer and Redman will...
It is no secret that the Pittsburgh Steelers will be looking to improve their running game in 2013 after finishing 26th overall in the league in rushing yards per game and 28th overall in rushing yards per play in 2012. One player that several Steelers fans hope that the team takes a look at in free agency is St. Louis Rams running back Steven Jackson, who could choose to void the...
We've covered two of our five prospects so far in Johnathan Hankins and Chance Warmack.Now we focus our efforts on a position that lacked depth over the year at a position where offensive coordinator, Todd Haley, loves to throw the ball to so often.The tight end postion, a versatile much-needed position.Your tight end can help with both the run game, as well as the pass game...
The Steelers presented their version of The Colbert Report this week. It wasn't quite the same as the Comedy Central show, however. Steelers general manager Kevin Colbert doesn't pronounce his last name the same way as comedian Stephen Colbert, and what he talked about was no laughing matter. Kevin Colbert talked about various issues facing the team in the wake of an 8-8 season...
By Jeremy Hritz The Pittsburgh Steelers wide receiver position, one that was thought to be a tremendous strength and one of the best in the league at the beginning of last season, is seriously in question heading into the 2013 offseason. Malcontent Mike Wallace will walk, which essentially is a positive due to his self-acknowledged lack of focus and true production during the 2012...
Editor's note: As part of NFL's Greatest Quarterback, fans will decide the best QB in each team's history. Terry Bradshaw: Bradshaw and Joe Montana are the only quarterbacks in NFL history with four Super Bowl rings. Bradshaw led his 1970s Steelers to Super Bowls IX, X, XIII and XIV, winning them all. He was the No. 1 overall pick out of Louisiana Tech in 1970, and he shared...
Our first show of the new year has arrived and we're starting it off big with our good friend from www.DraftCountdown.com , Shane Hallam.  Shane joins us to talk Steelers draft strategy for Pittsburgh and discusses with us his thoughts on potential players the Steelers may target, and the areas of need that they should address this offseason. Thanks again to Shane for joining...
The Pittsburgh Steelers were forced to start seven different offensive line combinations this past season due to all of the injuries that they had suffered throughout the season. As a result, the front five never had a significant amount of time to gel together and it played a big part in the running game being dismal. In less than two weeks the Baltimore Ravens will play the...
Steelers News

Delivered to your inbox

You'll also receive Yardbarker's daily Top 10, featuring the best sports stories from around the web. Customize your newsletter to get articles on your favorite sports and teams. And the best part? It's free!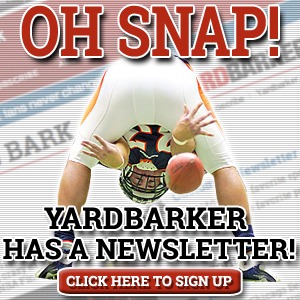 Latest Rumors
Best of Yardbarker

Today's Best Stuff

For Bloggers

Join the Yardbarker Network for more promotion, traffic, and money.

Company Info

Help

What is Yardbarker?

Yardbarker is the largest network of sports blogs and pro athlete blogs on the web. This site is the hub of the Yardbarker Network, where our editors and algorithms curate the best sports content from our network and beyond.