Found October 16, 2012 on Fox Sports Southwest:
When Jason Garrett took the head coaching job of the Dallas Cowboys, he preached the familiar sermon of nearly every coach who has ever taken a job in the sport. He said he wanted a physical football team that was difficult to play against. He wanted pads in practice and competition. He wanted a more physical team that was prepared to participate and emerge victorious in a street-fight. Talking at an introductory press conference and actually making that a reality for your squad are two different things. It takes a determined man to call the plays and to emphasize it week in and week out. 2012 has been just the opposite for Jason Garrett. This is where we can get in a conversation about what sort of play-calling balance leads to victory. I think the numbers demonstrate that when this team balances up their offense - both runpass and under centershotgun - they discover an offense that is actually quite versatile and explosive. That will be countered with the "chicken and egg" quandary of whether you win when you run or whether you run when you win. Do the Cowboys win games when they run well? Most of the time. But, not on Sunday. In fact, this entire conversation may ring hollow when we consider that the team lost this game on Sunday. On the other hand, it might prove that they were a few inches from a win against a team that had not lost to any NFC opponent since 2006 and had not lost any home game since 2010. They may not be the same Ravens anymore, but outcome-based analysis is always dangerous to engage in. Why did the Cowboys show so much determination to run the ball? In 36 1st down situations, they ran the ball 26 times (72). Under Jason Garrett, that has never happened before. And the scoreboard was not affecting that decision, meaning that they were not running to kill the clock or bring home a lead. They were simply running the ball because that was what they selected off the call sheet. The other more obvious reason that they were running the ball was that they were having early success. They kept doing it because at halftime, DeMarco Murray had 13 carries for 90 yards (6.9 per) and Felix Jones had 4 carries for 31 yards (7.8). If something is working, keep doing it. There was only one since Bill Parcells left town (2007-) that this team ran the ball 40 times (at Indy, 2010). It was the 6th time the Cowboys have run for 200 yards in a game in these last 6 seasons. Many of those other performances were followed up with enough mediocrity that we ended up calling those big rushing days a fluke. So, before we get carried away with this notion that the Cowboys have figured something out, we better see what they do in Charlotte (the site of Tony Romo's 1st professional start) - especially with DeMarco's health status seemingly up in the air. What was different on Sunday for the offensive line? None other than the much-criticized center for the Cowboys, the undrafted youngster, Phil Costa. Costa has been both a good story and a source of consternation for the same reasons. He is a good story in that he was discovered, worked hard, and kept advancing until the Cowboys jettisoned Andre Gurode in his honor last September when they made the incredibly reckless decision to put Costa in the water to see if he could swim. He couldn't. In fact, the Bill NagyPhil Costa decisions of last September is one of the worst decisions that the front office has ever made (think about what that is saying). They even admitted as much last March when Jerry Jones took the blame and admitted that the Cowboys got "big boy-ed" because they were too weak and undersized in the interior. The major issue was that they just weren't very strong inside, and when teams sense that you are weak on the offensive line, they make you win battles of strength by attacking at the snap and once you lose those battles often enough, then you line up in shotgun and stop trying to run the ball altogether. So, the Cowboys went and signed two large guards - not high quality players, but certainly larger - but left center alone and in the hands of Costa. Young players require patience, especially in the offensive line where their development can take longer than other spots. But, Costa seemed like a lost cause to me. Until Sunday. I must admit that the Costa I saw on Sunday was the best I have ever seen. This was his first real action of the season as he missed almost all of training camp with a back issue and then played 3 plays in the Giants game before Ryan Cook was thrown into duty. We saw over 4 games that Cook had major mobility limitations and the zone blocking scheme requires a center who can move to that 2nd level and take on linebackers. We got a good look last week at what happens when your center cannot get to the LBs - lots of bad runs that are destroyed by untouched linebackers. But, against the Ravens, we saw Costa as a force to be reckoned with. His mobility has always been fine, but his strength was his major issue. But, on Sunday, he looked like a new man. Strong, decisive, and even a bit nasty. He put players on the ground and drove linebackers out of the screen. I saw almost nothing to complain about, and a ton to be happy about. Heck, there were numerous occasions where he was laying on his man with a perfect pancake block. I didn't know he had it in him. Did Phil Costa find strength in the offseason? Will he be able to show us this performance again? And how much of his play made the running game instantly make sense? And if this is the start of something big, did the Cowboys patience in a young player pay off? Time will tell us plenty more soon enough. Many will point out that the Ravens make many offenses look good on the ground, so let's withhold judgement for now. Data from Week 5 vs Baltimore Run-Pass42-37Starting Field PositionD 301st Down Run-Pass26-102nd Down Avg Distance to Go7.692nd Down Run-Pass12-143rd Down Avg Distance to Go6.863rd Down Run-Pass4-113rd Down Conversions8-15, 53HTML Tables The above numbers are staggering. 1st down runs, 2nd down balance, and some solid work across the board. The offense left points on the field, but overall, these are the signs of winning football. PASSING CHARTS: Here are the passing charts to see what was being accomplished on Sunday. Blue is a completion. Red is incomplete. Yellow is a touchdown, and Black is an interception. The passes are lines from where Romo released the pass to where the pass was caught. This shows you his release point and where he likes to throw when he slides in the pocket. Look at the throw that was picked off in the 2nd Quarter. It is nearly the exact same throw that was picked off in Seattle and in New York. I imagine this is the throw that makes everyone in the film room crazy. Throwing from outside the right hash to outside the left hash is the most dangerous throw that Romo attempts, and safeties thank him for trying it over and over again. His improvisational skills are tremendous, but part of that depends on impulse decisions. As that black line below shows, those impulses are not always sound. 1st Half In the 2nd half, we have much more red (incompletions). Also, not the yellow for the two touchdowns to Dez Bryant and the red right next to it that shows the missed 2-point conversion. That was their bread and butter. 2nd Half - The chart below is just throws to Dez Bryant. He was a dominant weapon for most of the day, and like his 88 inspiration, Michael Irvin, most of it is from quick passes and then strength exhibitions after the catch. A strong, strong man indeed. Drive Starters -The 1st play of each drive can often reveal the intent of a coach to establish his game plan. How committed is he to the run or pass when the team comes off the sideline? We track it each week here - Look how they absolutely made a point to pound the rock on the 1st snap of nearly every play: Wk 1-At New York: 9 Drives - 5 Run4 Pass Wk 2-At Seattle: 9 Drives - 3 Run6 Pass Wk 3-Tampa Bay: 13 Drives - 7 Run6 Pass Wk 4-Chicago: 11 Drives - 3 Run8 Pass Wk 5-At Baltimore: 10 Drives - 8 Run2 Pass Season: 52 Drives 26 Run26 Pass - 50 Run 2011 Total: 181 Drives - 79 Run102 Pass 44 Run SHOTGUN SNAPS- Shotgun snaps are fine on 3rd Down and in the 2 minute drill. But, we track this stat from week to week to make sure the Cowboys aren't getting too lazy in using it. They are not efficient enough to run it as their base, and with a 1585 runpass split across the league, there is no way the defense respects your running game. When shotgun totals are high, the Cowboys are generally behind, scared of their offensive line, or frustrated. High Shotgun numbers are not this team's calling card for success. As you can see, the situation in the game dictates the use of shotgun. The Cowboys use "Shotgun 11" as their "catch-up" mode and the more they run it, usually the worse the game is going. Against the Ravens, we are again left to ask the questions - was this the plan all week in the game plan, or did they see what was working early and decided to follow the success with repetition? It is no coincidence that the two best offensive performances were the games with shotgun simply a portion of the offense (30 or so) and not the majority of the offense. Wk 1 - NYG: 1554 27.7 Wk 2 - Sea: 2956 52 Wk 3 - TB: 3463 54 Wk 4 - Chi: 5068 74 Wk 5 - Balt: 1979 24 2012 Season Total: 157320 49 2011 Total - 4451012 43.9 Here is the breakdown by groupings: Before you study the data below, I would recommend that if the numbers for the groupings are unfamiliar, that you spend some time reading a more expanded definition of thePersonnel Groupings here. Totals by Personnel Groups: PackagePlays RunYardsRunPass11422-92-(-7)123220218-12214-8013115110-471-4219996-283-71222141-31-1123262-60-0S01000-00-0S02000-00-0S11191093-1216-97S12000-00-0Knee000-00-0Totals7948342-22737-256Table Tutorial Here is what we wrote last week about the absurd numbers against Chicago: They ran just 4 plays from "12" and 3 plays out of "22" personnel. The Cowboys have seriously abandoned something that used to be what their identity because of offensive ineptitude.Now look. 32 plays out of 12 personnel from under center. 32! For 202 yards. 20 more snaps from 21 and 13 personnel, for another 150 yards. 370 yards from under center. This is how this team can be successful. Leave the finesse stuff in the garage. Totals by Personnel Groups on 3rd4th Down: PackagePlaysYardsRunPassFDTD111-70-01-(-7)0012393-92-01013140-01-41021000-00-00022000-00-00023262-60-020S01100-01-000S10000-00-000S1110781-39-7560S12000-00-000Totals20906-1814-72100Table Tutorial And this proves that you don't need to be in Shotgun on 3rd Down all of the time. Change up your tendencies. Don't use it as a crutch. Use it as a weapon. They moved the chains 4 different times from under center on 3rd Down. That is physical football. We are running the ball right at you and let's see you stop us. Not finesse. Not scared. Physical, strong football. It was a loss. There are no good losses. But, there are good things that can be discovered on bad days. I think this offensive game-plan is the way to win. Sunday was extreme. You will not always get 200 yards or 40 running plays. But, you must show your opponent on film and in person that you are not a bunch of finesse football players. You will be happy to get in a street fight and push on them all day long. You are happy to fire off the ball and slug them in the chops over and over. Part of this philosophy (if not all of it) is dependent on you following up those threats with actual demonstrations of strength. But, you cannot show people how well you can run the ball if you never actually do it. Sunday, Garrett and company flexed muscle to show us they have it inside them. Now, it needs to not be a rarity in the game-plan. With plenty more battles ahead against physical teams, this is promising news that will open up opportunities down the field.
Original Story:
http://www.foxsportssouthwest.com/10/...
THE BACKYARD
BEST OF MAXIM
RELATED ARTICLES
Make no mistakes about it. The Dallas Cowboys played their best game of this short season against the Ravens. The team clicked on more cylinders than they have in the past three games combined, yet were not able to complete the rousing comeback vs. a strong Baltimore Ravens team. The Dallas Cowboys have some mental mistakes to thank for falling below .500 for the first time this...
Dallas Cowboys running back DeMarco Murray exited Sunday's loss to the Baltimore Ravens with a sprained foot. He is set to undergo an MRI today, and Cowboys owner Jerry Jones said the team isn't sure if Murray will miss time due to the injury, reports Brandon George of the Dallas Morning News. "We just don't have a way to gauge it right now," Cowboys owner...
Dallas Cowboys owner/general manager Jerry Jones has ruled out running back DeMarco Murray for Sunday's game against the Panthers."I think we were encouraged that his sprain was not any more serious than it is," Jones said, via the Dallas Morning News. "He's a tough guy. I regret that we're not going to have him against Carolina, which looks obvious. I'm encouraged...
Standing outside the Dallas Cowboys' locker room Sunday in Baltimore, Jerry Jones spoke approvingly of the effort his team gave during a 31-29 loss to the Ravens.The Cowboys owner and general manager even said it was the best game his team has played this year. To many, that sounded like Jones was satisfied with a moral victory against a difficult opponent. On Tuesday, Jones...
Because it is Jerry Jones everyone will roll their eyes, but what he is saying is correct. Here is the quote courtesy of Pro Football Talk. "We've got to have some wins to make sure we're in the hunt, but I keep pointing out we're fresh off a world champion [Giants] that won nine of 16 ballgames last year," Jones said. "We know you want your team as healthy and as in...
According to ESPN's Adam Schefter, Dallas Cowboys cornerback Mike Jenkins will undergo an MRI on his surgically repaired right shoulder today.Jenkins must have done something to his shoulder during yesterday's loss to the Ravens. We'll update you once we find out more information.
Dallas Cowboys running back DeMarco Murray has been ruled out for this week because of a foot injury, ESPN Dallas reported Monday. The Cowboys had feared he may have sustained ligament damage and would be out for the year, but X-rays taken after Sunday's loss to the Baltimore Ravens were negative. Murray was scheduled to have an MRI Monday morning but the results are not yet...
He's my quarterback. Famous words from an infamous wide receiver, but in reality the words ring true. Tony Romo is your quarterback Cowboys fans, for better or worse.The post Ride Or Die With Tony Romo appeared first on The Sports Fan Journal.
(Photo by Patrick Smith/Getty Images)RAVENS – 31COWBOYS - 29The Baltimore Ravens kept their perfect record against the Dallas Cowboys going on Sunday afternoon, but it certainly was costly. In a contest that wasn't decided until the final whistle, Baltimore saw Haloti Ngata, Lardarius Webb, Ray Lewis, and Jimmy Smith all get bit by the injury bug. Webb tore the ACL in his left...
IRVING, Texas Dallas Cowboys coach Jason Garrett took accountability for Sunday's 31-29 loss to the Baltimore Ravens by saying the following four words on six separate occasions during his Monday press conference."It starts with me."Garrett took blame for calling the final offensive play that sent wide receivers Miles Austin and Kevin Ogletree deep when there was under...
Cowboys News

Delivered to your inbox

You'll also receive Yardbarker's daily Top 10, featuring the best sports stories from around the web. Customize your newsletter to get articles on your favorite sports and teams. And the best part? It's free!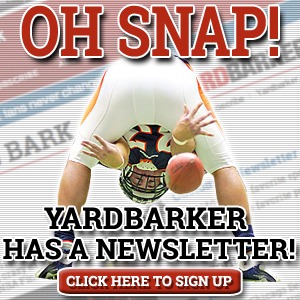 Latest Rumors
The Backyard

Today's Best Stuff

For Bloggers

Join the Yardbarker Network for more promotion, traffic, and money.

Company Info

Help

What is Yardbarker?

Yardbarker is the largest network of sports blogs and pro athlete blogs on the web. This site is the hub of the Yardbarker Network, where our editors and algorithms curate the best sports content from our network and beyond.