Found March 07, 2013 on Buddy Nixon:
H-Hour is approaching fast for the Buffalo Bills and their former franchise quarterback, Ryan Fitzpatrick. Will his contract restructured? Will he be released? Will nothing happen? IT IS A MYSTERY! You probably know the basics, but here's a quick refresher. In 2011, backup tern't starter Ryan Fitzpatrick was playing very well on the heels of a 5-1 start, and was in the last year of a 3 year, 8.1 million dollar contract. At that point, the Bills thought they may have had a long term solution at the position and didn't want to see him hit the open market, and made Fitz the Fitzfranchise with his current deal. One thing to note is that while the contract is not a good one to have on the books, it isn't quite as bad as it looks either. Depending on how you look at the deal, it ranks anywhere from 14th to 19th in the league for highest quarterback number. Considering Fitz is probably somewhere between the 18th and 25th best quarterback in the league, things could be worse. So where are we now? Cutting Ryan Fitzpatrick before the new league starts saves the team a marginal amount against the cap, but 3 million dollars in cash. So there are a couple of ways this could play out. -The Bills and Fitz restructure. The Bills will/have attempt this in any scenario in order to save both real and cap money. Why would Fitzpatrick agree to take less money? Because he's received most of the guaranteed portion of his deal, and it's probably best for him from a football perspective to stay in Buffalo. The Bills, on the other hand would like to keep him around as a backup (I refuse to acknowledge a situation where Fitz wins a competition in camp), just not at the current price. -The parties can't come to agreement, and Fitz is cut. The Bills will have to swallow the 10 mil cap hit, but save 3 million dollars cash. There seems to be a growing sense that this is the scenario that will happen if they can't come to an agreement on restructuring. If this happens, I'll move to the 95% confidence interval that the Bills will be drafting a QB. -Finally, the Bills could decide it's best to pay the roster bonus (3 mil) and keep Fitz. As disillusioned as we all are with the Harvard grad, he's still better than most of the dreck that populates the free agent QB class this year. Seriously, go look.  Tarvaris Jackson was 3rd on the list, and you're picking up Matt Moore in your team's Leerjet if you need a QB this year. So the Bills may decide that rookie or no, it's better to just pay the 3 mil because, despite his shortcomings, Fitz can still win you games if the rest of the team is playing well enough; our roster is the best its been in years. That last point loses some of its punch, however, when you consider Fitz starting again would put us more or less in the same boat as last year. In any of the above 3 scenarios, I'd say the smart money is on the Bills drafting and starting a rookie. At least, that's what I hope will happen. The post Ryan Fitzpatrick Decision Points appeared first on Buddy Nixon.
Original Story:
http://www.buddynixon.com/analysis/ry...
THE BACKYARD
BEST OF MAXIM
RELATED ARTICLES
While you were busy getting over seeing Andy Levitre play elsewhere next year or daydreaming about Mike Wallace wearing royal blue, the Bills brought back two of their more eclectic if not marginal players: Bryan Scott and Dorin Dickerson. While neither move is something that would alter anyone's outlook of Buffalo's 2013 prospects, both players share a quality that is central...
The Buffalo Bills have tendered an offer to exclusive rights free agent TE Dorin Dickerson, the team announced Wednesday, via Pro Football Talk. In 2012, Dickerson played in 11 games, catching 9 passes for 117 yards.
The Buffalo Bills haven't given up on re-signing cornerback Leodis McKelvin before the former first-round draft pick is eligible to become a free agent next week. McKelvin's agent, Hadley Engelhard, told The Associated Press on Thursday that negotiations are ongoing, and the two sides are scheduled to talk again Friday. He described talks as being in ''the beginning...
According to the Associated Press, Leodis McKelvin's agent Hadley Engelhard told them that he's scheduled to meet with the Buffalo Bills on Friday as they work towards trying to get a contract extension completed. McKelvin's agent, Hadley Engelhard, told The Associated Press on Thursday that negotiations are ongoing, and the two sides are scheduled to talk again Friday. He...
BUFFALO, N.Y. — Linebacker Shawne Merriman is calling it "Lights Out" on his career. The three-time Pro Bowl selection and 2005 NFL Defensive Rookie of the Year said on his website Tuesday night that he intends to file retirement papers. "I retire today not because I don't feel I can go out there and still play the game at a very high level," Merriman wrote. "I am retiring...
Vince Young is attempting an NFL comeback, and the former NFL Rookie of the Year is hoping to repair his image and name in the process. Young, who was released by the Buffalo Bills last August, is planning to work out for scouts at the University of Texas on March 26. He is confident he can be an asset for a club, and he is hoping and praying that a team gives him another chance...
Shawne Merriman Calls it a Career; Retires at 28 | PlayerPress.com - Sports Commentary, News, Rumors, Blogs, Photos, Videos by Pro Athletes and Fans Shawn Merriman was one of the most feared pass rushers in the NFL at one point in his career. After today he is going to be just another one of the masses looking for a job. The one time Defensive Rookie of the Year winner...
Vince Young was once thought of to be the future of NFL quarterbacks. He was a Heisman Trophy finalist at the University of Texas, won a national championship, was the NFL rookie of the year with the Tennessee   Titans and appeared his career appeared to be trending upward. Fast forward to now and Young is broke and out of football. After pouting  and playing his way out of Tennessee...
Shawne Merriman announced his retirement on Tuesday, giving us a chance to fully reflect on one of the strangest careers in NFL history -- one that will turn him into a poster boy for steroids in football for many, many years to come. During his first three years in the league, Merriman recorded more sacks than any other player in the NFL. That despite the fact he missed six games...
Former Tennessee Titans quarterback Vince Young thinks he deserves another shot at becoming a NFL quarterback. Many teams likely think otherwise. He failed to land with the Buffalo Bills last season as his then-head coach Chan Gailey told the media he was struggling with the playbook. He burned his bridges in Philadelphia after joining the team and proclaiming the Eagles as the "Dream...
Shawne Merriman, 28, was arguably the most exciting player in the NFL to watch when he was in his prime with the Chargers. But in recent years, "Lights Out" hasn't been very exciting. Yesterday, Merriman acknowledged this fact and announced that he would be turning the lights out on his career. San Diego drafted Merriman with the 12th overall pick in the 2005 draft. Merriman...
BY DAN BEGNOCHEThe Buffalo Bills have made bolstering their wide receiver corps one of their top priorities this offseason. So has No. 1 receiver Stevie Johnson.Johnson has frequently voiced his excitement in bringing in some wideout talent, and he's even reached out to some on his own.Dwayne Bowe was one those players before ultimately re-signing with Kansas City, as was Greg...
Bills News

Delivered to your inbox

You'll also receive Yardbarker's daily Top 10, featuring the best sports stories from around the web. Customize your newsletter to get articles on your favorite sports and teams. And the best part? It's free!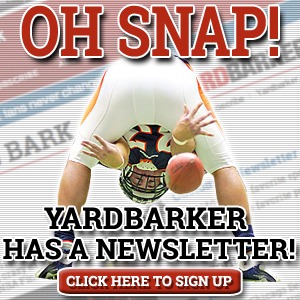 Latest Rumors
Best of Yardbarker

Today's Best Stuff

For Bloggers

Join the Yardbarker Network for more promotion, traffic, and money.

Company Info

Help

What is Yardbarker?

Yardbarker is the largest network of sports blogs and pro athlete blogs on the web. This site is the hub of the Yardbarker Network, where our editors and algorithms curate the best sports content from our network and beyond.