Found August 29, 2012 on Fox Sports:
PLAYERS:
Peter King
,
Michael Vick
,
Philip Rivers
,
Tony Romo
,
Eli Manning
,
Willis McGahee
,
Ronnie Hillman
,
Knowshon Moreno
,
Carson Palmer
,
Mikel Leshoure
,
Jahvid Best
,
Kevin Smith
,
Keiland Williams
,
Joique Bell
TEAMS:
Philadelphia Eagles
,
San Diego Chargers
,
Dallas Cowboys
,
New York Giants
,
Denver Broncos
,
Oakland Raiders
,
Detroit Lions
,
San Diego State Aztecs
1. The Matt Ryan Hype is Getting a Bit Loud "He's really looking good in practice. His arm is stronger, definitely. They're going to really let him throw the ball this year. The offense will be much more aggressive and fast-paced. And with Julio Jones around, oh man, it's going to be something to see. Matt Ryan will finally be unleashed this year." People said that last year, it didn't happen. They're saying it again this year, and it won't happen, again. It's true, Ryan likley will improve his 2011 total of 4,177 yards and 29 touchdowns. But due to his inconsistency, he'll still be lucky to be a middle-tier QB1. The hype at this point implies he'll make the jump to historic greatness in 2012 - SI's Peter King said it's "very realistic" for Ryan to throw for 5,000 yards - but great quarterbacks produce against good defenses. Ryan hasn't done that. As good as his aggregate numbers will look, Ryan's unreliability in difficult conditions makes him much more matchup-sensitive than other top quarterbacks. In nine games against New Orleans (twice), Tampa Bay (twice), Carolina (twice), Indianapolis, Minnesota and Jacksonville in 2011, Ryan threw for 20 touchdowns and three interceptions. Tampa, Carolina, Indianapolis and Minnesota were all remarkably bad pass defenses last year, and the Saints were bad, too. In six games against Chicago, Seattle, Green Bay, Detroit, Houston and the Giants, on the other hand, Ryan threw for just four touchdowns compared to seven interceptions. You're better off with Michael Vick, Philip Rivers, Tony Romo or Eli Manning. 2. Willis McGahee will be a Top RB2 in 2012 The Broncos said they intend to scale back McGahee's workload from last year when he received 249 carries in 15 games. The third-round selection of San Diego State running back Ronnie Hillman reinforces that expectation. It's easy to see why Denver would want to - McGahee will be 31 in October, and his workload last year resulted in a knee injury in December, as well as hamstring issues in both November and December. His effectiveness was compromised when the injuries struck, which leads to an important point: Denver wants to lighten McGahee's burden to protect him, not to phase him out. The team's running game is dependent on McGahee's health. Although McGahee only averaged roughly 16.6 carries per game last year, the average was obviously deflated by early exits caused by injury, as well as a Week 1 start for Knowshon Moreno. After Week 1, McGahee averaged roughly 19.5 carries per full game played, including six games of 20 or more carries. What this means is McGahee's workload won't decrease relative to that 16.6-carry average. It will decrease relative to the 20-plus carry games that overworked McGahee, meaning his per-game average should stay mostly the same from last year, or perhaps even increase slightly. The "decrease" will come in the form of eliminated high outliers, not the sum. 3. Darrius Heyward-Bey is a WR3 in Most Formats Denarius Moore might be the better source of highlight-reel acrobatics, but if it's statistics you're interested in then Darrius Heyward-Bey is the top wideout to target in Oakland. Although DHB caught 64 passes for 975 yards and four touchdowns last year, including 26 passes for 433 yards and three touchdowns in the final four weeks of the year, it's generally fashionable to rank Moore higher. Moore is obviously a talented player, but between his 2011 foot injury, his current hamstring issue and the fact that 75 percent of his receiving yardage came in four games last year, there's no reason to take him over DHB in redraft leagues. And yet, Moore's ADP tends to range from about 100 to 120, while DHB goes between 115 and 125. Between the durability issues of Moore (hamstring) and Jacoby Ford (foot) and the effect of playing 16 games with Carson Palmer at quarterback instead of 10, DHB should safely make it to 1,000 yards this year. He's more likely to settle in around 1,100 than 900. 4. Russell Wilson is No Joke Those investing in Wilson need to be careful not to get too carried away in the hype - it can't be good for his job security that his backup's contract has $10 million in guarantees - but there are many reasons to expect the third-round pick to have a strong career as a starting quarterback, including the 2012 season. Since Wilson is an excellent runner, that's particularly true in fantasy football terms. That Wilson checks in at a bit less than 5-foot-11 is a legitimate concern, but it's the only legitimate concern with his game. His other traits span between sufficient and remarkable. Among the most remarkable are Wilson's instincts, mechanics and intelligence. Simply put, everything that's within his control is managed spectacularly. His release is quick and reliable, his pocket awareness is excellent and he can probably match any recent quarterback prospect when it comes to balancing urgency and patience in the pocket when he senses pressure. He never gets scared, and he doesn't resort to the run until it's conclusively his best option. While it may be difficult to criticize any of the mental aspects of Wilson's game, you won't find it any easier to find flaws in his athletic makeup or his skill sets. His arm is strong enough to make all the throws, his accuracy is good or better on nearly every route type and he's fast, shifty and quick as a runner. And despite the fixation on his height, he only had four passes swatted at the line of scrimmage last year on 309 passes. 5. Mikel Leshoure is Still the DET RB to Buy It might not be saying much, but when you take draft expense into account, Mikel Leshoure is the Detroit running back to own. Due to a combination of Leshoure's two-game suspension and recovery from an Achilles' tendon rupture roughly one year ago, as well as Jahvid Best's disturbing concussion issues, Kevin Smith is understandably identified as the top running back for the Lions. Indeed, if he gets over his ankle issue in time, Smith will almost certainly start for Detroit in Week 1. But with just 26 games played over the last three years, there's reason to believe that Smith will miss time sooner than later. Barring a trade - which could certainly still happen - the Lions would have Leshoure, Keiland Williams and Joique Bell as potential Smith replacements. As a 2011 second-round pick with standout athleticism, Leshoure has to be the favorite to come out on top, even just over one year removed from the Achilles injury. Leshoure's superior value as an investment becomes clear when comparing his ADP to Smith's. Smith is being drafted between roughly the 80th and 90th picks, whereas Leshoure typically goes between the 120th and 140th picks. Get a FREE RotoWire 10-day trial (no credit card required) at RotoWire.com .
Original Story:
http://msn.foxsports.com/fantasy/foot...
THE BACKYARD
BEST OF MAXIM
RELATED ARTICLES
Or better yet, instead of choosing between bum vs. tourist, let's have them team up and beat the hell out of whoever still films videos longways. (via The Daily What)- Follow us on Twitter @withleather - Follow me personally @MrBrandonStroud and Burnsy @MayorBurnsy - Like us on Facebook.LinksBreaking Badass Power Rankings: 'Say My Name' |Warming Glow|RoboCop Remake: Jose Padilha...
Jeff Klein at the New York Times takes a look at donations made by the owners of the NHL's 23 United States-based clubs to candidates and political parties during the current election cycle, including the Dolans who have contributed almost exclusively to Republican candidates...RANGERS: James Dolan, the Cablevision magnate, is the only owner among the metropolitan area's...
NFL News

Delivered to your inbox

You'll also receive Yardbarker's daily Top 10, featuring the best sports stories from around the web. Customize your newsletter to get articles on your favorite sports and teams. And the best part? It's free!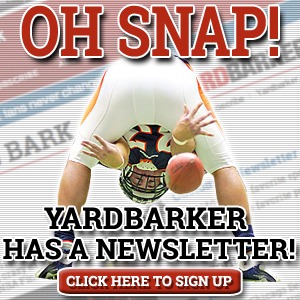 Latest Rumors
The Backyard

Today's Best Stuff

For Bloggers

Join the Yardbarker Network for more promotion, traffic, and money.

Company Info

Help

What is Yardbarker?

Yardbarker is the largest network of sports blogs and pro athlete blogs on the web. This site is the hub of the Yardbarker Network, where our editors and algorithms curate the best sports content from our network and beyond.