Found November 02, 2012 on Fox Sports Wisconsin:
GREEN BAY, Wis.-Clay Matthews leads the NFL in sacks, but that's nothing compared to the ad blitz featuring Green Bays star outside linebacker. Even more than hes hitting opposing quarterbacks entering the FOX Americas Game of the Week against Arizona (1 p.m. ET Sunday), Matthews is being featured in heavy rotation as a television pitchman for Verizon, Gillette and Fathead. The latter commercial portrays Matthews as an oblivious egoist surrounded by self-images in his man cave. Is this self-deprecating humor, or has Matthews fallen in love with his public image, like Narcissus of ancient mythology? We asked Matthews that and more about life in the spotlight during this exclusive FOXSports.com question-and-answer session. Q: Youve become the defensive version of Peyton Manning with how many commercials are featuring you. Did you expect this entering the season? Matthews: No, but you have to imagine that when you film a few commercials you're going to have a little bit of air time. It doesnt seem like you can turn the TV on without seeing consecutive commercials of myself, but its fun to see the reactions of my teammates, family members and friends. Its created some good opportunities as well. Ultimately, I think any time you can turn the TV on and see guys like myself, Aaron (Rodgers), Greg (Jennings) and Donald (Driver) especially with this market being the smallest (in the NFL) it's a testament to the team, the fans and the marketability we have. Q: What commercial gets the most reaction from those close to you? Matthews: The Fathead one, surprisingly. I've done so much acting before in regards to running through walls and bullying people and blowing stuff up (in commercials) that Fathead was a nice change of pace. I got to show off my acting chops a little bit and a sense of humor in that. It was nice to get away from the traditional football role. They seem to really enjoy that because of the arrogance that I exude. It's pretty comical to say the least. Q: Do you think people are in on the joke when they see the Fathead commercial? Matthews: I think 99 percent of the people are. But I've had people call me out for being arrogant and conceited and cocky. I dont think they understand it, but I think youre not going to win them all over. Q: So this is not you in real life, right? Matthews: No, its not me. Q: How much were you concerned that people could misconstrue the Fathead commercial before you shot it? Matthews: Fortunately now, Im able to have some say and creative control. With this one, they read it by me. Its hard to see it come to fruition when youre looking at it on paper. But I felt like with my dry sense of humor and the way I can roll with this and play it off as being a natural, I thought we could run with it. I was a little skeptical at first, but once we started filming and they put it together in post-production, you could tell it was going to be a hit. Q: I know you have a lot of charity involvement that you dont play up publically. What is your next step image-wise that you want to take, and how much does that matter to you? Matthews: Image is very important in this business. You represent not only yourself but the organization, the coaches, the community, your family, your friends. When I put something out there of how I want people to view me, No. 1 is how I handle myself on the football field. I think that speaks for itself. But its really how you behave yourself outside the confines of the stadium that also define you. For me, even though I like to remain out of the spotlight despite having the commercials and all the fun with that, its most important representing yourself in a positive manner. I think everybody tries to do that. Some are just a little more successful at it than others. Q: How much has life changed for you since youve gotten this recognition? Matthews: It definitely has changed from the days of just being a college undergrad. I cant say I didnt want this lifestyle. I know it can drive a lot of people to go insane, but this is fun. Its an exciting lifestyle. Ultimately, there are things in your life that you do have to change and be a little more private with. But at the same time, its fun to walk down the street and have someone admire your work and let you know what a great job youre doing. Q: What is the end game for you? Do you want to get into acting when youre done playing football? Matthews: Thats not what I have in mind right now, but who knows right now where my path after football will take me? I know they say you should always have a backup plan right now. For me, it would probably be as a licensed contractor. Thats my honest answer if football didnt work out. Youre hands-on. Ive got a nice image of what Id like to see in a project getting done. It would keep me busy. But ultimately if football works out and it continues the way it has, hopefully there will be some opportunities down the road, whether its in Hollywood or something else from playing this game.
Original Story:
http://www.foxsportswisconsin.com/11/...
THE BACKYARD
BEST OF MAXIM
RELATED ARTICLES
Peyton Manning overcame a pair of interceptions by throwing three touchdown passes Sunday, rallying Denver to a 31-23 victory over the Cincinnati Bengals. Trindon Holliday also returned a kickoff a Broncos-record 105 yards for a touchdown. Manning improved to 8-0 career against Cincinnati (3-5), which has lost four in a row for the first time in two years. This win didn't come...
The fantasy season is nearing its postseason. The weeks are winding down; the injuries are piling up. You need to stay ahead of everything in order...
The Raiders are no different this year than in the past, where are they going. Denver at Cincinnati - The Boncos and Peyton Manning have things rolling now on both sides of the ball.  Don't forget that the Broncos played great defense and special teams last season and they were able to run the ball.  You add Peyton Manning to that mix and it's no surprise they are...
The Seahawks continue to hang around and play well.  The NFC is very competitive and they'll need to snag a wildcard slot to make the playoffs this season.  With GB probably getting the first WC, there's still hope for Seattle. Denver at Cincinnati - The Boncos and Peyton Manning have things rolling now on both sides of the ball.  Don't forget that the Broncos...
It may be too soon to put Super Bowl expectations on the Denver Broncos, but the only reason Peyton Manning came back was to win a Super Bowl. Manning chose the Broncos and his decision has proven to be a good one, especially with the remaining teams they have to face. When you look at the remaining schedule for the Broncos in 2012, they face chump teams with the exception of the...
Denver:  The Broncos come off a big win on Sunday Night Football over the New Orleans Saints, pushing their record to 4-3 and in sole possession of first place in the AFC West. Peyton Manning meanwhile is 5th in passing yardage, 3rd in TDs, and 1st in QB rating; so much for him not being healthy. Now Manning takes his superior passing on the road to Cincinnati, to face a Bengals...
As we approach week 9 of the 2012 NFL season it is time to hand out the midterm grades for every unit on each of the NFL's 32 teams.Here is the report card for the 4-3 Denver Broncos.QuarterbacksPerhaps the biggest story entering the 2012 season was how would quarterback Peyton Manning play upon returning from four neck surgeries and a year off from football. Now, eight weeks into...
CINCINNATI -- Peyton Manning came back from throwing a pair of interceptions in the third quarter to rally the Denver Broncos to a 31-23 victory against the Cincinnati Bengals Sunday afternoon at Paul Brown Stadium. Manning, named the AFC Player of the Month for October, threw a 1-yard touchdown pass to tight end Joel Dreessen with 11:47 left in the fourth quarter for a go-ahead...
In the 2011 season opener, Panthers quarterback Cam Newton threw for 422 yards, surpassing Peyton Manning's rookie single-game passing record. One year later, Manning's successor in Indianapolis has outdone them both. In the Colts' 23-20 win over the Dolphins on Sunday, Andrew Luck completed 30-of-48 passes for 433 yards and two touchdowns, as he enters the NFL record...
    There was once a time when the only time you heard the Miami Dolphins mentioned by the National Media was when they were being ridiculed or mocked. Well that time was not that long ago, in fact the Dolphins were hardly given any respect even this past offseason. Missing out on Jeff Fisher, and Peyton Manning many media members around the league laughed saying...
NFL News

Delivered to your inbox

You'll also receive Yardbarker's daily Top 10, featuring the best sports stories from around the web. Customize your newsletter to get articles on your favorite sports and teams. And the best part? It's free!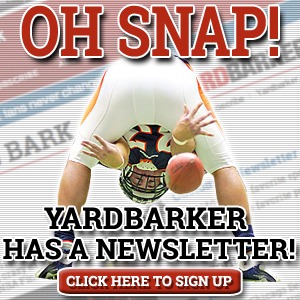 Latest Rumors
The Backyard

Today's Best Stuff

For Bloggers

Join the Yardbarker Network for more promotion, traffic, and money.

Company Info

Help

What is Yardbarker?

Yardbarker is the largest network of sports blogs and pro athlete blogs on the web. This site is the hub of the Yardbarker Network, where our editors and algorithms curate the best sports content from our network and beyond.