Found August 01, 2013 on Pro Sports Daily:
Saints receiver Lance Moore would prefer not to be called the old man on the team. But at 29 he's already earning that distinction. "I don't really like it" he joked. "I don't want Sean (Payton) to come up to me and call me one of the old guys. "He has done it a couple times already during camp and I don't want to get that label." But joking aside Moore doesn't really mind when he considers where he came from -- an undrafted rookie who made the team by way of the practice squad. Now he's one of quarterback Drew Brees' favorite and most reliable targets. "It is definitely a credit to the way that I work and coming from where I came from to get to this point" he said. "This is my ninth training camp and about seven days in it feels like it's my 15th. "I feel good and I'm just trying to continue on forward." Perhaps it's another credit to Moore that his name is constantly brought up by the...
Original Story:
http://www.prosportsdaily.com/Headlin...
THE BACKYARD
BEST OF MAXIM
RELATED ARTICLES
A SAINT AFTER ALL?
Saints quarterback Drew Brees took to Twitter in an attempt to set the record straight over the accusation that he left a waitress a horrible tip.
Drew Brees is fighting back, and disputing the claim that he's an awful tipper. Brees, who is one the richest athletes in professional sports, caught some flak on Tuesday after reportedly leaving a $3 tip on a $74 bill.    Brees was having none of that, and took to Twitter to defend himself.  Brees made it known that his order was take-out, and had he dined in, the tip would...
New Orleans Saints fan David Mobley jumped a barricade separating the public from Saints players during a Friday practice. That's as far as he got. A police officer with the Jefferson Parish Sheriff's Office promptly tackled the 59-year-old, who was arrested on charges of remaining after forbidden, resisting arrest and battery of a police officer, reports the Hattiesburg American...
Drew Brees says he's amazed his $3 tip on a $74 takeout order last month has become a talking point on national television and the Internet. The quarterback was in the locker room at Saints headquarters Thursday morning when he noticed a discussion on a network morning show about tipping on takeout orders, referencing a photograph of his takeout receipt that was circulated online...
The New Orleans Saints are about to get a better sense of whether all their talk about improving their running game is amounting to much on the field. After eight days of training camp in which contact was limited, the Saints line up for a scrimmage on Saturday in which linemen such as All-Pro guard Jahri Evans will try to blow open holes at full force for running backs Mark Ingram...
Today the Saints will experience the "Black and Gold scrimmage", which is of course the yearly traditional inter squad simulated game during training camp. The best part of this action is it will really put the lines to the test, as they get a real chance to collide with pads, and it will put live tackling to the test. The team has gotten a little taste of that, but to...
A woman who could become the NFL's first female official is training at New Orleans Saints training camp this week. Sarah Thomas, who lives near Jackson, Miss., is a former college basketball player who started officiating high school games at age 23 and says she never dreamed then that she could become a candidate to officiate NFL games. Now 40-years old and with three children...
We can all breath a sigh of relief. Drew Brees is a good tipper. The infamous bill indicating otherwise was for a take-out order.
Follow @HookTSB   I can't believe this is still a thing, or was even a thing in the first place, but Drew Brees caught some flack yesterday for leaving a $3 tip on a $74 bill about a month ago.  Some ass-hat who works at a the  Del Mar Rendezvous Chinese fusion restaurant in California snapped a picture of the receipt and posted it on Reddit, but failed to mention the receipt...
Rest-assured, Saints fans. Everything we always thought we knew about Drew Brees turns out to be totally true. There was a mini-uproar this week when a waitress claimed Brees stiffed her on a tip for a $75 bill. A copy of the receipt was posted on the website, "The Dirty." Turns out, it was only part of the story. The bill was actually for a takeout order, which means even...
The Saints first round draft pick Kenny Vaccaro is certainly distinguishing himself on the field this training camp with his aggressive style. The former Texas Longhorn says it's all about defining himself and playing with an edge. "I'm just real physical. That's the way the game should be played. I think I have an old school style," says Vaccaro. But sometimes...
During the offseason, the Pittsburgh Steelers had a big decision to make as to whether or not to re-sign cornerback Keenan Lewis, who was an unrestricted free agent following the 2012 season. They chose against doing so and Lewis wound up signing a five-year, $25.5 million contract with the New Orleans Saints. Now that the [...] Kevin Colbert Says Team Couldn't Fit CB Keenan Lewis...
Saints News

Delivered to your inbox

You'll also receive Yardbarker's daily Top 10, featuring the best sports stories from around the web. Customize your newsletter to get articles on your favorite sports and teams. And the best part? It's free!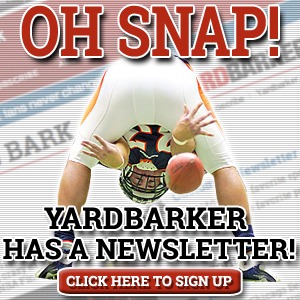 Latest Rumors
Best of Yardbarker

Today's Best Stuff

For Bloggers

Join the Yardbarker Network for more promotion, traffic, and money.

Company Info

Help

What is Yardbarker?

Yardbarker is the largest network of sports blogs and pro athlete blogs on the web. This site is the hub of the Yardbarker Network, where our editors and algorithms curate the best sports content from our network and beyond.