Found March 27, 2013 on The Saints Nation:
The Saints' defense last year was atrocious, this much we know. It's largely to blame for the team missing the playoffs last year. But the offense felt off too. Just how much is the question, really. If the defense had been passable, was this offense good enough to be a playoff team? How did it compare to the previous year's offenses? For the sake of this exercise, I am writing off defense temporarily. That's not to suggest Sean Payton doesn't have an impact on defense, but I think we can all agree it's pretty limited compared to his impact on offense. There is no question Payton excels as a mid game adjuster and a motivator and those are things the Saints missed greatly on both sides of the ball in 2012. It's hard to quantify numerically exactly what that means to the Saints, or how it would have changed the defense if at all in 2012. On offense I can point to the lack of a commitment to the running game early in the season, which got corrected, and poor game plans with an inability to adjust against the 49ers and second Falcons games specifically. Those two games were tough opponents, but clear exhibits of the coaching staff and players looking lost and unable to make changes in game when they starting to struggle. That said, more generically, I wanted to take a look at the statistical difference between 2012 offensively and 2006 through 2011, to get a feel for if this really was the worst year offensively in the Sean Payton era, which was the first without him present. FIRST DOWNS: In 2012 the Saints had 352 first downs. This was good for the 3rd most in the Sean Payton era (7 seasons). Going into 2012 the Saints averaged 357.5 first downs per season, but that number is grossly skewed by 416 first downs in the historical 2011 season. From a moving the chains perspective, the 2012 version of the Saints is right in line with all the other Sean Payton offenses. THIRD DOWN CONVERSION PERCENTAGE: In 2012, the Saints converted for first downs on 44% of their third down plays. This was the worst conversion rate in the Sean Payton era. The closest seasons were 2006 (45%) and 2009 (44.7%) surprisingly, both great offensive seasons overall. The record 2011 year saw a massive jump to 56.7%. The Saints have averaged about 48% on 3rd down conversions prior to 2012. That is a significant measure that the team was the worst in this department in a seven year span. FOURTH DOWN CONVERSION PERCENTAGE: The sample size is of course much smaller here, but the Saints were converting 4th downs at 57% in 2012. That is actually the second best in the Sean Payton era over a seven year period. The Saints have averaged converting these at 45.8% prior to 2012. Interestingly, the two worst seasons for converting fourth downs were 2009 (the Super Bowl title year) and 2011 (the best offense in NFL history) - so attributing too much significance here is probably a waste of time. YARDS PER PLAY: The Saints averaged 6.2 yards per play in 2012. The Saints in six seasons prior averaged 6.0 yards per play, so we should consider this season slightly above average. Gaining yards didn't seem like a major problem and on pace with previous years. YARDS PER RUSH: The Saints averaged 4.3 yards per rush in 2012. In six seasons prior they averaged 4.13 yards per rush. This was the third best average in seven seasons and above average. Gaining yards running didn't seem to be as big of a problem as committing to running the ball. YARDS PER PASS: The Saints averaged 7.7 yards per pass in 2012. In six seasons prior they averaged 7.7 yards per pass as well, so this was exactly average. Mind, you, that is not a bad thing. Still, in seven seasons, 7.7 yards per pass was third worse. This didn't seem like a glaring issue. SACKS: The Saints yielded 26 sacks in 2012. That is the most they've yielded in the Sean Payton era, tied with 2010 when they also yielded 26 sacks. The Saints average giving up 20.3 sacks per season, so this was much higher. A sign they were maybe too predictable in their pass patterns, that the offensive line didn't block as well, and that maybe the receivers weren't getting as open. It's interesting that the team's yards per pass remained average despite a much higher than average sack total - which subtracts from pass yardage. This suggests they maybe had slightly more explosive plays to make up for it. COMPLETION PERCENTAGE: The Saints completed just 63% of their passes in 2012 which was the worst in the Sean Payton era. You'll remember just one year prior the NFL record breaking 71.3% completions, and the Saints have averaged around 67.5% prior to 2012. Another category that was glaringly low compared to the average. INTERCEPTION PERCENTAGE: The Saints averaged 2.8% interceptions per pass in 2012. That is slightly more than average, as the Saints averaged approximately 2.5% in the Sean Payton era prior to last year. Still, they averaged 2.8% in both 2007 and 2008 and 3.3% in 2010. So this wasn't that horrible. The most successful seasons, though, the Saints averaged 2.0% in 2006, 2.2% in 2009 and 2.1% in 2011 - so clearly keeping that number low helps the team have success. PENALTIES: This is the only statistic I pulled up that involves both offense and defense, but one that points to team discipline and something Sean Payton is reputed for enhancing, so I figured it was a worthwhile thing to look at. The Saints were penalized 104 times in 2012, most in the Sean Payton era by far. The Saints averaged less than 84 penalties per year in the past six years going into 2012. Clearly that was a major problem, but it's hard to say if stricter NFL rules combined with the Saints living under the post "Bounty Gate" microscope contributed to such a hike. Still, the Saints have always been in the top 15 least penalized teams in the NFL in the Sean Payton era, and last year they were 23rd. There was clearly a drop off in that department. CONCLUSION: The Saints 2012 offense overall was decent, and even above average compared to their own standard in certain areas. It was not a complete flop as I would have maybe suspected prior to this exercise. Still, there were some glaring areas of drop off in 2012 and it's safe to say Sean Payton missing was a major contributing factor. Those were 3rd down conversions, completion percentage, sacks given up and team penalties. Those four categories were the worst in seven years of offense in the Sean Payton era. Sacks obviously points to poor offensive line play and perhaps poor receiver play (getting open). We knew that. I think it also points to predictable play calling. The low completion percentage likely also means the passing patterns were too predictable, which I attribute to poor play calling, and again maybe poor pass blocking and receivers getting open. 3rd down conversion being down will be a function of the two things I just mentioned, so these are obviously interconnected. Lastly, high volume of penalties I attribute to poor discipline, something Sean Payton preaches ad nauseam. That's a category that would have helped the team significantly on both sides of the ball. Record high penalties would also contribute to a lower completion percentage, more sacks, and a lower 3rd down coversion rate. That makes me wonder if all this offense needs is a little more discipline and Sean Payton to kick them in the pants? It's probably not that simple, but based on these four categories being all time lows in seven years, I think it's safe to assume this team missed their head coach and offensive genius. This defense obviously needs to get fixed, that is first and foremost. Let's not lose sight of that issue as it's clearly most important this offseason. Still, the offense had issues last year as well and based on these stats it's same to assume Sean Payton returning alone will be enough to repair some of the Saints' 2012 issues.
Original Story:
http://www.thesaintsnation.com/2013-a...
THE BACKYARD
BEST OF MAXIM
RELATED ARTICLES
After numerous stops to NFL cities in an effort to explore his options, linebacker Victor Butler has settled on New Orleans and the Saints as his new destination. Butler is now the third free agent to join the Saints after Keenan Lewis and Ben Watson, and the second defensive player. Butler figures to be a 3-4 outside linebacker for the Saints and he will battle Martez Wilson and...
If the New Orleans Saints miss out of free agent cornerback Nnamdi Asomugha, Ian Rapoport of NFL.com wouldn't be surprised to see the team target defensive end/outside linebacker Dwight Freeney. Don't be surprised when #Saints emerge as a player for Dwight Freeney, especially if they miss on Nnamdi. Still trying to upgrade pass-rush — Ian Rapoport (@RapSheet) March 25, 2013...
I briefly caught up with the guys from Dawgs by Nature on twitter to get their take on the Saints' new tight end Ben Watson. Dawgs by Nature is the top Cleveland Browns blog out there in my opinion. Here is what they had to say about the Saints' new pass catcher:   @saintsnationblg yes he is a good backup. Tough as nails, okay blocker, good hands in tight areas...
ESPN's Adam Schefter is reporting that the New Orleans Saints "plan" to sign free agent OLB Victor Butler. He recently met with the Browns and Eagles, but left both visits without a contract. Butler, 25, spent last season with Rob Ryan in Dallas, so this move makes a lot of sense now that Ryan has taken over as the Saints defensive coordinator. New Orleans is also in need...
According to ESPN's Adam Schefter, the New Orleans Saints have agreed to terms with linebacker Victor Butler. Nice pickup in New Orleans: Saints plan to sign Cowboys LB Victor Butler. — Adam Schefter (@AdamSchefter) March 28, 2013 Saints and Butler have agreed on a two-year contract. Butler was a very good back up for the Cowboys that a lot of teams believe has the potential...
According to ESPN's Adam Schefter, free agent cornerback Tracy Porter visited the New Orleans Saints. Broncos free-agent CB Tracy Porter visited the Saints on Monday. — Adam Schefter (@AdamSchefter) March 26, 2013 The 26 year-old Porter played for the Saints from 2008 to 2011 and spent last season with the Broncos.  The Saints are in need of an upgrade at cornerback and could...
New Orleans general manager Mickey Loomis says the Saints and free agent linebacker Victor Butler have agreed to terms on a two-year contract. The 6-foot-2, 245-pound Butler has spent the past four seasons with Dallas, which drafted him in the fourth round in 2009. In New Orleans, he'll rejoin new Saints defensive coordinator Rob Ryan, who held the same position with the Cowboys...
Dave, Kevin and Andrew all join Ralph to discuss if  Nnamdi Asomugha will ever make up his damn mind on where to sign. They also debate the Saints would be better off with Nnamdi or Tracy Porter at corner. Andrew breaks the signings of Keenan Lewis and Ben Watson. Why has Victor Butler visited every NFL East of the Mississippi but has yet to sign a contract? Besides Bryant McKinnie...
Free agency is winding down for the New Orleans Saints and with that it's almost time to focus solely on the NFL draft. Nnamdi Asomugha, Victor Butler, and Bryant McKinnie all could still sign which would allow the Saints to draft the Best Player Available (BPA), but chances are that Loomis and Payton will do that regardless. As it stands now, with or without the three aforementioned...
Saints News

Delivered to your inbox

You'll also receive Yardbarker's daily Top 10, featuring the best sports stories from around the web. Customize your newsletter to get articles on your favorite sports and teams. And the best part? It's free!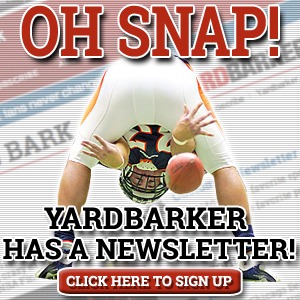 Latest Rumors
Best of Yardbarker

Today's Best Stuff

For Bloggers

Join the Yardbarker Network for more promotion, traffic, and money.

Company Info

Help

What is Yardbarker?

Yardbarker is the largest network of sports blogs and pro athlete blogs on the web. This site is the hub of the Yardbarker Network, where our editors and algorithms curate the best sports content from our network and beyond.