Found April 20, 2012 on The Saints Nation:
It's bad enough that Roger Goodell levied an extremely harsh sentence on Sean Payton, but the waiting game on player suspensions makes it even worse. We already know Goodell is going to punish the team even more by laying down players suspensions, but it's the delay of that inevitability that is starting to cause even more problems. If, God forbid, these suspensions get announced after the draft, it's even more of an issue for the Saints. Quite simply, the anticipation of what's to come and the uncertainty of how bad it will be make it extremely difficult to plan and cushion the blow. 
Right now, we know Jonathan Vilma is almost without question getting suspended. Reports have come out that he's bracing himself for anywhere from 2 weeks to 8 weeks suspension. My gut feeling is it will be every bit of the higher end of that scale. Luckily the Saints have been very active in the linebacker department in free agency, so you have to feel ok they can handle time without Vilma thanks to the new recruits. Will Smith and Roman Harper are two other names that have surfaced in the last week as being high at risk players of getting suspended, but so far they haven't had the explosive evidence attached to their name like Vilma and the $10,000 bounty on Brett Favre. But the reason the Saints need to know most desperately is the NFL draft is an opportunity to draft players at positions they may end up being thin at defensively. If they don't know who is getting suspended and for how long, they may draft differently, and ultimately it could have a consequence on their depth at some positions. Bottom line is this is just another opportunity for Roger Goodell to drop the hammer on the Saints and it looks like he may do it. As fans we know this is coming, so we just have to hope the organization is better prepared to deal with these suspensions by being informed of the penalties BEFORE the draft.
If the penalties get announced after the draft, this is Goodell once again plastering the Saints. I certainly don't think the Saints deserve his sympathy and he doesn't owe us a solid. Don't get me wrong. But Goodell can either realize he's already depleted the Saints and take it easy on them, or he can take yet another opportunity to set them back further. The decision is almost entirely his and the team has no say, they can only accept his decision. As fans, this time we need to root he'll show a little mercy. I won't be holding my breath.
[follow] 
Original Story:
http://www.thesaintsnation.com/2012-a...
THE BACKYARD
BEST OF MAXIM
RELATED ARTICLES
ST. PAUL, Minn. National Football League commissioner Roger Goodell and Pittsburgh Steelers owner Art Rooney II met with Minnesota governor Mark Dayton and legislative leaders Friday morning, serving a "reality check" on the Minnesota Vikings' struggle to get a new stadium built with help from public funding. On Monday, a House committee voted, 9-6, against a 975...
In an article which attempts to analyze the various ways Roger Goodell could hand down punishment to individual members of the Saints defense, Gary Myers of the New York Daily News opines that Goodell will not suspend all of the affected players concurrently.  He believes that forcing all the suspended players to sit out at the same time would be "vindictive" and would essentially...
ST. PAUL, Minn. (AP) -- Gov. Mark Dayton says NFL Commissioner Roger Goodell and the owner of the Pittsburgh Steelers will come to Minnesota on Friday to meet with state lawmakers and urge them to make progress on building a new stadium for the Vikings. Dayton said he spoke by phone with Goodell and Art Rooney on Thursday morning. He says they consider it urgent to approve a stadium...
Commissioner Roger Goodell is set for a crucial Friday meeting with Minnesota politicians, looking to push state lawmakers forward on a bill to finance a new stadium for the Vikings. According to the Los Angeles Daily News, Vikings owner Zygi Wilf's private plane touched down in southern California Thursday, just days after a visit by Goodell for talks with Los Angeles Mayor...
NFL Commissioner Roger Goodell has warned the state of Minnesota of "serious consequences" if legislators cannot pass a bill this year to fund a new stadium for the Vikings. According to NFL.com, Goodell relayed his concerns to Governor Mark Dayton Wednesday, and the two are set to speak again Thursday, joined by Steelers president Art Rooney II, chairman of the NFL stadium...
While politicians and NFL commissioner Roger Goodell said there were no threats, the Los Angeles market was part of the Vikings stadium discussion between the league and Minnesota lawmakers.
A Minnesota Senate committee narrowly approved a public subsidy on Friday to help the Vikings build a new football stadium, reviving the team's struggling effort just hours after NFL Commissioner Roger Goodell visited the state Capitol to jumpstart what had been a stalled stadium debate. The Senate's Local Government and Elections Committee passed the bill on an 8-6 vote...
Minnesota Gov. Mark Dayton said NFL commissioner Roger Goodell and Pittsburgh Steelers owner Art Rooney will be in Minnesota Friday to talk to lawmakers about the urgency of a stadium deal. Rooney leads the NFL's stadium committee.
In a swift turnaround, a Minnesota Senate committee has green-lighted a proposal that would help subsidize the construction of a new stadium for the Vikings. This comes on the heels of a private meeting between Roger Goodell, Pittsburgh Steelers owner Art Rooney II, Governor Mark Dayton, and congressional leaders in Minnesota and a day after Goodell met with Los Angeles mayor Antonio...
ST. PAUL, Minn. For years, Minnesota Vikings owners Mark and Zygi Wilf have tried to be patient and work with state legislators to find a solution for replacing the outdated Metrodome.A process that started under previous owner Red McCombs and continued when the Wilfs bought the team in 2005 has led nowhere. The Vikings still play in the Metrodome, where they rank 31st out of 32...
NFL News

Delivered to your inbox

You'll also receive Yardbarker's daily Top 10, featuring the best sports stories from around the web. Customize your newsletter to get articles on your favorite sports and teams. And the best part? It's free!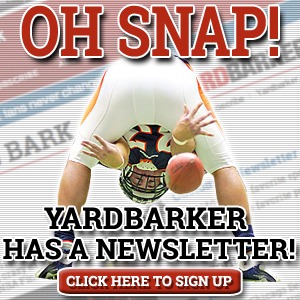 Latest Rumors
Best of Yardbarker

Today's Best Stuff

For Bloggers

Join the Yardbarker Network for more promotion, traffic, and money.

Company Info

Help

What is Yardbarker?

Yardbarker is the largest network of sports blogs and pro athlete blogs on the web. This site is the hub of the Yardbarker Network, where our editors and algorithms curate the best sports content from our network and beyond.